Students explore 'change the world' possibilities at Responsible Leadership Summit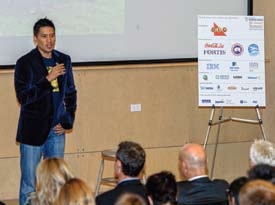 Close to 300 delegates, mostly Queen's Commerce, MBA and Master of International  Business students enrolled in the Certificate in Socially Responsible Leadership program, attended QSB's 8th annual Responsible Leadership Summit.
Among the 33 speakers were Bruce Poon Tip, pictured, founder of G Adventures; Dr. Anil Gupta, founder of India's Honey Bee Network; Nicola Kettlitz, President of Coca-Cola Canada; George Smitherman, former Deputy Premier of Ontario; David Labistour, CEO of Mountain Equipment Co-op; and Andreas Souvaliotis, founder of Air Miles for Social Change and Chair of QSB's Centre for Responsible Leadership's Advisory Board.
Visit qsb.ca/centres/crl for details, including video highlights.
See full story on QSB's News Blog.
In this issue
Alumni News
Features
Inside Smith
Profiles
Dean's Message
Letters
Parting Shot