QSB Insight and Careers Websites
One coming soon, the other already helping match students to employers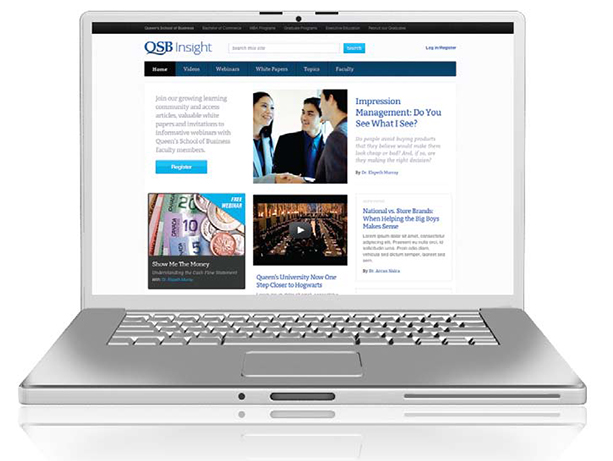 Circle March 1 on your calendar. That's when Queen's School of Business will launch QSB Insight— a source of information, knowledge and insights for alumni and the broader business community. Professor Jay Handelman, Associate Dean of Research and MSc/PhD Programs, is already counting down the days.
"We've been generating a lot of content that we believe will be of great interest and value to the business community," he says. "Now it's simply a matter of collecting all these resources and making them accessible from one central location." Development of the new website is well underway, with March 1 the expected launch date.
Since fall 2010, QSB has been offering monthly webinars at no charge, featuring QSB professors discussing a wide range of business topics. Subjects have included Workplace Incivility; How Social Networks Can Make or Break Your Brand; Turning Data into Gold; and Cross-Cultural Leadership, to name just a few. These webinars will be available on the new site and visitors will also be able to register for upcoming offerings.
"Every year, QSB professors write and publish numerous research papers," Jay says. "While these contain valuable insights, they tend to be written for an academic audience. Over the past several months, we have been producing white papers that are more accessible to a general business audience, based on these research papers."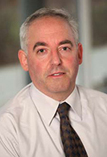 Jay Handelman Scholars and business executives from around the world regularly visit the School to speak to undergraduate and graduate students. Their presentations and interviews with them are being recorded and uploaded to the site. This will enable website visitors to watch online videos of lectures and presentations and learn from renowned experts in a variety of fields.
"Visitors will be able to search the website by topic, and then review all of the resources we have in that subject area, regardless of the medium," Jay explains. "Our goal is that QSB Insight will become the 'go-to' site for leading-edge thinking in all aspects of business."
The launch of QSB Insight is just the first step. Jay and his team are keen to increase the level of the website's interactivity to fully engage users in discussion and debate. "From my perspective, the sky's the limit," he says.
In the lead-up to the launch of this exciting new website, keep pace with the latest business insights by registering for QSB's monthly webinars at qsb.ca/webinars
Hiring QSB students just got a lot easier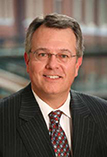 Brian Marchant A new website designed to make it easier than ever for corporate recruiters to hire QSB students is also open to alumni to help them meet their staffing needs. "After all, who are better placed than our alumni to know the value of a Queen's School of Business education?" says Brian Marchant, Director of QSB's Business Career Centre (BCC).
"Our graduates know first-hand the exceptional quality of our programs," he says. "When they're looking for candidates to fill positions in their organizations for full-time, part-time, or summer placements, we encourage them to look to QSB first."
The new website— qsb.ca/recruit—makes the task that much easier by providing a 'one-stop-shop' capability. Users can post jobs, find out how to participate in an on-campus or a special recruiting session, and use the online search function to identify potential candidates. They can also create a profile of their ideal candidate, hit "submit" and instantly receive résumés for everyone who meets their requirements. Search criteria can include career and industry interests, specific academic programs, previous degrees, professional designations, work experience, and language fluency.
Through an online contact system, website users can request the assistance of BCC staff to book on-campus meeting rooms, assist with interview scheduling, and arrange videoconference interviews.
"It's a terrific new resource that we're actively promoting to corporate recruiters," says Brian. "We'd be delighted to have alumni use it themselves for the benefit of their own organizations, or to have them spread the word to their Human Resources departments."
The new website can be found at qsb.ca/recruit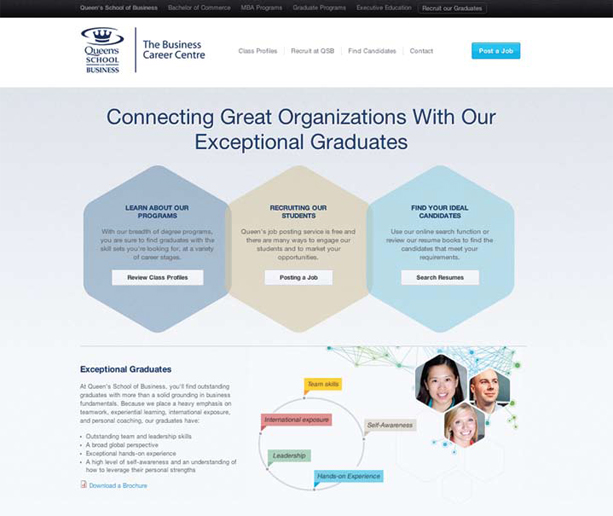 In this issue
Alumni News
Features
Inside Smith
Profiles
Dean's Message
Letters
Parting Shot