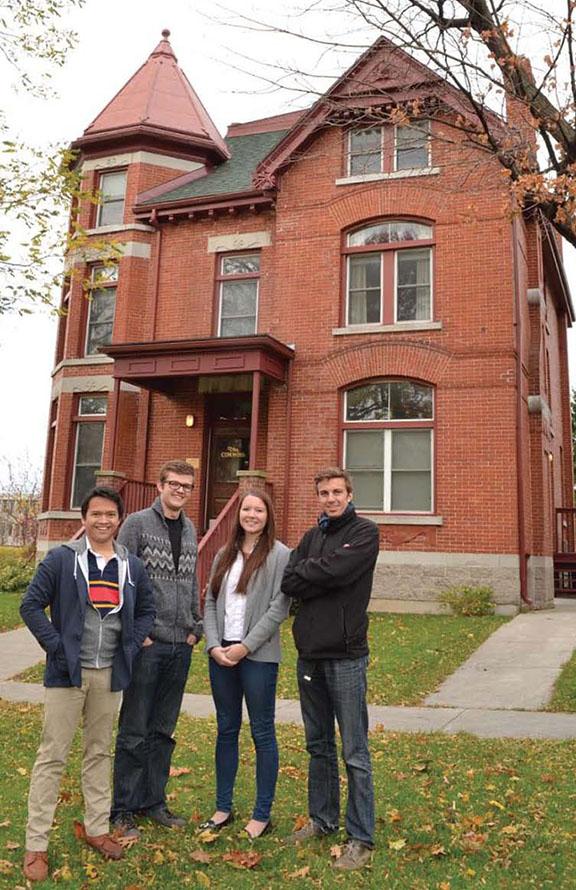 The Commons, home to the Commerce Society, was a fixture on campus from 1979 to 1992. It occupied prime real estate on University Ave., just north of Union St. and opposite Alfie's. (A coincidence?) The construction of Stauffer Library, on said prime land, spelled the end of The Commons. Rather than tear the Victorian building down, the University chose to sell it, intact, and relocate it, along with two neighbouring houses.
In a two-day procession that began on Aug. 8, 1992, the three houses were paraded on a circuitous route of city streets wide enough to reduce the need to cut trees. Miles of power lines had to be moved as they passed. By the evening of the next day, they'd reached their destination: the northeast corner of Union St. and Sir John A. Macdonald Blvd.
Currently part of the Regional Headquarters of the Correctional Service of Canada, the former Commons provides overnight accommodation for out-of-town staff attending meetings and training sessions.
In a nod to its storied history, QSB Magazine invited members of this year's ComSoc Executive to mark the 30th anniversary of The Big Move at the house's current site.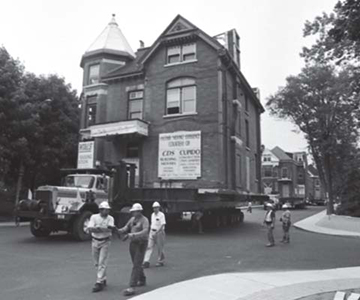 Queen's Archives - Michael Lea photo for the Kingston Whig Standard
Pictured above, from left, are Jaril Valenciano (Chief Marketing Officer), Nick Pateras (Advisory Board Director), Nicola Plummer (President) and Dave Koke (VP, External). They were thrilled to see "The Commons" still etched on the glass of the front door.
Do you have a Commons story to share?
Email spleiter@business.queensu.ca and we'll publish readers' reminiscences in the next issue.
In this issue
Alumni News
Features
Inside Smith
Profiles
Dean's Message
Letters
Parting Shot