Global Security expert Ann Fitz-Gerald returns to QSB as a Visiting Professor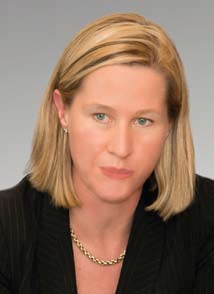 A career path that started with a Queen's Commerce degree in 1991 has taken Ann Fitz-Gerald around the world and brought her full circle to QSB as a Visiting Professor. In addition to her presentations to Commerce and graduate students, Ann is slated to teach the Strategic Planning for Security and Development program for Queen's Executive Education Centre.
Ann comes back to QSB from Cranfield University in the UK, where she is Chair and a Professor in Security Sector Management. Following her Commerce graduation, Ann worked in the financial services sector, then moved to government and spent time at NATO Headquarters in Brussels, the UN in New York, and the Pearson Peacekeeping Centre in Cornwallis, NS. She moved to the UK and completed her PhD in 2000, focusing her thesis on the extent to which security interventions in Bosnia, Haiti and Northern Ireland addressed both short-term stabilization imperatives and longer term requirements for national growth.
Since joining Cranfield's faculty in 2001, Ann has served as Associate Dean (Research) and has led Cranfield's Centre for Security Sector Management for the past eight years. She is also Course Director for the Master's program in Security Sector Management that is delivered in both the UK and Addis Ababa, Ethiopia.
Ann is widely published on issues concerning international security interventions, strategic planning for national security and the role of non-state actors in promoting national stability and growth. She has advised the governments of a number of post-conflict and developing countries (Lebanon, Ethiopia, Haiti, Indonesia, Nepal, Botswana and Sierra Leone) on issues relating to national security policy and strategy issues and, in 2011, was appointed by the United Nations and the African Union's High Implementation Panel as Facilitator for the post-referendum peace talks between North and South Sudan.
In recognition of her considerable achievements in the field of global security, Ann was awarded Queen Elizabeth II's Diamond Jubilee Medal in December.
In this issue
Alumni News
Features
Inside Smith
Profiles
Dean's Message
Letters
Parting Shot