Queen's Master of Management Analytics coming to Toronto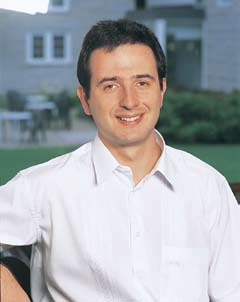 Queen's School of Business is set to continue its tradition of innovation by launching its new Master of Management Analytics (MMA) program in June at its Toronto facility. It's the latest addition to a suite of innovative Masters programs that includes the Master of Finance and Master of International Business, both of which have attracted top students from around the world.
The field of management analytics is exploding, and companies are hard pressed to find people qualified to organize, analyze and create value from the data they collect. Demand for personnel with this specialized talent will outstrip supply by 50% across North America, according to a recent study by McKinsey and Company.
Dr. Yuri Levin, the program's Director, saw the need for a program that would help close this gap. "We recognized the importance of offering a balanced curriculum that will develop students' analytical capabilities and build team and communication skills and business acumen. We also structured the program so that people can pursue their studies while they work, although current employment and previous work experience are not required."
The new program is already attracting the attention of several blue chip companies. Paul Zikopoulos, Director of Information Management at IBM, says, "There is a critical demand for people with the ability to analyze and create value from big data, and I believe this program will provide the skills that are required." The 10-month program runs from June until March. Classes will be held on Wednesday evenings and every other Saturday at QSB's downtown Toronto facility, supplemented by two on-campus sessions at Queen's. Classes will be led by QSB faculty as well as industry specialists and practitioners. Students will also write the Predictive Modeling Certification Examination administered by SAS, a global leader in business analytics software and services.
Dr. Levin and his team are currently recruiting students. "We're looking for people with an undergraduate degree in business, mathematics, economics, engineering, science or computer science," he says. "People with these qualifications combined with a strong aptitude and love of working with numbers would be ideal candidates."
For program details, visit qsb.ca/mma or call toll free 855.533.6449.
In this issue
Alumni News
Features
Inside Smith
Profiles
Dean's Message
Letters
Parting Shot