Inaugural MBA class of 1962 celebrates golden anniversary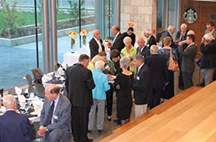 Anniversary dinner in the Goodes Commons.In 1962, John Diefenbaker was Canada's Prime Minister, U.S. President John F. Kennedy tackled the Cuban missile crisis, and Saskatchewan introduced Canada's first publicly funded medicare system. It was also the year that saw 13 young men obtain their MBA degrees, the first conferred by Queen's.
Fifty years on, a reunion on campus brought back vivid memories shared during a full weekend of activities organized by classmates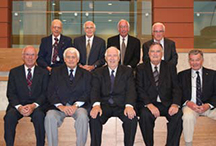 bottom row (from left) Bob Willoughby, Melvyn Swain, David Hennigar, John Marling, John Gordon; top row, Ernest Jury, Wayne Hypponen, Don Budge and Don Thurston. John Gordon (QSB Dean, 1978-1988), Don Thurston and Bob Willoughby. After taking their bows at the School's Reunion Brunch on Sept. 15, the nine surviving class members and their spouses were guests of honour at a dinner that evening hosted by Queen's Chancellor David Dodge and Dean David Saunders. Also present were former professors Derm Barrett and Brian Dixon, both of whom had left indelible impressions on the Class of '62.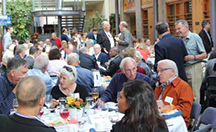 A prime table at reunion Brunch.A souvenir booklet compiled by QSB staff contained photos and reminiscences and an introduction by Don Thurston. "There was a real sense of adventure," Don wrote, "an anticipation of embarking on something new and refreshing; a breakout to take us through to something ahead of the curve. We soon learned that this crowd could, and did, turn into a lean and mean learning machine."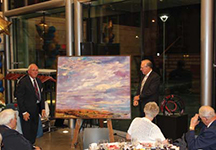 Bob Willoughby presents David Saunders with a painting by Susan G. Scott in recognition of classmate and former Dean John Gordon and a sculpture by the class's former professor Brian Dixon.The dinner took place in the Goodes Commons, centrepiece of the School's new wing. For a class that had helped break in Dunning Hall, opened nine months before their studies began in 1960, another new venue was a fitting location in which to celebrate these pioneers.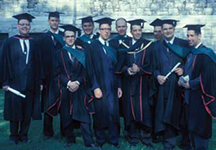 A proud graduation day for the inaugural MBA Class of 1962.
In this issue
Alumni News
Features
Inside Smith
Profiles
Dean's Message
Letters
Parting Shot