Profs weigh in on Kingston's economic outlook at 31st Annual Business Forecast Lunch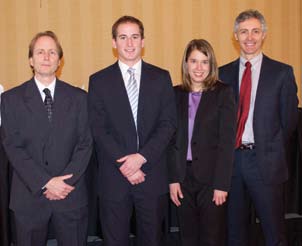 Three professors and the Commerce CEO of a student-run investment program shared their predictions on what the New Year may have in store for the economy. Their consensus: Expect low economic growth and approach financial markets with caution. Despite these cautions, the panel was optimistic that inflation, interest rates and unemployment levels will not rise. Pictured are panelists Gary Bissonette, Asst. Prof. of Business, Robbie Mitchnick, Comm'14 (Queen's University Investment Counsel CEO), Lynnette Purda, Assoc. Prof., Finance, and Barry Cross, Prof., Operations Management.
See the full story on QSB's News Blog.
In this issue
Alumni News
Features
Inside Smith
Profiles
Dean's Message
Letters
Parting Shot