AIR MILES' Bryan Pearson, BSc'86, MBA'88, pens an accessible best-seller on "turning customer information into customer intimacy"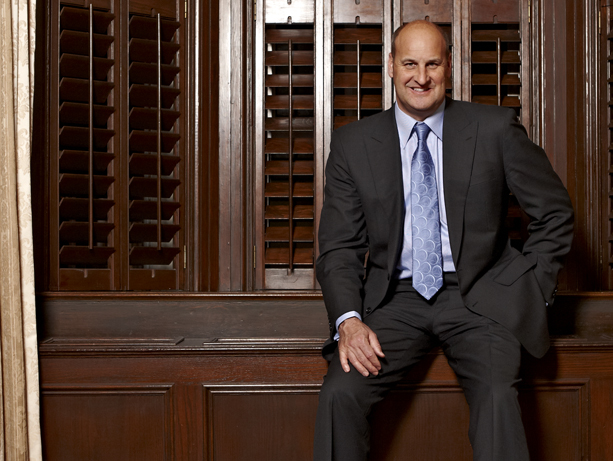 There's an anecdote in Bryan Pearson's new book, The Loyalty Leap, that offers a telling insight into what makes him tick. The President and CEO of LoyaltyOne, famous for its AIR MILES program, was with his R&D team, testing a new customer data platform.
"(We) were tossing about high-minded hypotheses to gauge the power of the tool," Bryan writes. "'Give us any product and we'll run with it,' someone from the team challenged, and so, in a Monty Python moment, I blurted out the first word that came to mind: 'Coconuts!' Guess what the third-highest product was that correlated with coconuts? Prepaid calling cards, and, yes, we were surprised too. Turns out that many consumers who buy coconuts emigrate from other parts of the world. And since coconuts are a staple of their native diet, the tropical food makes them homesick. So they buy calling cards."
It was just an in-house test, but Bryan is quick to explain its broader significance. "This is the kind of information companies engaging in loyalty should be looking for: insights that reveal more than mere demographics—the inspirational triggers of a customer."
Bryan's enthusiasm for his subject is palpable, whether on the page, in his animated tone during the interview for this story, or at his Queen's Business Club presentation in Toronto in late November. Even though he's been promoting the book since its May 2012 launch by Penguin Portfolio, it's obvious he's anything but tired of the topic. The book's early success likely helps. Within two weeks of its publication, The Loyalty Leap had already landed on multiple best-seller lists, including the non-fiction top ten of the New York Times, USA Today and the Wall Street Journal.
This literary experience is quite a detour for a self-described data junkie who initially planned to become a doctor, following in the footsteps of his parents, both MDs. His first step was to enroll in Queen's Life Sciences program in 1982 en route to his BSc. During the summers, he ran his own business painting houses and doing odd jobs. This awakened an entrepreneurial spirit he hadn't known he possessed and also fueled an interest in the mechanics of business. His undergrad years were notable also for having introduced him to Sally Peterson, a Psychology major who shared his interest in business. They married following their graduation in 1986 and, after a brief summer interlude, were back at Queen's that fall to start their MBA studies. (There were three other married couples in their MBA class, hardly the norm for this intense program.) With MBAs in hand, in 1988 the couple moved to Peterborough, ON, where both had been recruited by Quaker Oats to work in product management.
Though his career flourished, Bryan found that while he loved the idea of marketing, "the practice at the time seemed closer to voodoo." It didn't seem to reflect the same level of scientific method he had spent several years learning.
Bryan took a leap of his own in 1992 when he joined a fledgling company then known as The Loyalty Group. He was intrigued by the firm's then-revolutionary plan to launch a coalition loyalty program in which numerous partners would offer a common currency (such as reward miles) redeemable with any of the program's sponsors. Consumer spending information stored in a database would enable participating companies to better understand their customers' buying patterns and deliver more relevant offers accordingly.
It certainly turned out to be a winning formula. Twenty years on, AIR MILES is the largest loyalty program in Canada, with 10 million accounts, which translates to seven out of every ten Canadian households participating. To date, members have accumulated more than 50 billion reward miles, redeeming $500-million in value each year. It is also among the top 10 most influential brands in Canada, according to a January 2012 Ipsos Reid survey.
"In Canada, our brand has higher penetration than any credit card, higher usage than any laundry soap, and higher retention than any wireless service," Bryan writes in his book's introduction. Its program partners have also reaped rewards, namely two decades worth of customer spending information that has added value to more than 100 leading brands.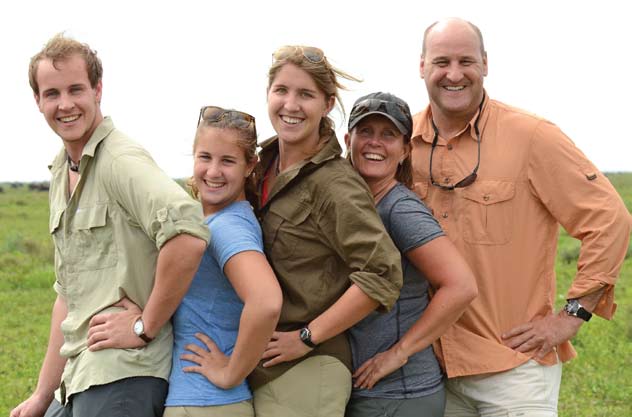 Christmas in Tanzania in 2011. From left, Jeremy, Hayley, Robyn (a first-year Queen's Commerce student), Sally (Peterson) and Bryan. Sally and Bryan have been long-time philanthropic supporters of QSB.Another point of pride is the company's success rate in reaching its customers."We churn out service offers and targeted messaging as much as any other marketer," Bryan writes, "but our customers are so receptive to our communications that, to date, only 10,000 of our 10 million active households have opted out of receiving targeted marketing from the program. To put it another way, 99.99 percent of our customers actively agree to receive our marketing communications."
Bryan is quick to credit the 1,600 employees, spread across six global enterprises, who have contributed to LoyaltyOne's success. Under his leadership as CEO since 2006, the company has expanded well beyond the AIR MILES program to offer specialized expertise in four areas: loyalty strategy, loyalty programs, customer analytics and relationship marketing.
If there's someone better qualified to write a book on how companies can make the most of customer data, Bryan's original marketing mentor, Ken Wong, doesn't know who that person could be. QSB's Distinguished Professor of Marketing, and Marketing Hall of Legends inductee, remembers Bryan as having been a "larger than life" presence in his MBA classes. Professor and student have kept in touch over the years, with Bryan making regular trips to Kingston to be a guest speaker in Ken's marketing classes.
"Bryan Pearson is not only a great classroom speaker because he knows his subject inside out and has incredible passion for it," says Ken, "but he also has been a mentor to many young people interested in getting involved in the field." He has provided advice and guidance to many a QSB student through his involvement as a regular speaker and judge at student-run conferences and competitions like ICBC and as a supporter, with Sally, of the TriColour Venture Fund.
That mentoring now extends to the public at large, any of whom can learn more about the topic by reading Bryan's book. His starting premise is that technology has made it easy for companies to accumulate vast stores of data on their customers. "But after gathering and crunching all this customer data, most companies have little or no idea how to use it," he says. "They either let it go to waste or abuse it with ill-considered, irrelevant or even creepy marketing pitches."
He believes that it's this information that companies need to understand in order to build lasting customer value. They can do so, he says, by shifting the conversation within companies from the analytics group ("buried in the bowels of most organizations," he writes) to the boardroom and eventually to the front lines, "where the consumer lives."
The timing is ideal for such a shift, or leap, to mirror the book title's metaphor. "This is probably the most interesting time in business to be a marketer," he says. "The forces that have been developing over the last couple of decades are conspiring to create a call to action for companies to rethink how they're taking their products to market."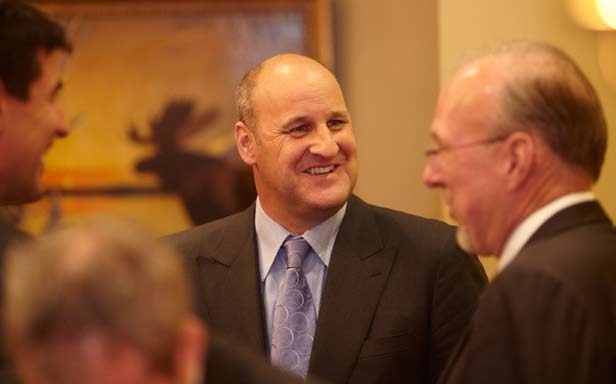 Before his presentation to a Toronto Queen's Business Club crowd, Bryan catches up with David Saunders and fellow alums.These forces include the technological advances that have enabled companies to gather vast amounts of customer information, and the rise of social media. "We as marketers have lost control of the conversation about our brands. Consumers have the ability to share information and talk about how they feel brands are delivering, or not delivering, on their promises," he explains.
He also observes that during these challenging economic times, the bottom line has ruled. "Many companies defaulted to cutting costs and delivering profits through finding more efficient ways to operate. Now that these efficiencies have been pretty much exhausted, businesses need to find other avenues for growing the bottom line. One of the ways to do this is to increase what I call customer intimacy."
The book has generated considerable media interest in Canada and internationally. That's been gratifying but not particularly surprising, he says. "Loyalty programs are very topical right now. They're a strategic element that many companies are trying to leverage as they look to retain customers. In Canada, there has been a lot of scurrying in advance of the arrival of U.S. retail giant Target by competitors anxious about retaining their customers. Privacy issues are another concern. Businesses know they need to use the data they collect responsibly and that things can go horribly wrong if they don't. In this social media age, one company's mistake can taint the well for everyone. There's also a penalty if we don't use the information to create value for our customers. If we don't act on the data being shared, the willingness of our customers to share their information will deteriorate."
Bryan has been known to collect his own data first hand. "With 70 percent market penetration, it's difficult not to run into AIR MILES members at the grocery store or gas station," he laughs. It's not uncommon for him to offer program advice when chatting with people in the cashier's line-up or seated beside him on his frequent flights. Most of the time he doesn't let on that he's the program's CEO.
One of the biggest rewards of that job comes from reading letters and emails from members who have realized life-long dreams by redeeming their miles for things like travel overseas to reunite with their families. "Some people manage their membership so well they're able to take a trip each year through AIR MILES redemptions," he says. "It's incredibly gratifying to know that I've been a part of the company that has made that possible."
"There have been very few days in the last 20 years when my feet have hit the floor at the side of the bed without me feeling excited to go to work."
QSB's new Master of Management Analytics launches in June.
In this issue
Alumni News
Features
Inside Smith
Profiles
Dean's Message
Letters
Parting Shot