Building an LGBTQ+ Inclusive Workplace
Coming out at work can seem like a perilous challenge. Here's how organizations can support the process
Your family and friends know but does your boss? How about your colleagues? For many in the LGBTQ+ community, stigma and fear mean coming out at work may not feel like an option.  That's why nearly half of people who identify as LGBTQ+ in the U.S. still keep their true identities to themselves at the office. Doing so, however, may not only negatively affect their mental health; it also means their employers do not benefit from the innovative thinking and improved customer focus that go hand-in-hand with more diverse and inclusive workplaces.

In this webinar, Erin LeBlanc, director of strategic program development and accreditation at Smith School of Business, will speak candidly about her experience of transitioning at work. She will be joined by Erin Clow, education and communications advisor with the Equity and Human Rights Offices at Queen's University, who will share policy best-practices and lessons learned around supporting LGBTQ+ employees.

Participants will learn:
Practical considerations around the decision to come out at work
How an employee making a gender transition was supported in her workplace
What employers can do to better support their LGBTQ+ employees at work
Best practices for creating workplace policies to protect LGBTQ+ employees
Learn more about the LGBTQ+ Executive Leadership Program.
Session Participants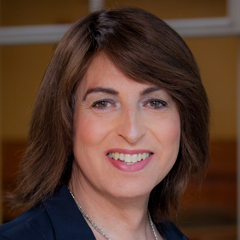 Erin Leeann LeBlanc
Adjunct Lecturer
Erin LeBlanc has been a part of Queen's Executive Education as a facilitator on several of the programs offered, as well as a team facilitator in both the Queen's National Executive MBA and Accelerated MBA programs. She has worked with not-for-profits, non-governmental organizations, and federal departments in the area of leadership development. In addition to teaching graduate courses in the area of international trade law, she is also a certified executive coach (TAIS) and has worked with hundreds of executives one-on-one in both the public and private sector for more than a decade.
As an advocate for the LGBT community focusing on assisting transgender people, Erin has been a guest speaker at schools and organizations, a presenter at the Transgender Day of Remembrance, a member of Trans Family Kingston (a support group for transgender people and their families), and quoted in print and online media. She is a co-host of a weekly radio show "Gender Talk" and serves on the Board of Kingston Pride. Erin also serves as a member of the Advisory Board and a speaker with the LGBTQ+ Executive Leadership Program at Smith School of Business.
A graduate of Queen's University in economics and psychology, Erin also holds a Master of Arts in higher education policy from the University of Toronto, and is a graduate of Queen's Master of Law Program specializing in international trade law.