A Guide to Corporate Distress and Credit Markets in COVID-19
For financial and investment professionals, there's never been a time like now
Thursday Mar 25, 2021 9:00 AM EDT
COVID-19 has upended businesses around the world, forcing many into bankruptcy or to the brink of it.
But what are the true trends in leveraged finance markets and bankruptcy? What can we expect ahead? And are government efforts helping or hurting long-term?
This 60-minute webinar features an all-star panel of experts: Edward Altman (professor emeritus at Stern School of Business and inventor of the famed Z-Score bankruptcy predictor), Edith Hotchkiss (professor at Boston College), Wei Wang (professor at Smith School of Business) and Yong Wang (chief risk officer at Tianfeng Securities of China). It explores corporate distress and bankruptcy during the pandemic, and the impact on global markets.
This webinar was recorded on Thursday, March 25 at 9 a.m. EDT.
Participants learn:
• How the pandemic has affected bankruptcy rates
• Expected trends in 2021
• Major challenges faced by distressed companies around the world
• The role of government policies: Have they helped firms or just kicked problems down the road?
• The long view: Will the current bankruptcy trend and restructuring activities continue even in the coming years?
This webinar is of strong interest to financial and investment professionals, and corporate leaders. Following the presentation, there is a Q&A with our speakers.
Corporate Financial Distress, Restructuring, and Bankruptcy, Fourth Edition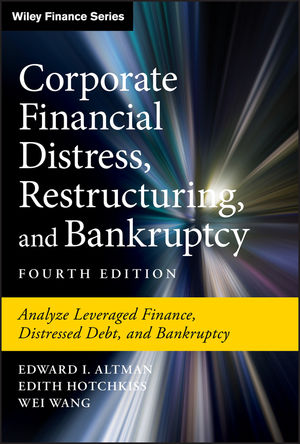 Edward Altman, Edith Hotchkiss and Wei Wang are co-authors of the fourth edition of Corporate Financial Distress, Restructuring, and Bankruptcy. An authoritative book on finance, this edition updates and expands its discussion of financial distress and bankruptcy, as well as the related topics dealing with leveraged finance, high-yield and distressed debt markets. It offers state-of-the-art analysis and research on U.S. and international restructurings, applications of distress prediction models in financial and managerial markets, bankruptcy costs, restructuring outcomes and more. Yong Wang is the chief translator of the recently published Chinese edition of the book.