Great Books to Soak Up This Summer
Smith Business Insight's annual list of summer reads might just have your new favourite book for the cottage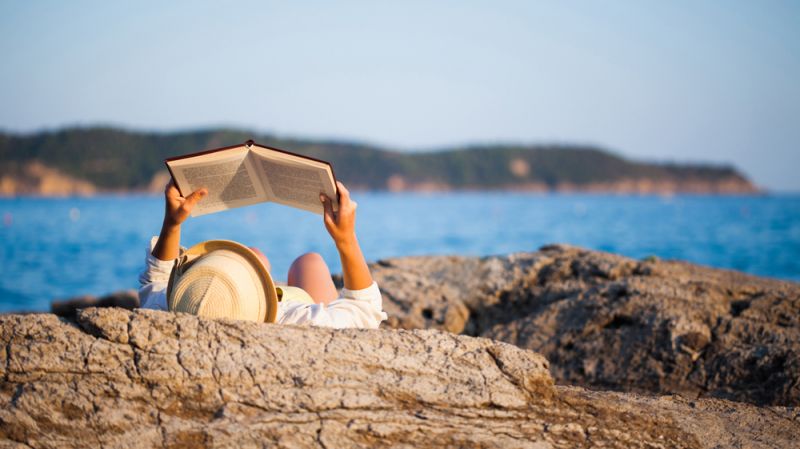 If this is June, it must be time for a summer reading list. In magazines, newspapers and blogs everywhere, the weeks before summer are crowded with hot-reading compilations.
Most lists tend to flog the latest novels and bestsellers. But at Smith Business Insight, we're taking a different route. In this, our third annual summer list, we've asked professors here at Smith School of Business to tell us about a favourite business book or one that contains useful lessons for our professional lives.
The list below contains (we think) something for everyone—a true-life pandemic tale, for example, or a book that might make you wish you'd paid more attention in math class.
Several of the books have been published quite recently. But there are also hidden gems that deserve another look—from an environmental-business classic to a slender volume nearly a century old that, in today's post-Covid and mixed-up world, might just be more relevant than ever. Happy reading!
In When, Daniel Pink explains the why and how of timing. Right out of the gate, this is interesting to me because we spend so little time truly understanding, well, timing. Pink outlines how the concept of when we try to get something done can be more significant than just finding the next opening in our calendars. Some of Pink's tips that are worth remembering:
Choose morning appointments any time your service provider's expertise is important (such as medical appointments).
Initiatives and activities that start on a "temporal landmark" (new week or month, for example) have a greater likelihood of success.
Never give up control of your calendar. (OK, that one is mine, but it still holds.)
–Barry Cross
I read this book not because I love reading about politics (which I do), or because I'm fascinated by the impact of the pandemic (I am), but because it was written by "Aunt Deb." The author, Dr. Deborah Birx, is the aunt of some good friends of mine. But she was also the response co-ordinator for the White House Coronavirus Task Force. In Silent Invasion, she describes her experiences during the pandemic and how she, a lifelong public health professional and public servant, worked to keep the most vulnerable members of the global community safe. This book is not an exposé of the Trump administration but is a riveting account of how dedicated professionals tried to save lives by relying on evidence (often incomplete), building partnerships (explicitly with industry and implicitly with regular citizens) and overcoming unprecedented challenges. While this is a story about politics and Covid, to an extent, what makes me recommend the book is that it is a story about selfless leadership based on evidence, trust, transparency and compassion. It's a story all the more powerful when you realize that Aunt Deb is just an ordinary person who did extraordinary things. –Tandy Thomas
I recently had an incredible opportunity to chat with Pulitzer-winning author Isabel Wilkerson about her book Caste: the origins of our discontents. In Caste, Wilkerson described how a "caste" system has developed in American society. We discussed white supremacy, racism and how a caste system makes it difficult for us to tackle issues of systemic racism and discrimination. India, the canonical example of a caste society, abolished it. Nazi Germany practised a caste system for 12 years before it was dismantled in shame. Yet, we have political leaders today who endorse and promote racial hierarchy. I will never forget my conversation with Ms. Wilkerson and invite you to join the conversation through her book. –Eddy Ng
AI and digital transformation are quickly changing the way we work, live and play. This book explains how leadership needs to rethink the way businesses are run as a result of that change. Competing in the Age of AI is not only about AI organizations. It also looks at how technology is reshaping operating models in new and established firms, and it shines a light on how to re-imagine strategic approaches, grow business opportunities and find competitive advantages in this new era. It's a great read that guides a new leadership mandate through an analysis of existing organizations that have embraced AI and digital transformation. And it provides frameworks that organizations can take to embrace digital transformation and change. –Nusa Fain
The proliferation of strategy books has created confusion about the essence of effective strategies. In Good Strategy/Bad Strategy, Richard Rumelt clarifies the concept of strategy and distinguishes it from other related concepts that are often confused with strategy, such as vision, mission, long-term goals and inspirational slogans. He also reveals the process of developing a "good" strategy: diagnosing a challenge, identifying a guiding policy to overcome the challenge and designing a set of coherent activities. His writing style is clear and easy to follow, and he uses business and military cases to depict key ideas and to illustrate the difference among good strategy, bad strategy and no strategy. –Goce Andrevski 
Harvard Business School's Laura Huang studies implicit bias in the workplace. In Edge, she leverages her expertise to suggest ways to tackle biases and change unfavourable perceptions (not just race and gender) into advantages. She describes the power of recognizing these preconceptions about ourselves and using them in one's favour to gain an "edge". And she supplements each of her tactics with anecdotal examples of instances where people were able to carve an "edge" and flip the script. This book is empowering and unique in that it provides tangible steps to overcome adverse situations. –Michelle Lee
This book is considered a classic among environmentally-minded business academics and practitioners, but it is not sufficiently known to broader audiences. Paul Hawken has long been one of my heroes, for he was among the first to say aloud the evidence: that most businesses celebrated for being "green" are far from being truly sustainable, and that our current system of business-driven consumerism is damaging the planet. But Hawken didn't stop at this critique: he was also among the first to see business not just as part of the problem but as an unavoidable source of solutions to the environmental crisis, and he offered concrete avenues for action. The Ecology of Commerce sparked transformational change within many organizations, and it remains as essential and inspirational a read as when it first appeared in print in 1993. ­ –Jean-Baptiste Litrico
In a world of big data, analytics and artificial intelligence, this book is a must-have in your library. The reason: many issues in our daily lives are tightly connected, and mathematics is the lens through which we can make sense of everything around us. How Not to Be Wrong explains all that in an easy-to-understand manner—even for those who fared poorly in math class. Ellenberg is scintillating and witty in the way he uses applied math to create a path to thinking more logically and more creatively in approaching the problems we face. A spoiler here: It always starts with questioning assumptions! –Ceren Kolsarici  
What I like so much about Inclusion on Purpose is that it addresses personal and organizational steps for inclusion. It is action-focused, equipping readers with impactful approaches to advocate for inclusion at the individual level, while also focusing on systemic interventions. The intersectional focus means that it is more comprehensive and nuanced than other books dealing with this topic. Many chapters have reflective questions at the end, allowing the reader to really examine themselves and the spaces they're in. It's a perfect book to read in community with others to foster intentionality and accountability for inclusion in all aspects of work and life. –Kate Rowbotham
In Grow the Pie, finance professor Alex Edmans persuasively argues that organizations that focus on fulfilling a well-defined purpose to create value for society can achieve both societal impact and profit in the long term. Whatever your views on shareholder versus stakeholder capitalism, this book will likely challenge and possibly change some of them. It's supported by a balanced view of academic evidence. Yet it also contains practical insights relevant to organizational leaders, board members, investors and citizens. And it concludes by translating the ideas discussed in the book into specific, concrete action recommendations for each of those roles. ­­–Michael Welker
This book pushed me to explore more deeply the embeddedness of artificial intelligence in a broader ecosystem of labour, power, greed and profit. Data and algorithms are not purely technical or neutral. They are full of biases and can be misused if unchecked. Crawford paints a picture of AI as an extractive sector considering the minerals that go into producing the hardware, the labour (often hidden) to do the work and the vast amounts of data extracted along the way. All of this leads to the need to consider issues of materiality, harm and inequalities perpetuated by something not so intelligent at all. –Tina Dacin
The last few years have been difficult. People have re-evaluated priorities and helped others deal with the fallout of the pandemic. That's perhaps why Kahlil Gibran's The Prophet (containing 26 prose poetry fables that explore different facets of life) might just be the perfect little book for our time. First published in 1923, it has since become a classic, popular with both politicians (John F. Kennedy) and artists (the Beatles). But it also deserves a spot on every business leader's shelf. This book has been an inspiration to me throughout my career. I found that I became a better leader by stepping back and reflecting on questions that all of us face but do not always take the time to think about. I have turned to this book often to find inspiration and it has not disappointed me, as every reading has provided different insights.  I hope that you enjoy reading or rereading The Prophettoo. –Shai Dubey