Smith students win gold at Olympic Games
Posted on August 20, 2021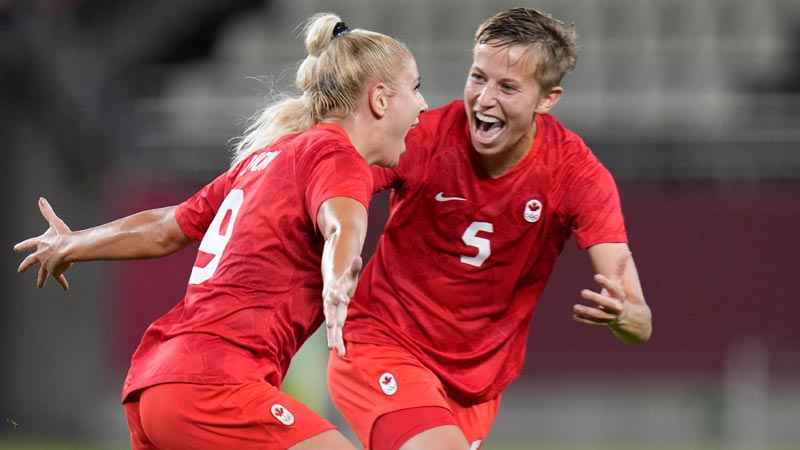 Kingston, Ont. – Three Certificate in Business (CIB) students at Smith School of Business have returned from the Tokyo 2020 Olympic Games with gold medals.
Adriana Leon, Nichelle Prince and Quinn are members of Canada's women's soccer team that defeated Sweden in a thrilling gold-medal match that ended in a penalty shootout.
The three footballers were not the only Smith CIB students to do their country proud on the international stage. Eleven additional CIB students competed for Team Canada in Tokyo:
Alicia Brown on the women's 4x400m relay team, which placed fourth in the finals;
Beach volleyball teammates Sarah Pavan and Melissa Humana-Paredes, who made it to the quarter-finals;
Gurpreet Sohi, Emma Wright and Claire Wright on the women's water polo team, which placed 7thoverall;
Stephen Maar on the men's volleyball team, which made it to the quarter-final game;
Kim Gaucher on the women's basketball team, which made it to the third round of the preliminary competition;
Melissa Bishop-Nriagu, who competed and placed fourth in her preliminary round heat in the women's 800m athletics event;
Sarah Mitton, who placed 14th in the preliminary round in women's shotput;
and Lynda Kiejko who competed and placed in three events: 25th (25m pistol - precision), 42nd (25m pistol - rapid) and 47th (10m air pistol).
The Smith Certificate in Business is designed for students who want to gain fundamental knowledge in the key areas of business to broaden their career options upon graduation. For Game Plan Scholarship students, the certificate is open to those who have already completed an undergraduate degree or are currently enrolled in an undergraduate program at any school, offering them an opportunity to expand their business knowledge while continuing to train at a high level.
Two Smith graduate students also competed for Canada in Tokyo. Benjamin Preisner, MMAI'22, was the top Canadian in the men's marathon, finishing 46th overall in his Olympic debut. Erica Wiebe, EMBAA'22, who won gold at the Rio 2016 Olympic Games, competed in the 76-kg women's freestyle wrestling competition in the 1/8 final.
Since 2016, Smith School of Business has been the exclusive business education partner of the Canadian Olympic Committee and is a founding partner of Game Plan, Canada's total athlete wellness program, helping athletes plan for success beyond sport. In partnership with Game Plan, Smith provides scholarships to current and former Canadian National Team, Olympic and Paralympic athletes across its certificate in business and professional graduate programs.