Smith launches new edX/MITx MicroMasters® Pathway to AI and analytics masters program
Posted on

January 20, 2021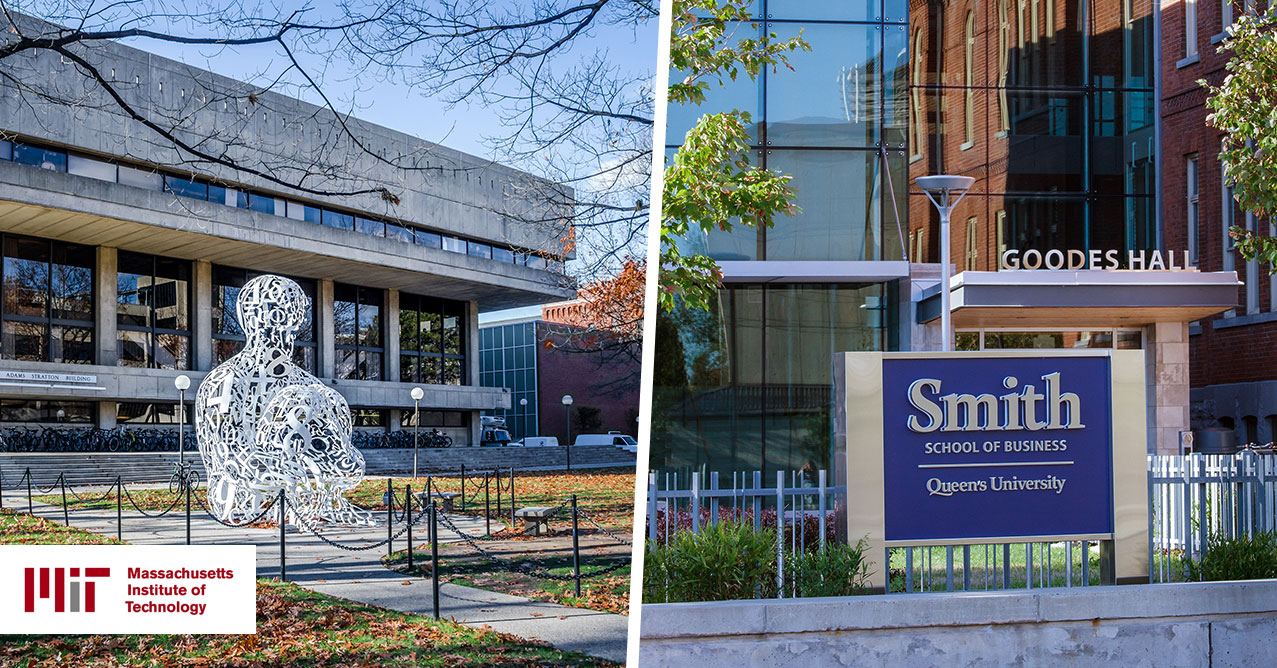 MicroMasters provides advanced standing in three Smith programs
Kingston, Ont. – Today, Canada's Smith School of Business at Queen's University announced a new pathway into three of its AI and analytics masters programs in collaboration with MIT – Massachusetts Institute of Technology. Learners who earn a MITx MicroMasters in Statistics and Data Science will be eligible for advanced standing and financial credit in three of Smith's graduate-level programs.
The MITx MicroMasters® program is delivered on the edX platform. Founded by Harvard and MIT, edX is home to more than 20 million learners and features content from top universities including Queen's, and industry-leading companies around the world. Its MicroMasters™ programs are a series of graduate level courses from top universities designed to advance students' careers by providing deep learning in a specific career field. Part of the edX mission is to increase access to high-quality education for everyone, everywhere.
"Busy professionals are demanding a diversity of options for pursuing graduate-level education," said Elspeth Murray, associate dean of MBA and masters programs at Smith School of Business. "We are excited to add the MITx MicroMaster as a new admission pathway option for prospective professional graduate students and to extend Smith's brand and reach to a global audience."
Applicants with the MITx MicroMasters credential will be eligible to receive advanced standing and financial credit in Smith's groundbreaking Master of Management Analytics (MMA), Global Master of Management Analytics (GMMA)and Master of Management in Artificial Intelligence (MMAI) programs. Applicants will still be subject to Smith's full admission vetting process and will compete side-by-side with other applicants.  
"We are pleased to have added Smith School of Business at Queen's University as a collaborator. This pathway to Smith graduate programs opens up new options and adds significant value for MITx MicroMaster learners around the world," said Krishna Rajagopal, Dean for Digital Learning at MIT. "As an Artsci'88 graduate of Queen's University, I know first-hand the quality and rigour of its programs. Seeing the impact that Smith School graduates are making in Canada and around the world, I am thrilled that MITx MicroMasters recipients will now have this opportunity."
Smith launched its own first program on edX, the Professional Certificate in Enterprise Sales, in January 2020. It was the first professional sales course on the edX platform. edX's Professional Certificate programs are a series of career-oriented courses that help participants develop and enhance in-demand skills needed to succeed in today's workforce.
As a contributing member to edX, Smith is leveraging its areas of expertise to create additional edX courses, including a MicroMasters® program in Fintech, as well as additional Professional Certificate programs in power skills such as resilience, human dynamics, how to manage, motivate and engage others, and self-awareness, including giving and receiving feedback.
About Smith
Smith School of Business at Queen's University is renowned for its excellence, innovation and leadership in business education. From establishing the first undergraduate business degree a century ago to creating groundbreaking programs and courses in emerging areas including artificial intelligence, fintech, analytics, cultural diversity, entrepreneurship, team dynamics, social impact and more, Smith is at the forefront of preparing students for the business marketplace. In addition to its rich tradition of academic and teaching excellence, Smith is known for delivering an outstanding learning and development experience. Small class sizes, personal attention, individual and team coaching, opportunities for specialization, and a deep commitment to student success characterize the Smith experience.
About edX.org
edX is the trusted platform for education and learning. Founded by Harvard and MIT, edX is home to more than 20 million learners, the majority of top-ranked universities in the world and industry-leading companies. As a global nonprofit, edX is transforming traditional education, removing the barriers of cost, location and access. Fulfilling the demand for people to learn on their own terms, edX is reimagining the possibilities of education, providing the highest-quality, stackable learning experiences, including the groundbreaking MicroMasters® programs. Supporting learners at every stage, whether entering the job market, changing fields, seeking a promotion or exploring new interests, edX delivers courses for curious minds on topics ranging from data and computer science to leadership and communications. edX is where you go to learn.
-30-
For media inquiries:
Kristen Sears
Smith School of Business
613.888.1105 / k.sears@queensu.ca
edX
617.324.7072 / press@edx.org