International Students
Earn your MBA in Canada
Canada is quickly becoming the country of choice for students from all parts of the world for its quality of life, quality of student experience, and quality of academic programs. Currently, Canada is host to more than 130,000 international students each year. Here are some of the reasons why you should consider studying in Canada:
Canada is a world leader in higher education. Canadian universities are internationally renowned for their high-quality teaching and research. A degree from a university in Canada is recognized worldwide.
Canadians enjoy a standard of living that is among the highest in the world. Quality of life is one of the key Canadian advantages. Canada has an extensive healthcare system and social security network.
Canada is an international leader in computer and information technologies, with a reputation for excellence in such sectors as telecommunications, transportation and engineering – specifically, aerospace, urban transport, microelectronics, medical devices, advanced software, hydroelectric and nuclear power, lasers and opto-electronics, biotechnology, food and beverage processing, geomatics – and in the ocean and environmental industries.
International Students at Smith School of Business
Smith School of Business maintains exchange partnerships with over 100 business schools in more than 40 countries. Every year, hundreds of foreign students from our partner schools spend a term in Kingston, and at our International Study Centre in England.
International students are a vital part of the Full-time MBA. In the past three years, our international students have hailed from Brazil, China, Czech Republic, France, India, Israel, Italy, Japan, Jordan, Lebanon, New Zealand, Nigeria, Pakistan, Peru, Portugal, Russia, Sierra Leone, United Arab Emirates, United Kingdom, and the United States.
International Student Clubs at Smith
African-Caribbean
Students Association
American Students Association
Arab Students Association
Bangladesh Students Association
Chinese Students Association
Club Italia
Egyptian Coptic Club
Hellenic Students Association
Hillel Queen's
Hong Kong Students Association
Indian Students Association
Iranian Students Association
Irish Club
Ismaili Muslim
Students Association
Japanese Relations
Korean Society
Mandarin Taiwanese Association
Muslim Students Association
Pakistani Students Association
Palestinian Students Association
Philippine Association
Polish Students Association
Romanian Students Association
Shia Islamic Association
Sikh Students Association
South East Asian
Students Association
South Asian Association
Spanish & Latin
American Association
Tamil Student Association
Thaqalayn Muslim Association
Ukrainian Students Association
Vietnamese Students Association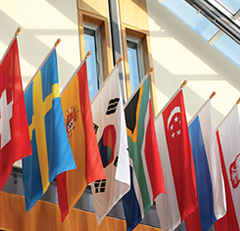 Pre-MBA English Language Preparation
The pre-MBA English language preparation is offered through the English for Academic Purposes Program at Smith School of English, beginning each September. This is an intensive English language program that develops communication skills for MBA students. The program addresses all four language skills: reading, writing, listening and speaking. The program also focuses on the expectations and communication conventions of a Canadian academic institution including group work, class participation, critical thinking, and academic integrity.
International Students at Queen's University
The first international students at Queen's University came from Jamaica in 1849. Today, Queen's has a student body representing 110 countries, over 70 international exchange partners, a campus in the United Kingdom, and the highest study-abroad participation rate of any Canadian university. It's no wonder Queen's was recently acknowledged as Canada's "uncontested champion" in international studies by the Association of Universities and Colleges of Canada.
While at Queen's, international students have the support and services of the Queen's International Centre. The Centre offers comprehensive assistance with pre-arrival and arrival into Canada, as well as help in settling into the Kingston community. The Centre also provides a cross-cultural home-away-from-home atmosphere with a lounge, kitchen, and games and meeting space.
Life After Smith's Full-time MBA
Queen's University maintains active alumni branches in Australia, Bermuda, China, Chile, France, Germany, Japan, Mexico, Singapore, South Africa, Switzerland, Taiwan, Tanzania, the Netherlands, Trinidad & Tobago, Turks & Caicos, Uganda, United Arab Emirates, United Kingdom, and the USA.
Post-Graduation: Ontario Immigrant Nominee Program (OINP)
Ontario Immigrant Nominee Program (OINP) offers an opportunity for International Students – Masters Graduates to live and work permanently in Ontario. Prospective nominees applying under the Masters Graduates stream can apply without a job offer. Applicants can send nominee applications directly to OINP.
How to Obtain a Student Visa
If you are neither a Canadian citizen nor a permanent resident of Canada you must apply for a Study Permit from the Canadian government in order to enter Canada to enroll in this program. Depending on your country of citizenship you may also be required to have a Temporary Resident Visa to enter Canada. You should begin the application process as soon as you receive your offer of admission from Smith School of Business.
To determine your student visa requirements and to apply for a student visa go to Citizenship and Immigration Canada.
Note: Acceptance into the Full-time MBA program does not guarantee nor imply acceptance of your application for a study permit. You should not take any final steps, such as moving to Canada, purchasing plane tickets, or quitting your job, until your Study Permit is approved.