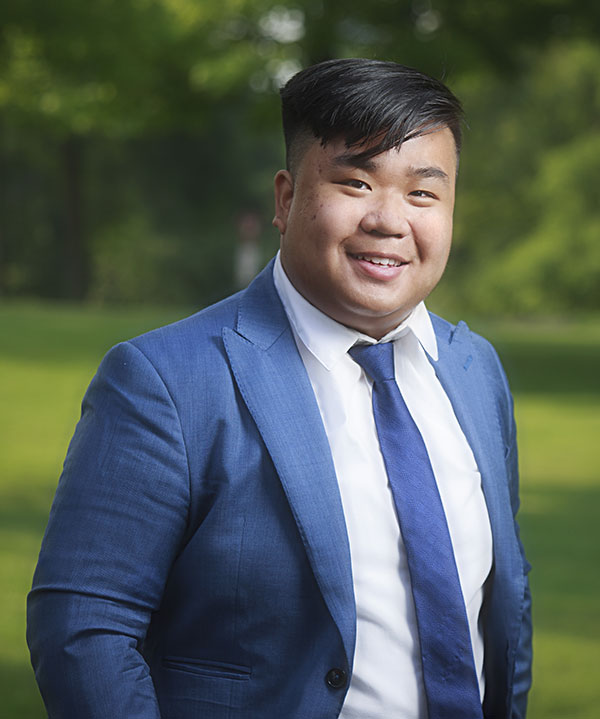 Joel Vidad, Comm'23, grew up in a Toronto apartment complex to parents who moved to Canada from the Philippines. Many of his neighbours were immigrants, and he remembers the strong sense of community around him. It's a feeling he takes with him wherever he goes—including to Smith.
"Every year, I meet new Canadians within my school, and me being a Canadian-born citizen, I cannot imagine the sacrifices that were made in pursuit of becoming Canadian," he says. "I feel it's my role to foster belongingness so that everyone can both support and be supported by each other."
At Smith, that has meant getting involved in organizations that promote community. Last year, Joel joined the Queen's Student Diversity Project, a student-led group that provides a safe space for Queen's students and encourages equity on campus.
As the group's project manager, Joel plans events that educate more students about diversity and inclusion. He's also the external events co-ordinator at Q+, which empowers LGBTQ2S+ students at Queen's, and he's the education co-ordinator at the Smith Global Network. In some ways, Joel is paying forward to today's students the support he has received from school alumni.
That's because Joel is a recipient of the Commerce 1988 Honorary Award, created by the Commerce Class of '88 to celebrate their 25th reunion. The award also honours the memory of classmates who've passed away: Chris Verney, Margaret Philp, Brian Pearson and Carolyn Anne Trausch.
The Commerce 1988 Honorary Award has supported 10 students since its inception in 2013 and is No. 5 on Smith's Top 20 class endowments (as of April 2021). At almost $1 million, it aligns with Smith's EDII Strategic Action Plan goal of moving five class endowed funds past the $1-million mark to promote socio-economic inclusion at Smith.
Joel, who is working toward a career in accounting, is grateful for the award and appreciates knowing that alumni are helping today's students succeed. It's another reason he's committed to improving the student experience through organizations like Q+ and the Queen's Student Diversity Project.
"I feel that these groups allow current and future Smith students to be proud of their identity and to feel that they belong," he says. "My hope is to allow new students to feel represented in the student body, that they are not alone dealing with equity issues, and to be represented in the business world after graduation."