Smith and Desjardins partner to enrich FinTech learning opportunities for master's students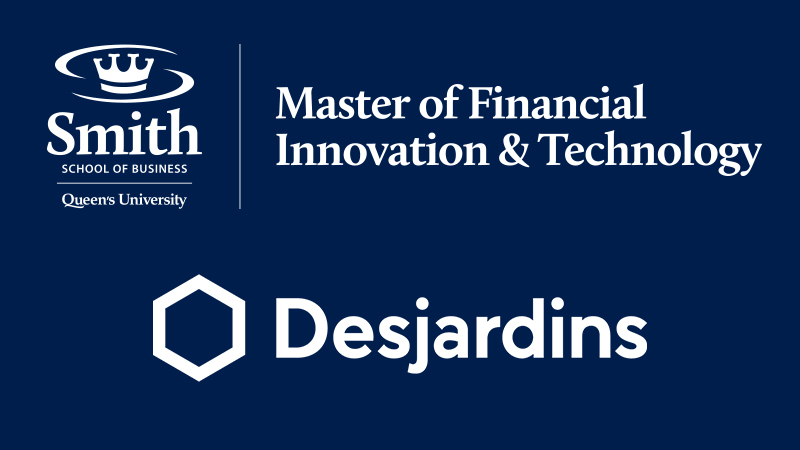 Toronto, Ont. — Technology has undeniably changed how financial markets and institutions function. The need for professionals with knowledge in emerging topics in the financial sector is the basis for an exciting new partnership between Queen's University and Desjardins Group that will provide Smith School of Business students with valuable interactive learning opportunities.
The partnership is part of Desjardins's Together For Our Youth Program, which invests $50 million a year in initiatives that help young people in the areas of education, employment and entrepreneurship, health and healthy lifestyles and community involvement.
"Queen's University Partnerships and Innovation was pleased to lead the development of a Queen's proposal to Desjardins and facilitate the development of this exciting partnership with Smith School of Business. The collaboration will enhance the learning of students in emerging fields that will have great impact on the future of the economy," says Jim Banting, Assistant Vice-Principal, Partnerships and Innovation, Queen's University.
Organized by Smith School of Business and sponsored by Desjardins, students in the Master of Financial Innovation & Technology (MFIT) program will participate in several hands-on activities and events to help them understand the evolving needs of the financial technology (FinTech) industry. Initiatives include an ongoing public speaker series exploring relevant topics and building a community of experts, and an annual FinTech Pitch Competition with cash awards for the best ideas with innovation potential. An annual industry driven hackathon will further enable students to put their learnings into action in a race against the clock to find solutions to a FinTech-related issue.
"As North America's largest financial cooperative, it is imperative that we support Canadians and their educational aspirations. We must help them achieve their dreams," said Guy Cormier, President and CEO of Desjardins Group. "We are proud to be partnered with Queen's Smith School of Business and these great initiatives that will give our students the resources and tools they need to pursue their goals in life."
The multi-year partnership launched on April 26 with the first speaker series event, "Banking, Innovation, and The Future of Finance", which explored how innovation is transforming banking, payments, and financial products and services. FinTech entrepreneurs, open banking experts, regulators, and strategic advisors discussed the latest trends and developments in banking and payments. Students and other participants had the opportunity to ask questions and network with FinTech experts and leaders from the wider financial services community.
"When it comes to the skills required to be successful in the finance industry, employers consistently tell us there is a growing need for managers who understand both finance and the impact of data science and machine learning," said Wanda Costen, Dean, Smith School of Business at Queen's University. "Fortunately, Smith's Master of Financial Innovation and Technology program is filling this skills gap by graduating the talent the FinTech marketplace needs."
Smith's MFIT is a 12-month program that enables students to earn a degree while they continue to work. Graduates develop a unique combination of skills consisting of a deep understanding of financial models, as well as data and technology.
About Desjardins Group
Desjardins Group is the largest cooperative financial group in North America and the fifth largest cooperative financial group in the world, with assets of $407.1 billion. It was named one of the World's Top Female-Friendly Companies by Forbes magazine. To meet the diverse needs of its members and clients, Desjardins offers a full range of products and services to individuals and businesses through its extensive distribution network, online platforms, and subsidiaries across Canada. Ranked among the world's strongest banks according to The Banker magazine, Desjardins has one of the highest capital ratios and credit ratings in the industry.
About Smith School of Business
Smith School of Business at Queen's University is renowned for its excellence, innovation and leadership in business education. From establishing the first undergraduate business degree over a century ago to creating groundbreaking programs and courses in emerging areas, Smith is at the forefront of preparing students for the business marketplace. In addition to its rich tradition of academic and teaching excellence, Smith is known for delivering an outstanding learning and development experience. Personal attention, individual and team coaching, opportunities for specialization and a deep commitment to student success characterize the Smith experience.
About Queen's University
Queen's University is highly ranked in Canada for student experience, taking an inclusive approach and offering learning beyond the classroom. Queen's research-intensive environment and interdisciplinary program offerings provide students with the comprehensive and nimble skills required in today's competitive and evolving workforce. The Vice-Principal Research Portfolio's mission is to be an essential catalyst for advancing research and knowledge mobilization, strengthening Queen's local, national, and global impact. Queen's Partnerships and Innovation develops and facilitates partnerships with industry, governments, not-for-profit organizations, and other academic institutions to advance the research enterprise at Queen's and the commercialization and protection of inventions.