Smith School of Business and Canadian Olympic Committee announce Team Canada class of 2020-2022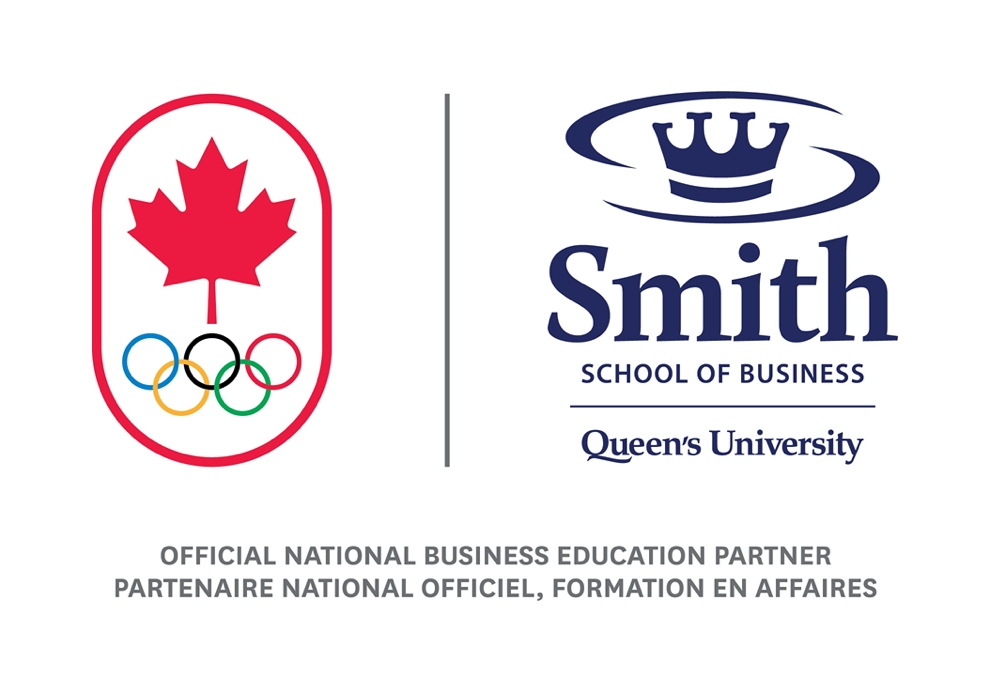 Smith's business education programs support life after competitive sport
Toronto/Kingston, Ont. – Today, Smith School of Business and the Canadian Olympic Committee (COC) announced that 11 Team Canada athletes are returning to school to build their business skills after years of competitive sport. 
Up to 1200 national team athletes are eligible for academic scholarships as part of an eight-year strategic partnership
between Smith and the COC.
"We are thrilled to welcome more Canadian athletes to the Smith community," said Brenda Brouwer, Dean, Smith School of Business. "Business education is a solid grounding for many careers. Smith's team-based approach to teaching and learning is a great fit for athletes who have honed their skills on one of the most valued teams in the country – Team Canada." 
Smith's scholarship program is part of the support that the COC's Game Plan, powered by Deloitte, offers athletes in preparation for life after competitive sport. Game Plan helps national team athletes develop their skills through education, career opportunities, as well as supporting athlete mental and physical health.
"Team Canada's athletes have dedicated their lives to represent our nation on the international stage.  We are proud to partner with one of the world's premier business schools to provide them with opportunities to succeed in life after sport," said David Shoemaker, Chief Executive Officer and Secretary General of the COC. "For the past four years, Smith School of Business, through Game Plan, has successfully empowered athletes to transfer and develop their skills to set new goals for themselves. The COC looks forward to cheering on the next class of Team Canada in their new endeavours." 
In 2016, Smith was the first business school to become a Team Canada partner and the exclusive provider of business education for the COC. Smith's scholarship program includes a broad range of programs, such as the Graduate Diploma in Business, the Master of Entrepreneurship and Innovation, and Smith's suite of MBA programs. The complete list of programs can be found here. 
With state-of-the-art technology – including a dedicated, interactive teaching studio – Smith has been delivering business education in dynamic remote formats for more than two decades. Recently, Smith moved all of its program courses online while physical distancing requirements remain in place.
Athletes, like all Smith applicants, are evaluated across a number of elements including work experience, academic record and references. To date, more than 100 Canadian athletes have participated in the program.
The athletes joining Smith programs in the coming months include:
Larissa Werbicki (Graduate Diploma in Business, May)
Zack Chetrat (Master of Finance–Toronto, June)
Emily Baadsvik (Executive MBA Americas, July)
Erica Wiebe (Executive MBA Americas, July)
Tessa Virtue (Executive MBA, August)
Ryan Blais (Executive MBA, August)
Brittanee Laverdure (Executive MBA, August)
Yoan Gauthier (Master of Management Innovation and Entrepreneurship, August)
Miah-Marie Langlois (Master of Management Innovation and Entrepreneurship, August)
Andrew Poje (Master of Management Innovation and Entrepreneurship, August)
Robert Davis (Master of Management in Artificial Intelligence, September)
About Smith
Smith School of Business at Queen's University is renowned for its excellence, innovation and leadership in business education. From establishing the first undergraduate business degree a century ago to creating groundbreaking programs and courses in emerging areas including artificial intelligence, fintech, analytics, cultural diversity, entrepreneurship, team dynamics, social impact and more, Smith is at the forefront of preparing students for the business marketplace. In addition to its rich tradition of academic and teaching excellence, Smith is known for delivering an outstanding learning and development experience. Personal attention, individual and team coaching, opportunities for specialization, and a deep commitment to student success characterize the Smith experience.
About the Canadian Olympic Committee
The Canadian Olympic Committee leads the achievement of Team Canada's podium success and advances Olympic values across Canada. Independent and predominantly privately funded, the COC delivers the resources that Canada's elite athletes need to perform at their best and give their everything every day. By sharing our athletes' stories, we inspire all Canadians through the power of sport: 24 hours a day, 7 days a week, 365 days a year.
-30- 
For media inquiries:
Kate Clarke
Smith School of Business
C: 613.331.6488 / clarke.kate@queensu.ca
Amber Wallace
Smith School of Business
C: 613.484.7033 / awallace@queensu.ca
Josh Su
Canadian Olympic Committee
C: 647-464-4060 / jsu@olympic.ca  
Photi Sotiropoulos
Canadian Olympic Committee
C: 416-476-9174 / psotiropoulos@olympic.ca