Scotiabank Centre for Customer Analytics at Smith School of Business celebrates success
Posted on August 21, 2019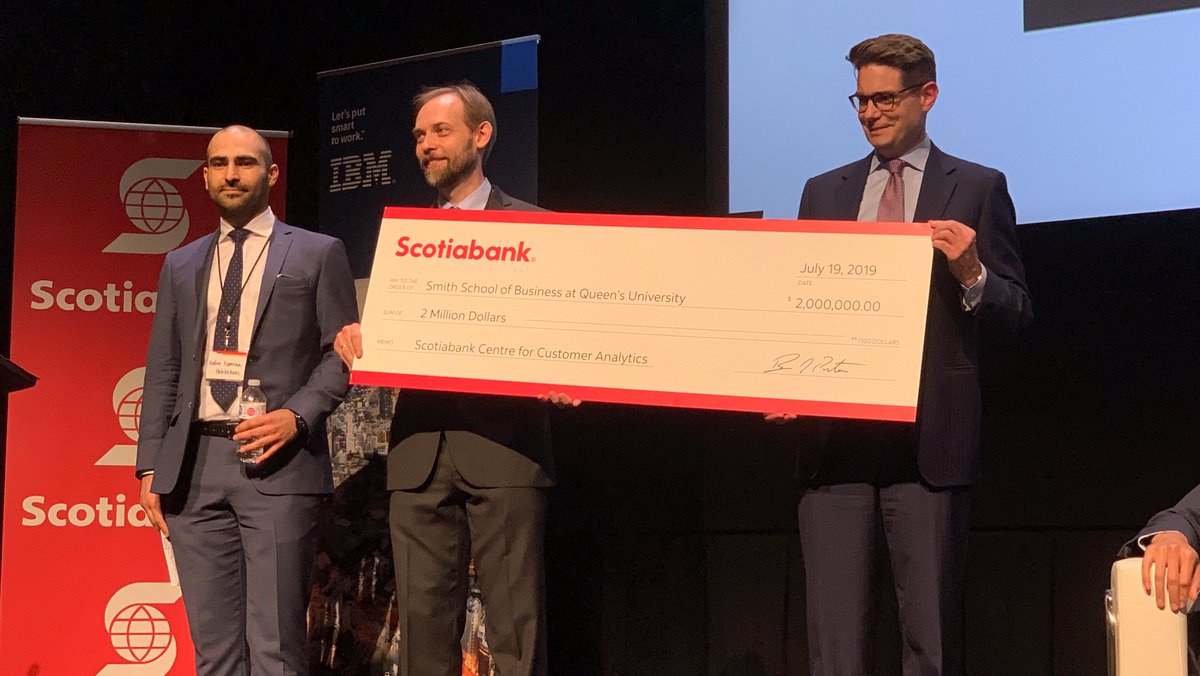 Kingston, Ont. – From an initial meeting at a Banff analytics conference to a full-time position at the Data Science and Analytics Lab at Scotiabank, Hootan Kamran's perseverance and adaptability have served him well.
At the Canadian Operational Research Society (CORS) conference in 2016, Kamran first met his future supervisor, Smith School of Business associate professor Mikhail Nediak. Several months later, Kamran was offered an industrial postdoctoral fellowship through MITACS with Smith and Scotiabank. It let him gain work experience as a data scientist while advancing analytics research.  
As one of 15 graduate-level students collaborating with a team of industry experts and faculty at Smith's Scotiabank Centre for Customer Analytics, Kamran worked on a series of applied research projects with a goal to reshape the customer experience.
Founded in 2016 through a partnership between Scotiabank and Smith, the Scotiabank Centre for Customer Analytics (SCCA) brings together interdisciplinary teams of professors, graduate students and analytics practitioners to collaborate on research, create new knowledge and lead the conversation about the future of big data and its applications for organizations looking to better serve their customers. 
Kamran credits the centre with encouraging the pursuit of robust scholarship combined with practical applications in the world of data analytics. "My postdoctoral fellowship with the SCCA allowed me to direct my academic goals toward real industry experience."
One such experience came after Kamran was transferred from Scotiabank's Data Science and Analytics (DSA) Lab to the international banking unit as the main investigator tasked with solving a customer lifetime value (CLV) problem for one of Scotiabank's clients in Chile. After finishing the job in five months, clients in neighbouring Peru expressed interest in the same project, and the experienced team was able to deliver results after only two months.
"The Scotiabank Centre for Customer Analytics plays a crucial role in encouraging innovation across industries," said David Saunders, dean, Smith School of Business. "As a global leader in teaching the management of analytics, the centre is a great opportunity for students and faculty to collaborate with industry leaders to develop research and solutions to industry problems."
After his experience with international banking, Kamran moved back to DSA, where he began working on a project to implement a complex neural network model for prediction tasks in capital markets. In June, after a year of full-time involvement, Kamran accepted a permanent position with the lab. 
Established with an initial gift of $2.2 million from Scotiabank, the SCCA has seen a number of successes since its start, including research advances in the areas of pricing, revenue management, loyalty programs, adaptable database management systems, analytics and decision making, and ethics and AI. The centre also helps Scotiabank integrate recent research advances and best practices in CLV into its operations.
"This partnership gives our faculty and students direct hands-on access to the most relevant business context and ultimately increases the impact of our research," said Professor Nediak, who is also SCCA's associate director.
In July, Scotiabank reaffirmed its commitment to the centre's mission and success with $2 million in additional funding, supporting the centre through to 2025.
Scotiabank also provided an anonymized dataset from its SCENE program for use in classes and competitions, including for Smith's Master of Management Analytics program and the annual Queen's International Innovation Challenge. The dataset gives students the chance to find deeper insights into customer behaviour while helping Scotiabank determine the best products and services to offer. 
"There is tremendous demand from organizations to hire data-savvy employees who can find the opportunity in the numbers and work in teams to solve problems," said Yuri Levin, the centre's executive director and Smith Chair of Analytics at Smith School of Business. "Access to current, real-company data gives Smith students a competitive edge." 
Going beyond the classroom, the centre's popular quarterly community seminars, as well as ongoing public talks and industry conferences, foster a thriving analytics community in both Kingston and Toronto.
SCCA builds on Smith's research leadership in data analytics, artificial intelligence and machine learning. Faculty leverage this thought leadership in Smith's custom executive education programs and develop case studies for use in executive education, MBA and other graduate-level programs.