Smith Launches New Global Master of Management Analytics
Posted on December 4, 2018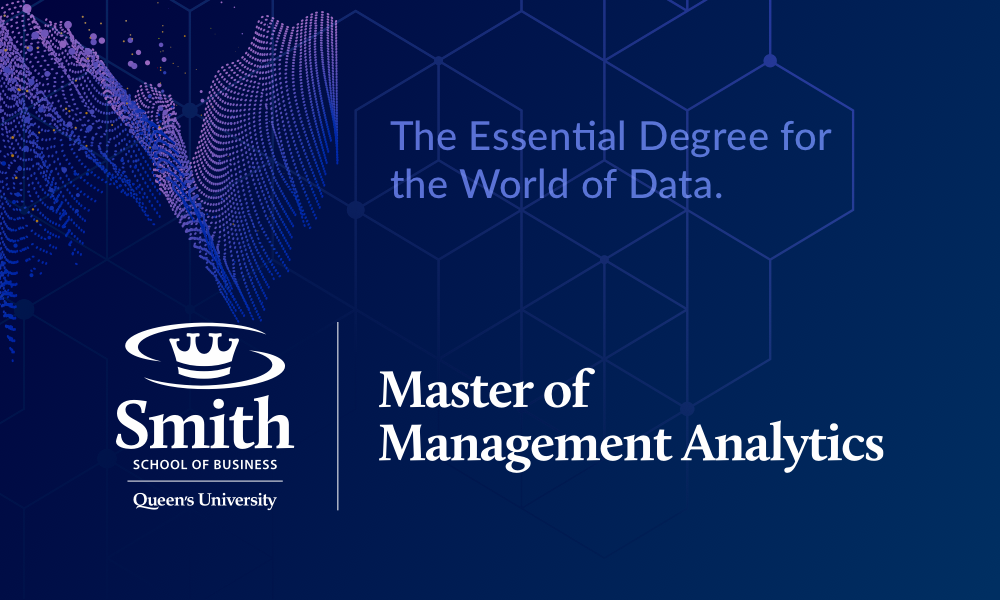 World-class training in the management of data analytics is now available to the global workforce 
Kingston, Ont. – Today, outstanding business strategy and data analytics education became accessible to the world with the launch of the Smith School of Business Global Master of Management Analytics.
The new online and in-person format builds on the highly successful Toronto-based Master of Management Analytics (MMA), blending virtual team-based learning with immersive international residential sessions in Toronto, Europe and Asia. Designed for working professionals from across Canada and around the world, students will graduate from the 12-month program with a deep understanding of how to use data analytics to solve business challenges, and lead high-performance teams through complex projects. 
"The smart management of data is the next revolution in business," says Yuri Levin, Executive Director, Analytics and AI, at Smith School of Business, Queen's University. "Teaching our students how to unleash the potential of data as part of a business strategy gives them and the organizations they represent a competitive advantage."
The Global Master of Management Analytics (GMMA) was designed in consultation with the MMA program advisory board, which includes global business leaders such as Sarah Davis, president, Loblaw Companies; Michael Zerbs, chief technology officer, Scotiabank; Lori Bieda, head of the Analytics Centre of Excellence, BMO; and Gary Kearns, executive vice president, Mastercard.
"Our advisory board recognizes the growing talent gap of managers who can make business decisions with data," says David Saunders, Dean, Smith School of Business. "As a global leader in teaching the management of data analytics and artificial intelligence, we want to ensure that this program is available to students anywhere in the world."
Smith is known for its agility in developing programs that effectively respond to market needs. The school launched the Toronto-based MMA in 2013, which has since quadrupled in size due to high demand. In 2018, Smith welcomed its inaugural class of the Master of Management in Artificial Intelligence, which exceeded its enrollment target by 60 percent.
The GMMA combines online learning and four in-person residential sessions in major global business centres hosted by SmithToronto and Smith's international business school partners. The 2019/20 international locations will be announced shortly. Classes, collaboration and course work will be managed through Smith's new mobile-friendly virtual Smith Learning platform. Students will have 24-hour access to support to enable international participation. Faculty from Smith, partner schools, as well as industry specialists and practitioners, will teach on the program.
Applications are currently being accepted. Learn more at smithqueens.com/mma.
About Smith
Smith School of Businessat Queen's University is renowned for its excellence, innovation and leadership in business education. From establishing the first undergraduate business degree a century ago to creating ground-breaking programs and courses in emerging areas including artificial intelligence, fintech, analytics, cultural diversity, team dynamics, social impact and more, Smith is at the forefront of preparing you for the business marketplace. In addition to its rich tradition of academic and teaching excellence, Smith is known for delivering an outstanding learning and development experience. Small class sizes, personal attention, individual and team coaching, opportunities for specialization, and a deep commitment to student success characterize the Smith experience.
-30-
For media inquiries:
Kristen Sears
Smith School of Business
613.533.6118 / k.sears@queensu.ca