Master of Entrepreneurship and Innovation program receives Senate approval
Posted on February 11, 2015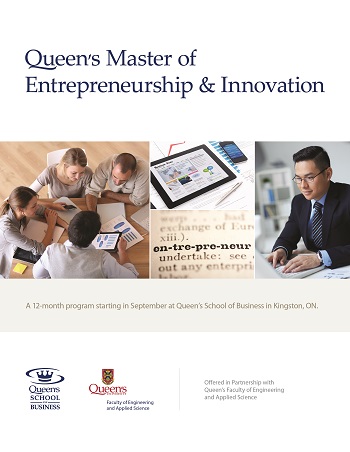 Kingston, ON — Feb. 11, 2015 - A new Queen's Master of Entrepreneurship and Innovation program was approved by the Queen's University Senate at its Jan. 27 meeting.  Designed to help improve the odds of success of start-ups, and of established companies looking to innovate, this new offering was developed in partnership with Queen's Faculty of Engineering and Applied Science. When classes commence in September 2015, they will be led by the outstanding professors from both faculties who developed its innovative curriculum.
 "This new program is designed to help aspiring entrepreneurs by teaching them business fundamentals and providing hands-on experience in this fast-paced field," says Elspeth Murray, Associate Dean of MBA and Master's Programs at QSB. "It's of equal interest to those wanting to introduce innovations and an entrepreneurial approach within existing organizations."
Hands-on experience is acquired at several stages throughout the program. Students will also create an actual new venture or innovation that they will present to venture capitalists and angel investors. They'll also have regular access to such resources as design studios, prototyping facilities and workshops, all staffed by experts in their respective fields. Students will also be exposed to the ideas and experiences of established entrepreneurs and industry experts invited to guest-lecture and serve as mentors.
 "This program offers a unique opportunity for students with an entrepreneurial spirit," says Kimberly Woodhouse, dean of the engineering faculty. "It will provide graduates with the business fundamentals and critical skills to help them contribute to Canada's innovation needs in the corporate, for-profit or social innovation sectors."  
For more information about this 12-month program, which is open to applicants with an undergraduate degree in any field and does not require prior full-time work experience, visit ssb.ca/mei


Tags: []