Three weekends in January — Six Commerce Society events
Posted on February 9, 2015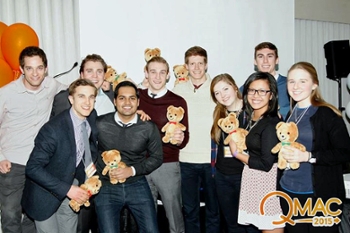 Kingston, ON — Feb. 9, 2015 - January is the Commerce Society's busiest month, with six competitions and conferences attracting hundreds of business student delegates and competitors from around the world. These events provide invaluable leadership experience for undergraduate students responsible for all aspects of these major events, including marketing, financial management, sponsor solicitation, communications and logistics.
Here are some highlights:
I.C.B.C. — The Inter-Collegiate Business Competition's 36th edition saw a Queen's Commerce team capture first place honours in the prestigious Finance category. Read more.
Q3C — The Queen's Commerce Corporate Challenge welcomed 60 delegates who tackled business cases highlighting strategy challenges that showcased their critical thinking skills and passion for problem solving.
QMAC —The  Queen's Marketing Association Conference celebrated its 30th anniversary with 60 delegates exploring the theme, "The Rise of the Empowered Consumer." Keynote speakers included Cheri Chevalier, CMO of Microsoft Canada, and Ron Tite, CEO of the Tite Group.
QCIB — Queen's Conference on International Business took place in Toronto and welcomed a diverse group of 24 external and 60 internal delegates, many of whom are international exchange students. Keynote speakers included Chris Overholt, CEO of the Canadian Olympic Committee and Shelley Martin, CEO of Nestlé Canada.
QEC — Queen's Entrepreneurs Competition featured 15 finalists competing for $43,000 in prizes.  Quorum, a start-up from Harvard that analyzes over 800 million points of data to provide an online legislative strategy platform, won the $25,000 grand prize.  The second place $10,000 prize went to Mitigating Advertising, comprised of a QSB students Alex Craciun, Winker Xiao and Amit Kumar.
QSIC — The Queen's Sports Industry Conference celebrated its 10th anniversary with an impressive line-up of workshops, panelists, and networking events. Organizers were thrilled to have lined up two heavy-hitter keynote speakers, Alex Anthopoulos, the Toronto Blue Jays' General Manager, and Michael Rossi, the President of Adidas Group.