Commerce team takes first place in Finance competition at I.C.B.C.
Posted on January 22, 2015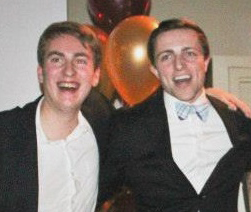 KINGSTON, ON – Jan. 22, 2015  —  More than 140 students representing 30 Canadian and international business schools competed in the 37th annual Inter-collegiate Business Case Competition (I.C.B.C.). The Finals Weekend (Jan. 14-17) saw 48 teams competing at Queen's for the top honours. The Queen's Commerce team of Darren Cole and Dan McGee, both in fourth year, scored a first-place finish in the Finance category, one of eight in the competition. The others are Marketing, Human Resources, Accounting, Business Policy, MIS, Ethics and a parliamentary-style debate on a topic revealed to the speakers just one hour prior to their presentations.
I.C.B.C. is one of the highlights of the winter term, with Queen's Commerce student organizers devoting hundreds of hours to this major event. It's also an intense but rewarding experience for the volunteer judges, experts in their respective fields, many of whom return year after year. David Lloyd, MBA'04, CEO of IntelliResponse, has judged the last three competitions. "These are the individuals I am thinking of hiring over the next few years," he said of the competitors who most impressed him.
For a complete listing of results, visit I.C.B.C.