Queen's-Renmin Master of Finance promotes cross-cultural experience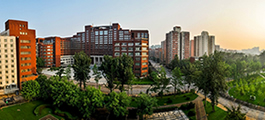 Kingston — March 4, 2014
 - A new
Master of Finance
program launching September 2014 by Queen's School of Business (QSB) will give students the best of two worlds. Studying in Beijing with professors from both Queen's and Renmin University, students earn a Queen's degree while gaining valuable international experience in the heart of China's financial sector.
Applicants can learn more about the program by participating in live online information sessions on March 11 and April 3 (in English), March 13 (in Mandarin), or by reviewing archived sessions at their convenience. No-fee applications are being assessed until March 15 for early acceptance, and by June 1 for final acceptance, space permitting.
"The Master of Finance-Beijing program is a unique opportunity for Canadian and Chinese students alike," says Wei Wang, Assistant Professor of Finance, QSB, and the program's director. "The one-year program is taught in English and students will be learning from international experts from both Queen's and Renmin's Hanqing Advanced Institute of Economics and Finance, while at the same time creating a global network with their fellow classmates."
Dr. Wang says it's an opportune time for students to gain this kind of bilateral experience. With Canada and China as major trading partners, and China undergoing significant financial reform over the next few years, students in the Queen's-Renmin program will boost their chances at jobs at home and abroad.
"Students will be immersed in the world's fastest-growing economy. From the Canadians' perspective, it will be an amazing opportunity to get to know the culture and gain exposure to a new market," says Dr. Wang. "Canada is also a model around the world for its banking system and for Chinese students, learning the ins and outs of the Canadian financial world will be invaluable."
Queen's and Renmin representatives officially launched the Master of Finance-Beijing program last fall at a ceremony attended by Governor General David Johnston and Minister of Foreign Affairs John Baird.
This is an edited version of a story that initially appeared on the Queen's News Centre site.