Financing

RBC Student Line of Credit
Smith School of Business has partnered with the local Kingston branch of RBC Royal Bank to offer a student line of credit tailored to your needs. We recommend you contact the local Kingston branch below as they are familiar with our program and your financing needs.
Canadian citizens and permanent residents of Canada only. Acceptance to the Full-time MBA program does not guarantee or imply qualification for financing.
RBC Contact:
Suzanne Heyes
suzanne.heyes@rbc.com
613.545.5755
1.800.769.2511



Ontario Student Assistance Program
Those accepted into the Full-time MBA Program can now apply for OSAP. As stated on the OSAP website, OSAP is a needs-based program and provides eligible Ontario students with financial assistance to help pay for their tuition, books, mandatory fees, living costs and transportation. Please visit OSAP to determine your eligibility and to apply for an OSAP loan.

Prodigy Finance
Prodigy Finance Ltd offers loans to international students. To learn more or to make an application go to the Prodigy Finance website.
Other Options
You may also choose to obtain student loans that have been secured through your home country. You should contact the appropriate student loan processing agency in your country for further information.
You may also investigate third-party agencies such as:
Note: acceptance to a program does not guarantee or imply qualification for financing.
Fees & Financing Questions
What is included in the Program Fees?
All cases, text books, materials and coaching services are included in the tuition costs. Additional fees include living expenses, student fees, and insurance.

What is an estimated cost of living for a student in Kingston?
CAD $22,200

What financing options are available to me?
Smith School of Business and RBC Financial Group have teamed up to offer qualified Canadian citizens and permanent residents a tuition loan plan which allows you to borrow your full tuition fee and an additional CAD $15,000 for living expenses. Your personal RBC banker will work with you to establish a manageable repayment schedule. You have a maximum of ten (10) years to re-pay the loan. Please see the full details.

MBA students who are Ontario residents are now eligible for the Ontario Support Assistance Program (OSAP). For more information, please visit the OSAP website. Foreign residents and nationals should consult the numerous financing options.

Are scholarships available?
Yes, Scholarships are awarded on merit. We review a candidates quantitative skills (GPA, GMAT/GRE), work experience, references and interview equally when determining who will receive a scholarship. The value of scholarships typically ranges from $10,000- $65,000 CAD. Separate applications are not required; all candidates who receive an offer of admission from Smith will be considered for a scholarship.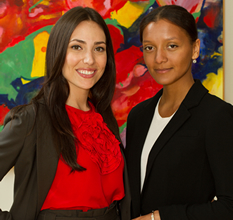 Academic Scholarships
(Domestic and International Students)
Entrance scholarships are awarded to applicants whom the MBA Scholarship Committee deem to have the strongest overall profiles. Each year Smith awards over 50% of students with merit based scholarships ranging from $10,000 to the entire cost of the program.
Please note that a separate application for scholarships is not required. All qualified candidates who submit a completed admissions application will be automatically considered for an entrance scholarship.
In addition to our entrance scholarships we also have the privilege of offering named scholarships made possible by supporters of the Full-time MBA program. Learn more
Personal Income Tax Treatment of Tuition Fees
Participants who pay all or part of the program fees personally, may be eligible to claim a tuition tax credit on the tuition portion of the fees. For more information, ask a professional income tax advisor to give you an assessment of the impact of your tuition on your personal tax situation.
RRSP Withdrawals
You and/or your spouse may be eligible to make tax-free withdrawals from your RRSP's to help fund your education. Please contact your financial advisor for details.