Knix founder, Joanna Griffiths, BCom'05, talks about how she built her company by understanding what women really want.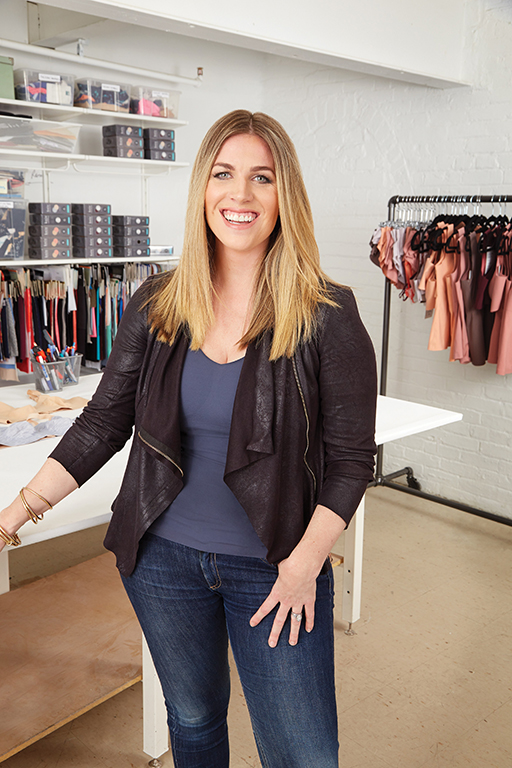 On a chilly autumn evening last November, Joanna Griffiths stepped on stage at the Fairmont Royal York Hotel in Toronto. Griffiths, founder of intimate apparel maker Knix, was one of seven winners at the RBC Canadian Women Entrepreneur Awards. It was the 26th year for the awards, hosted by Women of Influence, and a record-breaking 7,400 nominations had come in. Griffiths won the Staples Start-up Award, which goes to an entrepreneur who, over a five-year period, has built a thriving business that is, according to the awards jury, poised for even greater success.
Griffiths was happily surprised that she won the award. But something else astonished her that night: the number of Knix customers in attendance at the gala.
"Literally everyone I spoke to was like, 'I'm wearing Knix, I love Knix,' " she recalls. "It was a good sign of encouragement that we're doing something right. I've been at this for several years now…it feels good to know that we're onto something."
Based in Toronto, Knix sells everything from bras and underwear, to tops and bodysuits. But it's no lacy Victoria's Secret. Rather, Knix aims to reinvent the intimates category with underwear for real life and real women, who bleed and leak and whose bodies change with periods, pregnancy and age. In under seven years, Knix has gone from a one-person plan on paper to a growing 40-employee enterprise with a burgeoning following of customers in Canada, the U.S. and beyond.
"There was this huge opportunity to change the way that women feel about themselves," says Griffiths. "I felt like somebody had to do it."
A Musical Start
Like so many good business ideas, Knix started with a revelation. That came when Griffiths had a conversation with her mom about the changes women's bodies undergo as they grow older and  – especially – the number of women who experience post-pregnancy leaks. "It just blew my mind that there was something that could affect so many people and yet had absolutely no good options available," she says. With that in mind, Griffiths set out to create a line of underwear to help women deal with leaks.
That was in 2011, and Griffiths was in her first week of the MBA program at INSEAD. She pitched the idea of Knix to classmates, and encouraged by their response, spent the rest of the year devising a business plan. At the end of the term, she presented it at the INSEAD Business Venture Competition. And won. "The judges said it was the easiest and fastest decision that they'd come to in the whole history of the competition," she says. Armed with startup capital from the competition, she set about turning her idea into reality.
Up until that point Griffiths had spent most of her career in music, television and film. She worked for Universal Music, the Toronto International Film Festival and CBC Television. Growing up in Toronto, Griffiths was captivated by music. She began singing at age four and later joined the Canadian Children's Opera Company. She entered the Commerce program at Smith with only one aim: a career in music. "I only wanted to work at a record label; nothing else mattered to me," she recalls.
Griffiths still loves a good song, but while doing research for Knix's business plan, she discovered another passion. "I interviewed hundreds of women and, emotionally, I became really attached to the concept. I felt like somebody had to do it. There was this huge opportunity to change the way that women feel about themselves, and I just really felt compelled."
Griffiths officially launched Knix's first product – a line of leakproof underwear – with a Kickstarter campaign in May 2013. By fall, shipments began to go out to customers. During crowdfunding, the Hudson's Bay Company showed an interest and began stocking Knix in its department stores. Word spread, and within three years Knix underwear was available in 700 stores across Canada.
Knix doesn't usually use professional models in its marketing. "Women seemed to gravitate towards us because we were grittier and less polished than other brands," Griffiths says.
Anyone starting a new consumer brand would have been thrilled at such a fast start. But Griffiths had a different idea. In 2015, she launched a second product – a seamless bra – again through a Kickstarter campaign. It was wildly successful, bringing in over $1.3 million in just one month.
"I sold more in that 30 days than I sold in the first two years of the company combined. That was a wake-up moment for me." And it led to a question: Why not sell direct to consumers rather than through other retailers? It took Griffiths and her team about nine months to fill existing orders. Then, in 2016, she relaunched Knix. No longer would it sell in stores. Instead, Knix would sell direct to the customer online.
Authentic branding
Today, Griffiths reflects on that momentous decision. "I think with any company, when you're turning away from revenue channels that you've established, or when you've invested multiple years of your life doing something, and you have to admit that it wasn't the right path, it's always a really hard decision." 
But the choice was the correct one, she now believes. "It allowed us to focus, and to tell our story and own the relationship directly with our customers, and as a result experience much faster growth."
The connection Knix has established with its customers has proven crucial to the company's rise in the competitive intimate apparel market. The company has built a significant following on social media, where the type of authenticity found in Knix marketing is especially prized. Knix advertising eschews supermodels in favour of real women. Last fall, Knix partnered with Rethink Breast Cancer for a series of outdoor ads in Toronto that highlighted breast cancer survivors wearing Knix apparel. One of those women, named Inessa, was six weeks pregnant when she was diagnosed with breast cancer. The headline on her ad: "The Supermom".
 "I decided not to use professional models early on," Griffiths said in a Fast Company article last year. "And, surprisingly, women seemed to gravitate towards us because we were grittier and less polished than other brands. I think that's when I realized that there was something more powerful going on than underwear: This brand could be part of a movement."
Knix's mission from the beginning has been to reinvent the intimate apparel category by creating products designed for the everyday real lives of women. Today, the brand includes eight styles of underwear (four of which are available with leakproof technology), three bras, five sports bras, and a selection of tops and accessories.
 After relaunching the company in 2016, Griffiths says Knix experienced a 2,000 per cent growth over the same period the previous year. She's not standing still either, and says the company continues to evolve, adding new products with features aimed at helping women be more comfortable in their own skin. 
In spring 2017, Knix broke into the teen undergarment market with Knixteen, a line of period panties and comfortable bras. More recently, it introduced the Catalyst Sports Bra, a high-impact bra that Griffiths says outperformed over 800 sports bras currently on the market during third-party testing.
 "In a company like ours, you're always evolving and trying to make things better," she says, noting that new products are launched every four to six months. "Our focus on innovation and our focus on being a very inclusive brand that is truly by women for women has existed since day one. We just can move faster now and communicate to more people."