Kelly McCrimmon, EMBA'03, helped make the Vegas Golden Knights the most successful expansion franchise in NHL history.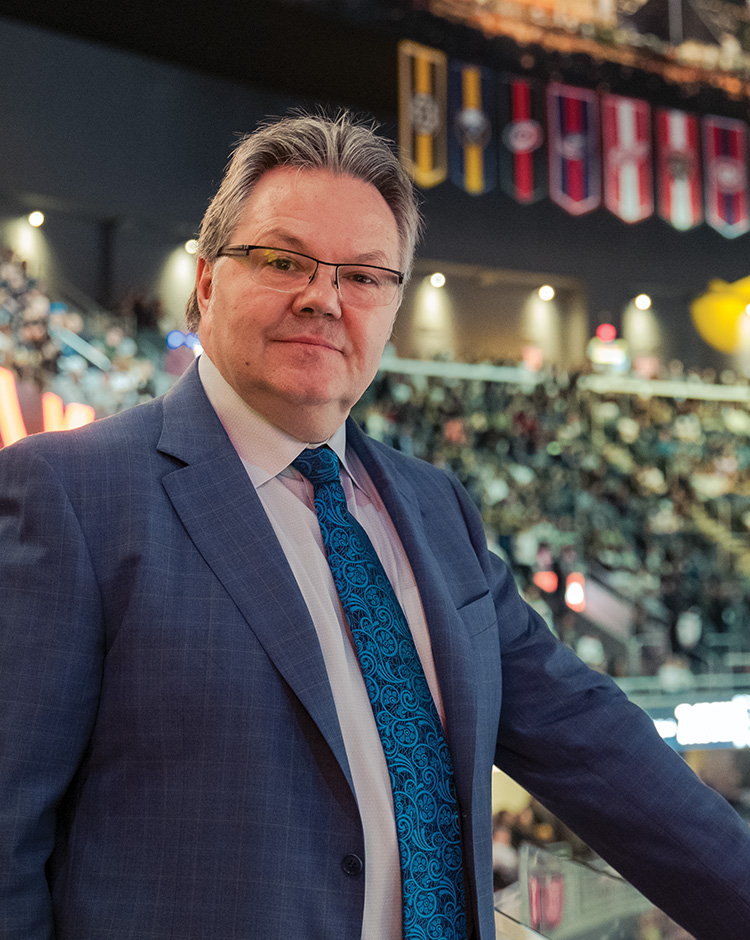 It's about 2,200 kilometres as the puck flies from the tiny prairie town of Plenty, Sask. (pop. 164) to the fantasyland of Las Vegas. It's a trip that takes roughly 22 hours by car and three hours by plane or, in Kelly McCrimmon's case, about 55 years. 
McCrimmon was named assistant general manager of the NHL's expansion Vegas Golden Knights in 2016, the culmination of a nearly 30-year career in hockey in which he has become one of Canada's most accomplished sports executives. His arrival to the big leagues was similarly impressive, as he became one of the primary architects of a team that stunned even seasoned hockey watchers with an improbable run to the Stanley Cup finals in its first season.
But despite hailing from a city that's home to Penn & Teller and David Copperfield, the Golden Knights were unable to conjure up a magical ending to their first season. Last June, they fell in five games to Alex Ovechkin and the battle-scarred Washington Capitals, a team intent on exorcising years of playoff demons. 
Six months later, speaking from Las Vegas on a cool and rainy day in early December, McCrimmon is sanguine about how the Cup finals unfolded. "To describe the 2017-18 season for the Vegas Golden Knights as anything less than magical or exceptional would be to sell that team short," he says.
At the same time, he's aware that NHL executives can spend their entire career waiting for a chance to compete for hockey's biggest prize, and there's no knowing when – or even if – the opportunity will present itself again. "When you get to the Stanley Cup finals and you don't win, it hurts," says McCrimmon. "It's hard to get to the finals. Our GM, George McPhee, is a tremendously successful NHL executive, and it had been 20 years since he'd been to the Stanley Cup finals [a feat he accomplished with the Capitals in 1998]."
The previous night, Las Vegas had defeated the Capitals 5-3 at T-Mobile Arena – the team's swanky $375-million digs on the famed Vegas Strip – in the first meeting between the two teams since Game 5 of the Cup finals. The win led to headlines suggesting Vegas had avenged their Stanley Cup loss. But as someone who has been around hockey his entire professional life – first as a player, and later as a coach, GM and owner – McCrimmon knows all too well that a win in game 29 of the regular season, while nice, doesn't mean nearly as much as a win in June.
Building bench strength
Going to the Stanley Cup finals two years in a row is no easy feat. After a slow start earlier this season, there are signs the Golden Knights are recapturing some of the mojo that propelled them to 51 wins, 24 losses and seven overtime losses in their inaugural season, setting records for most wins and points by an expansion franchise. As of mid January, Vegas was in fourth spot in the league's 15-team Western Conference.
McCrimmon was hired as the Golden Knights' assistant GM on Aug. 1, 2016. He came to Vegas with an Executive MBA from Smith, plus experience gleaned from his two decades as owner of the Western Hockey League's (WHL) Brandon Wheat Kings in Manitoba.
McCrimmon approached building the Knights like a business startup. "So much of a new franchise is establishing your culture," he says.
Achieving his MBA had been a longtime objective for McCrimmon. The Executive MBA program gave him the ability to achieve his goal, while still overseeing the day-to-day operation of the Wheat Kings. "I didn't have an agenda or motive, I just really value education and found it stimulating," he says of his decision. "I had the peace of mind that, as a business owner, it's going to assist me in running my business. Yes, it's sports, but it's still a business."
He credits his fellow Winnipeg and Regina classmates for getting him through. "For me, it was extremely rewarding to meet new people, and to meet people from other industries. It was a lot of work, but it was really worthwhile."
With decades of business acumen under his belt, McCrimmon says he approached building the inaugural Golden Knights team as if it were a business startup, with an unwavering focus on creating a winning culture. "So much of beginning a new franchise or a new business is establishing your culture," he says. "It's a very overused term, and every sports franchise would claim they've got a great culture. But there's certainly a difference between the teams that really get it right and use it as a competitive advantage, and the people who are still working towards it."
In the five or six weeks after they were hired, McCrimmon and McPhee hustled non-stop to fill about 40 crucial roles. Among them: director of legal, director of hockey operations, director of player personnel and amateur and pro scouting staffs. Looking back, McCrimmon says the staff he helped assemble is among his signature accomplishments.
"Of all the things we're proud of here in terms of how well the NHL has gone in Las Vegas, the quality of staff that we've hired…is going to serve the franchise extremely well for many years," he says.
Wheat Kings and other things
It might not be as recognizable as that of other storied Canadian hockey families, like the Sutters, Hunters or Staals, but the McCrimmon name is well known among the country's hockey cognoscenti. 
McCrimmon himself never made it to the NHL as a player, although he enjoyed a productive junior career that saw him play 95 games with the Wheat Kings, a team with which he would eventually become synonymous, from 1978-80. He scored 28 goals, earned 64 points and collected 228 minutes in penalties.
Both seasons he skated alongside his older brother Brad, who became the 15th overall pick in the 1979 NHL entry draft and went on to play more than 1,200 games as a defenseman with the Boston Bruins, Philadelphia Flyers, Calgary Flames (with whom he won a Cup in 1989), Detroit Red Wings and Hartford Whalers.
"We did everything together as kids, and even as we got older and went in different directions geographically, we remained extremely close our entire lives," says McCrimmon of his late brother, who died in a 2011 plane crash in Russia, just before his first game as head coach of the Kontinental Hockey League's Lokomotiv Yaroslavl. The team's players and other members of the coaching staff were also killed.
Along with his parents, Byron and Faye, Brad was instrumental in guiding his younger brother. While not quite the player his older brother was, Kelly McCrimmon spent four years playing Division 1 hockey at the University of Michigan from 1980-84, even captaining the Wolverines in his final season.
He planned to return with his wife, Terry, to the family farm in Plenty after graduating from Michigan with a business degree. But a gig coaching in the Saskatchewan Junior Hockey League led to an opportunity to join the Wheat Kings as an assistant coach in 1988. Within four years, he was a one-third owner of the team (he assumed complete ownership in 2000 and remains the owner today) and it was clear that his farming days were behind him.
McCrimmon proved a natural in a leadership role. He amassed a record of 423 wins (against 223 losses, 36 overtime losses and 38 shootout losses) with the Wheat Kings over 10 seasons as head coach and was a three-time Western Hockey League executive of the year (1995, 2010 and 2015), as well as Canadian Hockey League executive of the year in 2010. In 2016, his last season as coach, he led the Wheat Kings to the WHL championship.
McCrimmon's success with the Golden Knights has raised his profile throughout the league, even leading to speculation that he might be chosen as GM of the Seattle franchise set to join the league in 2021.
For his part, McCrimmon refuses to be drawn into a discussion about what lies beyond the job in Vegas. After all, there's still one last trick to be pulled off.