Paralympic swimmer, and Smith EMBA student, Benoît Huot talks about his life in the pool.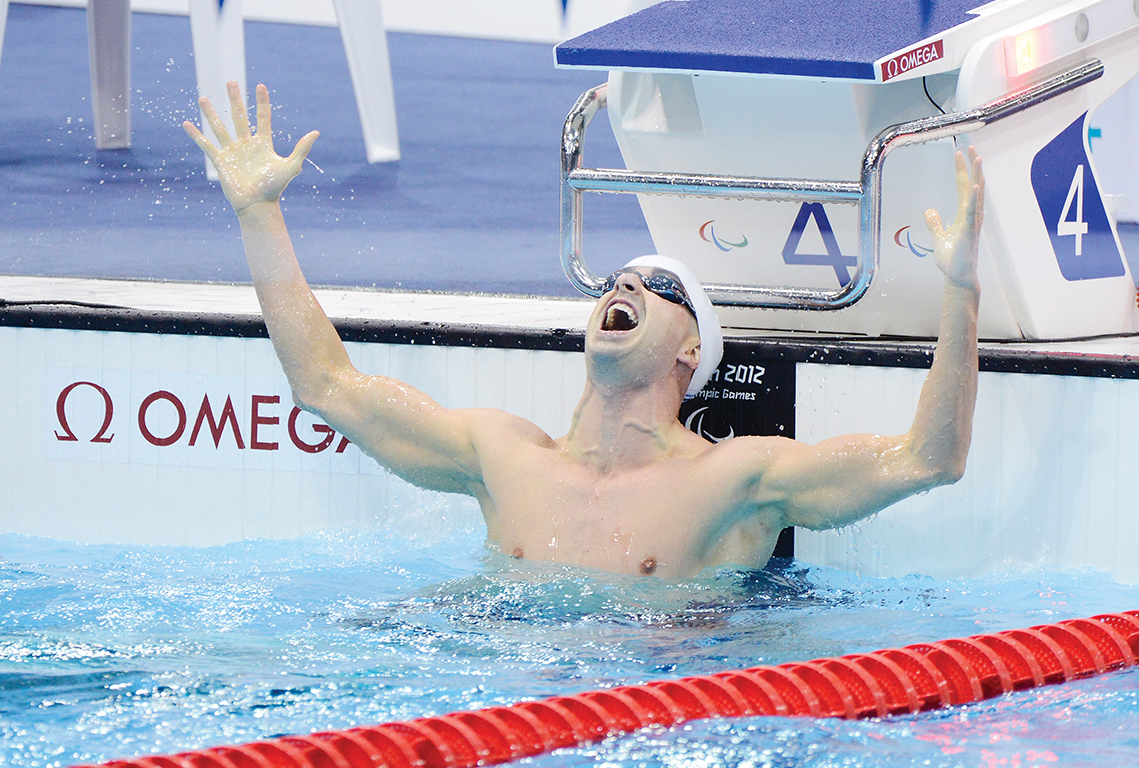 Benoît Huot, EMBA'20, found success in the pool over a 20-year swim career. Now he's studying at Smith through the school's partnership with the Canadian Olympic Committee, which is providing 1,200 scholarships to Game Plan athletes. Here, Huot talks about his career, the Paralympics and going back to school.
I grew up in Saint-Hubert on the south shore of Montreal. I loved sports. I was very competitive. I still am competitive. Like most kids, I wanted to play hockey, but I was born with a club foot and had a harder time on skates. When I was eight I tried swimming. I joined the local club and started to swim competitively. By the time I was around 11 or 12, I was in provincials, competing against kids without a disability. I was working hard and getting better and better.
It never went through my mind that the Paralympics were a possibility for me. No one talked about the Paralympics. In 1997, when I was 13, I was at home watching TV and saw Philippe Gagnon, an athlete from Chicoutimi, Quebec, win seven medals at the Canada Games for athletes with a disability. At the end of the competition, the journalist on TV asked Philippe to explain his disability. Philippe answered that he had been born with a club foot. I said to my mom, "Maybe I could do that." A year later, I made the national team.
I competed in five Paralympic Games, from Sydney in 2000 to Rio in 2016, winning 20 medals. Nine of them were gold. Sydney was magic because it was my first Games. I was realizing my dream; I had the Maple Leaf on my chest. At the opening ceremonies there were 100,000 spectators, and when we marched in, and they announced "Canada", we could hear the screams and applause. The London Games in 2012 were also special. I was able to get to the top of the podium after I had struggled in Beijing in 2008. Probably the best four years of my career were 2009 to 2012. I was able to refocus, get back to the basics of where I started, with that passion that I had when I was growing up in the sport. The outcomes didn't matter; it was all about the process, and we were able to accomplish a lot.
There's much more recognition for the Paralympics today. It's like night and day from when I started in 1998, in terms of visibility and the attention of sponsors. But there's still a lot of work to be done.
The ultimate dream would be to see a Paralympic gold medal be worth the same as Olympic gold. I don't mean the same worth as in value, but in the emotion everyone attaches to a gold medal. It would be better if the Paralympics were held directly before the Olympics rather than after them. Think about it like a concert. If you buy tickets to see Paul McCartney or Elton John, they put the local opening act on first, not after. And when you go to the concert, you get to see a band you didn't know, and you might like them. Right now, you see Michael Phelps win gold at the Olympics. And for a lot of people, that's it, we're done.
I'm transitioning from being an athlete, which is why I decided to do my MBA. I've done some consulting and speaking, and I'm a brand ambassador through social media. I'd love to continue working in sports and continue to help the Paralympics grow. I've really enjoyed my classes so far. They're challenging, and I like the accounting and numbers side of business. The MBA will be a great asset for the next step of my career.