The Great British Cook Shop
David Caldana, BCom'99, is teaching Brits how to get busy in the kitchen and to rediscover their love of food.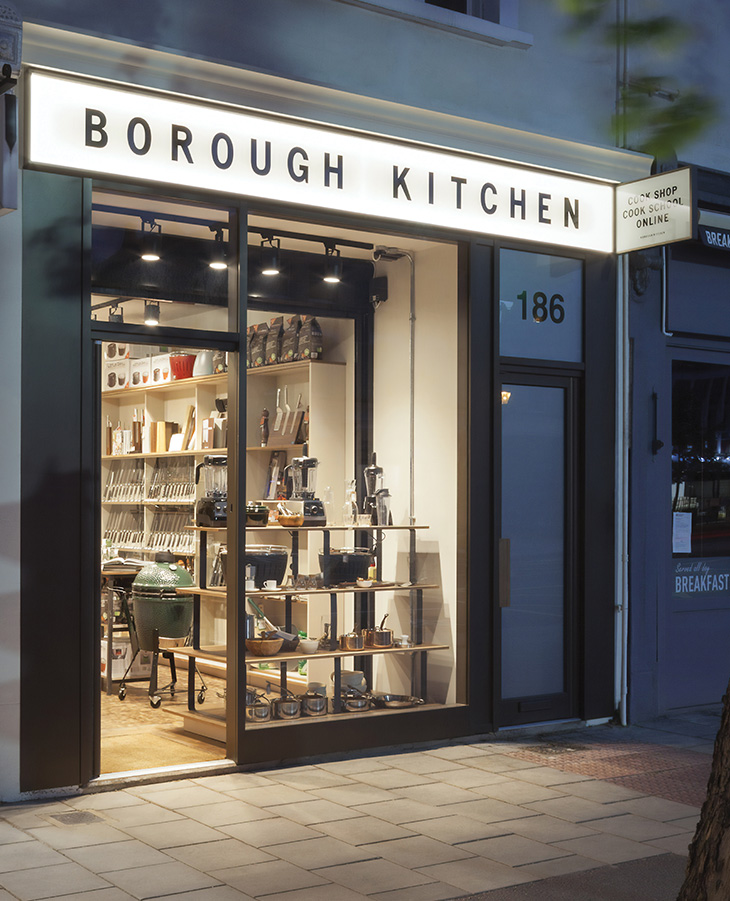 D
avid Caldana was on a flight from London, England, to Toronto for Christmas in 2013 when he decided to make the unlikely leap from investment banker to cookware store owner. His best friend and fellow-Canadian expat, Justin Kowbel, had recently opened Borough Kitchen in London's renowned Borough Market. Caldana, a managing director at J.P. Morgan, helped in the store on weekends.
"We took the same flight home, probably drank too much, and then decided by the end of that flight that I should quit my job and join him full time," says Caldana. "It was like the stars lining up…I had worked hard for 15 years, built some investment capital and thought that if things went wrong, I could always go back to banking. So, if I were going to do something stupid or crazy, it was a good point in time to do it." 
Of course, Caldana's journey began long before he stepped off that plane as a newly minted London shop owner. Caldana, who grew up in Mississauga, Ont., was interested in business from "an abnormally young age," he says, drawing a comparison to Alex P. Keaton from the '80s TV show Family Ties. When Caldana enrolled in Commerce at Smith, in 1995, his sights were set on a career in finance or banking. 
In third year, Caldana went on exchange to WHU in Germany, then landed a summer internship at J.P. Morgan in London. "After that summer, I was hooked on living abroad and on having a career in investment banking," he says. When Caldana came back to Smith for fourth year, he had already signed a job offer at J.P. Morgan. "It was really nice because I got to enjoy my fourth year quite a bit," he says. "I was learning for the sake of learning, rather than just learning for the grade."
"I had a fantastic group of peers at J.P. Morgan and my client base was incredible," says Caldana. Then along came his best friend's crazy (good) idea.
After graduating, Caldana travelled around Europe for the summer and started at J.P. Morgan in October 1999. He spent three years on the leverage-buyout team and another 12 as a high-yield research analyst covering the technology, media and telecom sectors. His work was recognized by Britain's Institutional Investor magazine, which ranked Caldana and his team No. 1 in their category four years in a row.
While many people who make a drastic mid-career change are getting away from work they dislike, Caldana says he was happy with his job and hadn't considered doing anything else. "I had a fantastic group of peers at J.P. Morgan and my client base was incredible," he says. "It was a role that I could have done forever." Then along came his best friend's crazy (good) idea.
Kowbel was also an investment banker, working at UBS. He came up with the idea for a retail business catering to urban at-home chefs. He envisioned a store with top-of-the-range kitchen tools, in-store tastings and product demonstrations. At the time, Caldana notes, there were several high-quality cookware retailers in North America, such as Williams-Sonoma and Crate & Barrel. However, the U.K. lacked an equivalent. 
"People are used to a fairly poor offering in department stores. And the cook shops [in Britain] are a bit more old-school," says Caldana. "So, the idea was to put something together that was a lot more inspiring for people who love to cook…and get the best pieces of cooking equipment from around the world."
In September 2013, Borough Kitchen's first location opened in Borough Market, London's oldest food market, with a history going back 1,000 years. Kowbel didn't know how many people to hire at first, so he took on just one employee, then got family and friends to help out on Saturdays.
"He gave us a little about each product line. I was the pots guy, someone else did knives," recalls Caldana. "We learned just enough to tell a bit of a story and talk to customers. And I loved it." 
Caldana came on board as a partner in the summer of 2014, and the team embarked on an expansion plan. That year, Borough Kitchen launched an online store, and in May 2015, a second shop opened in Hampstead, North London. It included a demonstration kitchen, and soon customers suggested adding a cooking school. Four months after the shop opened, Caldana and Kowbel found an instructor and began offering classes. In April 2016, a third location opened in Chiswick, West London.
In the cooking school, classes cover everything from the fundamentals of cooking and knife skills to making French macarons and fresh pasta from scratch. "The school is a really lovely way to get customers engaged and excited about the food, and a great way to market the business," says Caldana. "It was great for [Justin and me] too, personally, because we learned how to cook better." 
The timing couldn't be finer for a store devoted to cooking and kitchenware. Over the last 15 years or so, the food scene in London (a city not known for its cuisine) has burgeoned. With the emergence of gastropubs and Michelin-star restaurants, there's a lot more interest in incredible food, says Caldana.
On top of that, an increasing number of people care about the provenance of their food and will go to a market or a butcher rather than just shop at the supermarket. "And that's giving people the impetus to learn how to cook and try to cook more, take cooking classes and buy better equipment for their kitchen," says Caldana. TV shows such as the hit BBC series The Great British Bake Off, have also led Brits to rediscover the culinary possibilities of their kitchens.
While interest in cooking continues to grow, Caldana isn't sure how far he and Kowbel will take the business. "The world is a different place these days and we're trying to figure out if there's room for a fourth [location] given current circumstances with Brexit and the economy," he says. "So it's a bit tricky."
Whatever may be on the horizon, one thing is clear: Caldana wouldn't change a thing about his career path. He enjoys the "do-it-all" aspect of being an entrepreneur, working on everything from e-commerce and HR, to the financials and marketing of Borough Kitchen. 
"You can keep on doing the same job and do it well for years and years. But this gives me the ability to do something completely different and use a different part of my brain," says Caldana. "I am not a natural-born entrepreneur. But I can't imagine going back and working for a bank or another company that wasn't mine."