A Little Nudge Goes a Long Way
Nicole Robitaille studies consumer behaviour and how to get people to make good decisions.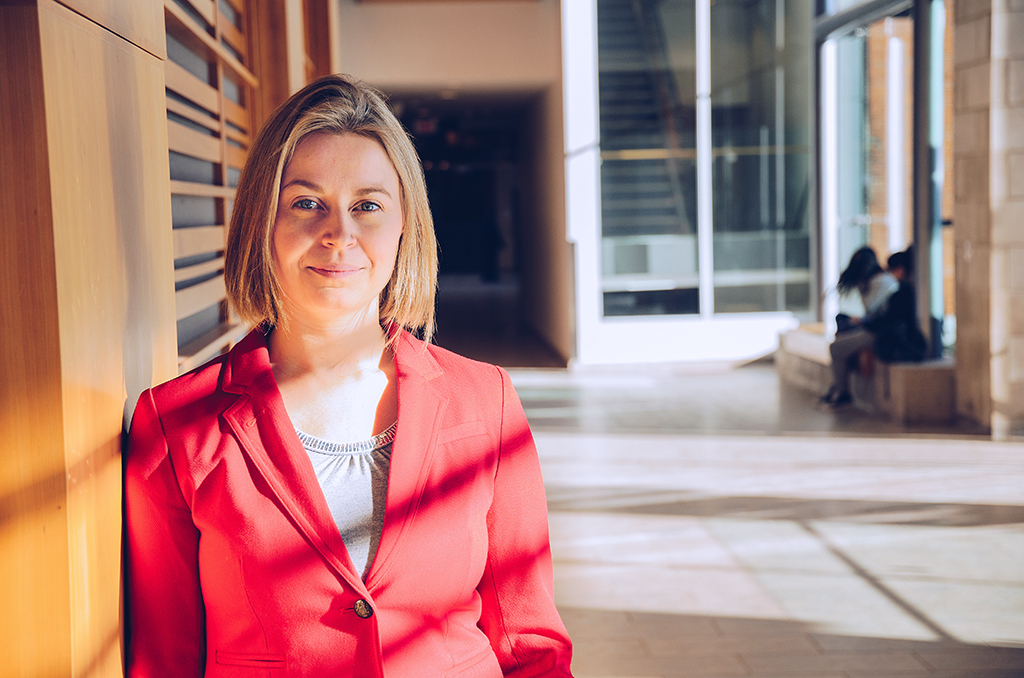 Every day, 22 people die waiting for an organ transplant. Twenty-two! That's just in the United States. Many of these deaths can be prevented – if only people would sign an organ donor card. But only a handful do.
Are people against donating their organs? Hardly. Surveys show broad public support. But most people don't bother to register. And if they die suddenly, their heart, lungs, kidneys and other parts can't save someone else's life.
Several lives actually. One organ donor can save up to eight people.
Is there a way to get more organ donor cards signed? Research by Nicole Robitaille says yes. And it starts with a nudge.
Help for society
Robitaille is an assistant professor of marketing at Smith. She studies how consumers make decisions and why they choose to engage in certain behaviours – some of which aren't always good for them, such as procrastinating or overspending. She also examines how to change population behaviour to improve consumer welfare, fulfil government policy and drive marketing results.
Not long ago, Robitaille conducted field research with the Ontario government to increase organ donations. In Ontario, someone dies every three days waiting for a transplant. Only a quarter of Ontarians are registered organ donors. How to increase that figure? Robitaille and fellow researchers Nina Mazar, Claire I. Tsai and Elizabeth Hardy investigated.
In Ontario, as in many jurisdictions, the decision to donate organs happens most often when people renew their driver's licence. Trouble is, when they walk into a motor vehicle office, people aren't thinking "organ donation"; they just want to update a licence. So when suddenly asked to become an organ donor, they're caught off guard, says Robitaille. "And when people are asked to make a decision that they don't feel they've put adequate time and effort into considering, they choose not to decide. They put it off."
Robitaille and her fellow researchers wanted to make it easier for people to make an informed choice. They tested several options. One, for instance, was to have a government employee hand people a brochure on organ donation when they came in to renew their driver's licence. They could peruse the brochure while waiting in line, so by the time they were called to the service counter, they were more knowledgeable about organ donation.
Working with the Ontario government, they also tested a simplified organ donation consent form with only two questions: "Do you want to be an organ donor?" And a checkbox question: "Which organs will you donate?" Previously, all sorts of personal information was asked for,
most of which the government already had on file.
Then came the nudge. At the top of each consent form, several statements in bold text were tested: "If you needed a transplant, would you have one?" And "How would you feel if you or someone you loved needed a transplant and couldn't get one?"
Such nudge statements are designed to help indirectly influence a person's decision, without actually deterring
them from making another choice. The term nudge was first made popular in the 2008 book Nudge: Improving Decisions About Health, Wealth and Happiness by Richard Thaler and Cass Sunstein.
 The organ donor nudge statement, Robitaille says, helped people put themselves in the position of someone needing a transplant. And it led to a big jump in organ donor registrations.
In an eight-week trial conducted at a ServiceOntario office (where driver's licences get renewed), they found that with the most effective nudge statement, organ donor registrations rose 143 per cent. If rates were to rise similarly across the province, the Ontario government estimates it could increase organ donor registrants by more than 450,000 a year – up from the current number of approximately 200,000. Many of the insights uncovered by Robitaille and her fellow researchers, including the nudge statement, are now used on Ontario's organ donor consent form.
Robitaille says the results of the study show that business research into consumer behaviour can benefit society. "You hope your work has impact, and to know our work might actually save lives is something quite special."
Licence to misbehave
Nicole Robitaille didn't set out to be an expert on what makes consumers tick. Born in Calgary to an artist mother and environmental engineer father, Robitaille grew up in Boston and Pennsylvania, where she played competitive hockey. In high school, her family moved to Quebec City, then to Montreal.
Robitaille first wanted to be a neurologist. In 2006, she earned her undergraduate degree in psychology (with a specialty in behavioural neuroscience) from Concordia University in Montreal. But during a summer pre-med program, she found that she enjoyed helping doctors do
their research more than she did visiting with patients.
Around the same time, Robitaille began to ponder how psychology could be applied to marketing. Working in a Zara clothing store, she was fascinated by the great variety of responses shown by shoppers to merchandise displays and fashion recommendations from staff. "Simply by moving the same items around the store, customers would feel like there was new inventory and be more likely to visit the store regularly to see the 'new' merchandise," she recalls.
Soon, Robitaille was studying marketing at Concordia. In 2008, she received her master's in marketing. In 2014, she earned her marketing doctorate from Rotman in Toronto. The same year, she also joined the faculty at Smith, where she now teaches Commerce students.
Robitaille says she especially enjoys the process of doing research and asking questions. "It's amazing when we find the answers. Sometimes we were right and sometimes we were wrong. But it's all exciting." She also loves when her work has practical applications. "It's seeing a real problem, and how we can solve that."
Take personal finance, for instance. In one study, Robitaille and a team of international researchers showed that people actually do feel pain when they buy something with cash. On the other hand, they don't hurt nearly as much when paying with debit or credit. The findings have implications for financial-literacy efforts. Educators must appeal to people's emotions about money, not just their sense of reason.
Robitaille has also studied people's "licence to misbehave." That is, they do a good deed, then follow it up with behaviour that counters it. For instance, her research found that people who recalled times in the past when they did a good deed would then spend less time helping others. They were then more likely to cheat for personal gain and had higher intentions of engaging in selfish behaviours.
"When you start to understand what causes people to behave well, and what allows them to give into temptation, you can encourage positive action and discourage misbehaviour," she says. "And in my research I've always been interested in helping people make better decisions."
Smith Business Insight
Read more about faculty research at smithqueens.com/insight