Jay Handelman comes full circle
PhD grad is new Associate Dean, Research, and PhD/MSc Director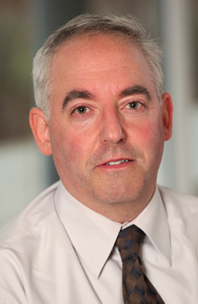 There was a changing of the guard at QSB in July when Julian Barling, Associate Dean, Research, and Director of PhD and MSc programs, stepped down after 12 years and Marketing Professor Jay Handelman took over the roles. Julian's many contributions to the School were recognized at a reception in the fall, when colleagues and several graduate students he supervises paid tribute to his dedication, research excellence and exemplary leadership.
"Julian certainly set the bar very high," says Jay. "Under his leadership, faculty research has made great strides and recruitment of top students has greatly enriched the MSc and PhD programs."
Jay is well positioned to comment on the PhD program specifically since he is one of its proud graduates (1996). Previously, he had completed his MBA at McGill, then launched a start-up in the food services industry in Winnipeg before deciding that his future lay in academia. "Steve Arnold was my faculty supervisor, and I couldn't have asked for a better mentor," Jay recalls of the marketing professor whose scholarship on the Wal-Mart phenomenon is well known in academic circles. After completing his PhD, Jay accepted teaching positions at the University of Lethbridge and McGill before returning to QSB in 2003 as an Associate Professor of Marketing. Within a year of his arrival, he founded QSB's Centre for Corporate Social Responsibility (since renamed the QSB Centre for Responsible Leadership) to educate students and foster research, outreach, and advocacy on responsible leadership. He stepped down as
its Director in 2008.
As Associate Dean of Research, Jay is responsible for fostering, promoting and communicating the research conducted by the School's professors. "Our faculty have made great progress in accessing research grants and publishing in prestigious journals," he says. "Supporting this role and broadening the communication about this research are important priorities for the School." As Director of the PhD and MSc programs, Jay and his team are focused on attracting the top students who, in turn, draw new faculty interested in working with up-and-coming researchers.
As someone who has dedicated his professional life to the study of marketing, it's hardly surprising that Jay plans to raise the profile of the research and post-graduate programs. "In an era where the dissemination of information is a mouse-click away, I'm looking forward to helping the School convey our scholarship and expertise to a broader audience," Jay says.
Check online at business.queensu.ca/grad_studies for updates on his progress.
In this issue
Features
Profiles
Inside Smith
Dean's Message
Parting Shot
Letters