Erin Crowe stick-handles the Ottawa Senators' finances.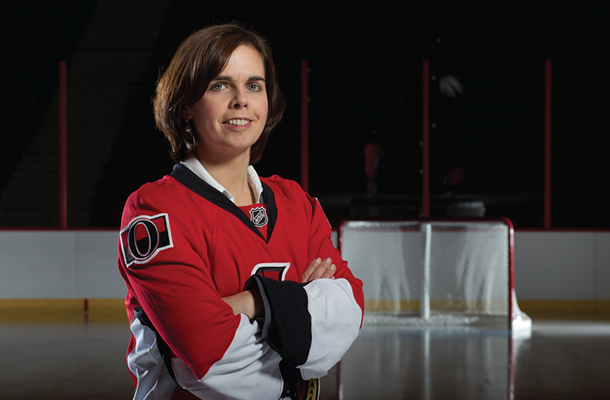 Erin Crowe, BCom'93, is a major player on the Ottawa business scene. In a town that has embraced its beloved Ottawa Senators, the team's Executive VP, CFO and Alternate NHL Governor is often sought out, whether at business functions or when hanging out with fellow parents at the local rink. The perception is that she has Sens tickets to give away (she does, but they're used to entertain business contacts or support good causes). Or that she has the inside scoop on the latest player acquisition or NHL announcement (she does, but she's not talking). A frequent misconception is that she, like the players and coaches, doesn't work in the off-season. "It's a $120-million business," she laughs. "Of course I work through the summer. It's actually one of our busiest times because that's when we do our strategic and long-term planning and wrap up our fiscal year-end."
People are also surprised to learn that it takes a staff of more than 200 to run Senators Sports and Entertainment, the umbrella company that owns and manages the Senators hockey team and Scotiabank Place, the 20,000-seat arena that serves as the teams' home ice. When the Sens aren't in town, the arena hosts acts as diverse as Pearl Jam and André Rieu, Cirque du Soleil and Disney extravaganzas.
"Many people don't realize that in most ways we're an organization much like theirs. We have building staff, finance, sales, HR and marketing departments," Erin explains. "The whole machinery is the same as that of other organizations. We're just doing something that's more visible to the public, and fun, too. We're not making widgets or software, we're putting on hockey games and concerts, but you still need that infrastructure behind an operation to support the generation of $120-million in revenue each year."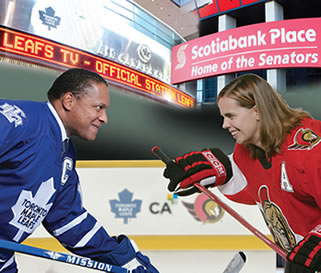 Erin faces off against Ian Clarke, CFO of Maple Leaf Sports & Entertainment, in a photo taken for a calendar produced by the Institute of Chartered Accountants of Ontario in 2006.Having just turned 40, Erin is far too young to remember the 1950-60s game show 'What's my Line?' that featured celebrity panelists trying to guess a hidden guest's occupation. If the show was revived and she was a contestant, the panel probably wouldn't stand a chance. First, Erin is one of very few women in the senior ranks of the NHL. Second, she's young relative to the other seasoned veterans in senior management. When she attends NHL Board of Governors meetings, not only is she the only woman in the room, she's also the youngest person in the room. When she went to her first meeting in 2009, it was a bit disconcerting. "I walked into the room; it was all men and me. And they were all looking at me as if to say, 'What are you doing here?' I'm sure they thought I was an assistant to Cyril Leeder (the Senators' President), but now that they know my role, they understand that I do have a place at the table."
A place at this particular table wasn't something she'd ever envisaged, not when she started with the organization in its finance department in 1996, and certainly not when she was a Commerce student at Queen's in the late '80s and early '90s. Ottawa may have been fixated on hockey in those years—finding an owner, lobbying to get a team, building an arena, selling season tickets and finally kicking off its inaugural season in 1992/93, but Ottawa native Erin largely missed the excitement. "I was busy with my studies, and it was a  challenging curriculum. Plus I was involved in the Commerce Society and on the executive of ICBC (Inter-Collegiate Business Competition)," she recalls, adding that she "also made friendships that have lasted to this day."
A summer job with KPMG in her third year led to a job offer post-graduation. She returned to Ottawa and greatly enjoyed her time at the firm. "When I started there, I thought I had my career mapped out. I loved the company, loved the people, and figured it was where my future lay." Then she got a phone call from a client whose organization she'd audited: Would she be interested in a job in the finance department of the Ottawa Senators? Even though the young team was struggling, on the ice and financially, she accepted the offer and hasn't looked back.
The early years may have been challenging, but the team spirit made it all worthwhile. "Everyone I work with enjoys what they do," she explains. "That's what I liked when I started here, and it's still the case. All the staff have an incredible passion for the team and for making this place successful."
It's a passion Erin shares and had the chance to demonstrate when the Senators faced bankruptcy in 2003. "The team had been struggling financially, and there was a real risk it wouldn't survive," she recalls. "We went through many iterations of deals and various attempts at getting the transaction done, and when these failed, we had to file for bankruptcy protection." She played a key role in the financial restructuring that saw the team emerge with a new owner, pharmaceuticals magnate Eugene Melnyk, and a renewed commitment to make the team successful.
Gone were the days of short-term decisions based on cash impact. "We had been making decisions in the heat of the moment, which is difficult for an organization. How can you take a step forward when you can't do what's right for the organization in the long term? The new owner's arrival in 2003 was a fresh start. We had the proper financial resources in place to really focus on strategic decision-making and forward thinking." Since then, as a member of a  three-person executive team, along with President Cyril Leeder and EVP and General Manager Bryan Murray, Erin has been instrumental in establishing the strategies and tactics that have led to revenue growth of more than 25 per cent. These days, the Senators consistently rank in the top half of the league in ticket revenue and corporate sponsorships, and Scotiabank Place has been ranked as one of the top 40 concert venues in the world.
Three years after the dark days of 2003, life on the home front was brightened by the birth of Erin's first child, Owen, with husband Joe Abel, general manager of a facilities management firm. Daughter Reganne followed in 2008. Managing a demanding job and a young family, frequent travel and hosting local and out-of-town contacts at hockey games requires some juggling. An extremely supportive husband and a highly valued weekday nanny make it all possible. In recent years, her multiple responsibilities have also included serving as Chair of Roger's House, a pediatric palliative care facility named in memory of former Senators coach Roger Neilson, and as a board member for CHEO, the Children's Hospital of Eastern Ontario.
Her front office success and community contributions have certainly been recognized. Erin was named Ottawa's Businesswoman of 2009 by the Ottawa Women's Business Network, and in 2010 she made Ottawa Business Journal's 'Top 40 Under 40' list.
This season, the team celebrates its 20th anniversary with themed games commemorating some of the Senators' milestones, like their first playoff appearance in 1996 and the Stanley Cup finals round in 2007. The young Commerce grad who couldn't afford hockey tickets when she returned to Ottawa in 1993 is a regular attendee whenever the Sens play in town.
"Now I live and breathe hockey," she laughs.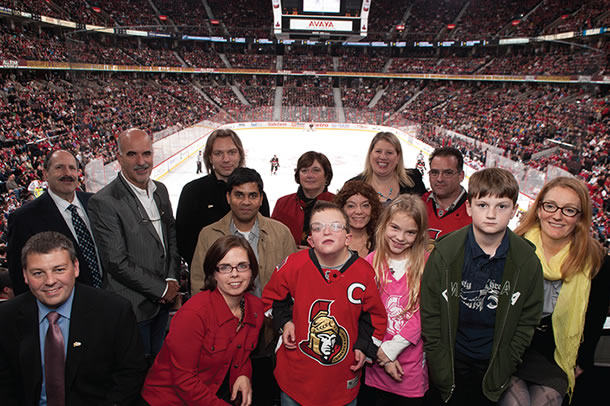 Hockey Night for Roger's House residents and their families, hosted by Erin and other Senators staff in November.
In this issue
Features
Profiles
Inside Smith
Dean's Message
Parting Shot
Letters