Prof. James McKeen and grad honoured by IT industry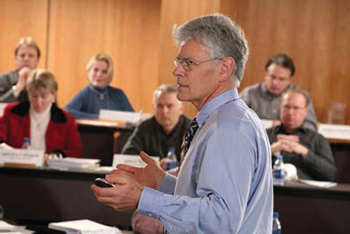 ComputerWorld Canada Magazine's 2010 IT Leadership Award recipients were celebrated on Oct. 26 in Toronto. James McKeen, Distinguished Faculty Fellow in Management Information Systems, was named IT Educator of the Year, while QSB grad Kalyan Chakravarthy, MBA'07, took top honours as IT Manager of the Year for Small and Medium-sized Enterprises.
Prof. McKeen was cited for co-founding two industry forums connecting leaders in the industry to discuss critical IT issues, bringing IT research into the classroom and linking graduate students with business leaders.
Kalyan Chakravarthy, Director of IT for the Toronto International Film Festival, was recognized for moving the festival's email platform into the Cloud and ensuring a smooth transition of IT services when the festival moved to its new home at the TIFF Bell Lightbox in 2010.
In this issue
Features
Profiles
Inside Smith
Dean's Message
Parting Shot
Letters