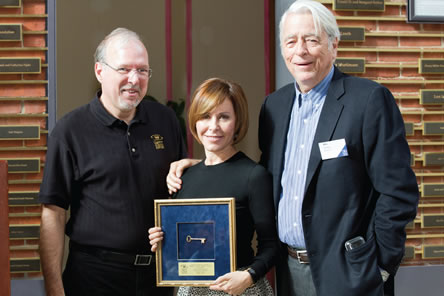 This fall, I had the pleasure of celebrating the first annual QSB Open House with alumni from across Canada. The highlight of the event was a tribute to QSB benefactor Mel Goodes, BCom'57, LLD'94, who brought 24 members of his family to see first-hand his legacy, Goodes Hall. To celebrate Mel's extraordinary generosity and support for Queen's School of Business, it was my honour to present him and his wife Nancy (pictured) with a key to Goodes Hall. But not just any key. This was a re-plated Victorian-era key to symbolize how his investment in Queen's School of Business helped us take something old—a 110-year-old red brick schoolhouse—and transform it into the new home of Canada's best business school.
Mark your calendar now for the second annual QSB Open House and official opening of Goodes Hall's new west wing on September 14 & 15, 2012. Details of this milestone event will follow.
Not only will the new wing expand the footprint of QSB, it will also enable us to continue our strategy of measured growth in key programs, such as Commerce and two of our graduate programs that are experiencing unprecedented demand—the Master of Finance and Master of International Business. The expansion will also help us grow and enhance the whole-student experience—that "secret sauce" that is such a key ingredient in helping students realize their full potential.
This issue of QSB Magazine profiles alumni who exemplify how a Queen's School of Business degree can lead to varied and dynamic careers. Recent graduates Derek Szeto, BCom'05, Michele Romanow, MBA'08, and Tim Ray, AMBA'11, chose to be entrepreneurs in the emerging business of online group-buying. Erin Crowe, BCom'93, chose to put her career on ice—in a good way—as Executive VP and CFO of the National Hockey League's Ottawa Senators. Meanwhile, two other alumni have parlayed their business savvy into Canadian diplomatic posts in two of the most vibrant markets in the world—John Prato, MBA'91, MPA'99, as Consul General in New York, and Stewart Beck, MBA'79, BAPHE'75, as the High Commissioner to India. QSB's growing international network of alumni strengthens our global relevance and opens opportunities for QSB grads around the world.
Here at Queen's School of Business, we continue to increase our profile as thought leaders in business education with talented faculty, such as Jana Raver. (Read about Prof. Raver's internationally recognized research on workplace dynamics.) As we continue to grow, we will add more faculty members who will expand our research into exciting new areas that, like Prof. Raver's, are highly relevant to today's business challenges.
Enjoy catching up on your school, and as always, we hope to hear from you!
David M. Saunders, PhD
Dean, Queen's School of Business
dsaunders@business.queensu.ca
In this issue
Features
Profiles
Inside Smith
Dean's Message
Parting Shot
Letters