From Riyadh to Kingston—Executive education program deepens ties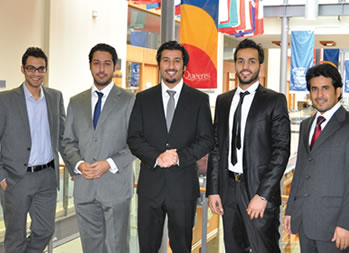 Riyadh, Saudi Arabia, may seem an unlikely place to find locals familiar with the coffee shop in Goodes Hall or the best places to snag a parking spot on the Queen's campus. In fact, there are nearly 70 people in Riyadh with a QSB connection. They are all alumni of the Saudi Industrial Development Fund (SIDF) Credit Officer Program delivered by QSB for up-and-coming finance staff members of the Fund and the national government's Department of Finance. SIDF provides financing for major infrastructure projects that encourage industrial development in Saudi Arabia.
This partnership with QSB began in 2007 when SIDF officials were looking for assistance in developing a training program to replace one that had been delivered by the Chase Manhattan Bank in New York. QSB's extensive experience and international reputation for executive education proved instrumental in securing the partnership. "Our experience in delivering executive education programs in the Middle East and North Africa region was also in our favour," says Tom Anger, Executive Director of QSB Executive Education (formerly Queen's Executive Development Centre), noting programs delivered in Dubai, Abu Dhabi, Oman and Nigeria.
The Saudi students spend 20 weeks in Kingston taking MBA courses in finance, accounting and general management as well as conducting a New Venture Project as part of an evolving curriculum. Upon successful completion of their studies, the students receive four MBA credits, a certificate and the potential opportunity to return and complete their MBA.
"The partnership has certainly proved valuable to both SIDF and its employees who have studied here," Tom notes. "It has helped develop a pool of managers whose careers are being fast-tracked into more senior positions at SIDF and the Saudi banking sector at large, as well as having produced an entrepreneur or two."
Benefits to the students include a cross-cultural education that extends beyond the classroom. Their interaction with Queen's MBA students, professors and staff has fostered friendships and contributed to the decision of four 'alumni' of the program to return to complete their MBA degree. While no additional marks are given, they all get due credit for surviving Kingston's chilly fall and winter seasons!
In this issue
Features
Profiles
Inside Smith
Dean's Message
Parting Shot
Letters