Professors Salterio and Litrico named top QSB researchers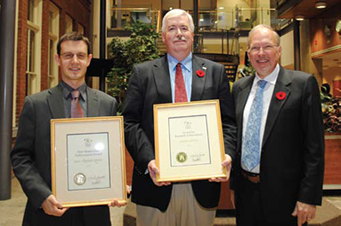 Research excellence was recognized at a reception in November when Dean David Saunders presented the QSB Award for Research Achievement to Steve Salterio, PricewaterhouseCoopers/Tom O'Neill Faculty Research Fellow in Accounting. The New Researcher Achievement Award went to Jean-Baptiste Litrico, Assistant Professor of Strategy and Organization. The Awards were decided by a committee comprised of previous recipients, which makes the recognition especially meaningful.
The goal of the Research Achievement Award is to recognize a faculty member whose research is acknowledged internationally as outstanding and who has brought considerable credit to Queen's School of Business. Prof. Salterio's impressive record of publishing in top-tier journals, his role as Senior Editor of the 'Contemporary Accounting Research' journal (one of the top five such publications in the world) and his leadership as Founding Director of the CA-Queen's Centre for Governance were cited by the committee in making its selection. His research interests include corporate governance, with special attention to the role of the audit committee and external auditor; negotiations between auditor and client management; and judgmental effects of performance measurement systems.
He has received numerous honours from his profession, including the Canadian Academic Accounting Association's Haim Falk Award for Distinguished Contribution to Accounting Thought; the American Accounting Association's Audit Section Notable Contribution to the Auditing Literature Award; and the title "Fellow of the Institute" bestowed by the Institute of Chartered Accountants of Ontario.
The goal of the New Researcher Achievement Award is to recognize a faculty member whose research during the pre-tenure period is considered outstanding and who has also brought considerable credit to QSB. Since joining the School in 2009, Jean-Baptiste Litrico has accumulated an impressive record of research published in academic journals. His current research examines how organizations adopt novel management practices and how industries respond to legitimacy threats. He regularly presents his research at the annual meetings of the Academy of Management, the European Group on Organization Studies, and the Administrative Sciences Association of Canada. His research has been published or is in press at 'Organization Studies', 'Human Relations,' 'Journal of Organizational Behavior,' and the 'Journal of Business Ethics.'
The committee selected Jean-Baptiste for his impressive record of publication in such a short period of time. In addition, he has a very active, ongoing stream of research that is highly relevant and is likely to continue to be published in the top journals.
In this issue
Features
Profiles
Inside Smith
Dean's Message
Parting Shot
Letters