...but technology is bringing together students scattered around the world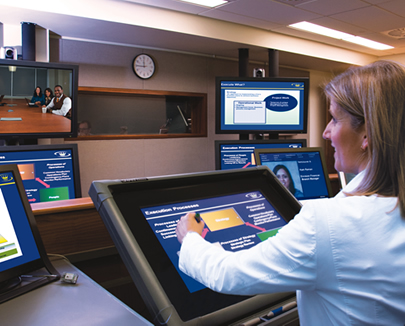 Each Sunday evening, Scott Pearman joins the six other members of his executive MBA team to discuss their course assignments. Before getting down to work, they typically spend a few minutes chatting about their families and favourite ice hockey teams.
All are enrolled at Queen's University in Kingston, Ontario. But Mr Pearman lives 1,700 km away in Bermuda, where he is chief operating officer of the hospitals board, and his teammates are scattered across Canada from Fort McMurray, centre of the Alberta oil sands, to the prairie city of Winnipeg.
With the help of sophisticated video-conferencing technology, they form a "desktop learning team," holding their weekly meetings and receiving about half of their course instruction online.
About 15 of the 84 students enrolled in Queen's EMBA this year are members of online teams such as Pearman's. The rest come together in person every second week in corporate boardrooms around the country, but take part in the same online classes as the desktop teams. Classes meet every second week, for almost the full day on Friday, continuing on Saturday morning.
"The reality is that the technology that we're seeing factored into everyday living will have to be factored into education," says Elspeth Murray, an associate dean at Queen's, citing students' ever-growing familiarity with social media, smartphones and tablets.
Many business schools post teaching materials online. Some allow recruiters to use their video-conferencing facilities for job interviews with students. But few have gone as far as Queen's in bringing the classroom into far-away homes and offices.
Madrid's IE Business School, Cornell University's Johnson school, Duke University's Fuqua school and the University of North Carolina's Kenan-Flagler school are among others that offer some form of distance learning. Cornell leases Queen's technology, developed by Polycom, a California based supplier of videoconferencing equipment.
Doug Shackelford, an associate dean at Kenan-Flagler, says, "We believe there's a tremendous market out there for people who have a great job and don't want to leave it, or who live in a place where there's not a top-tier [business] education within driving distance."
Kenan-Flagler launched a two-year online MBA course, known as MBA@UNC, in July. Although not an EMBA, it does not require regular classroom attendance and shares many of the characteristics.
Fuqua's "cross-continent" and "global" EMBAs include weekly "chat sessions" with faculty, similar to corporate conference calls but without video.
The school puts modules on its computer servers and provides students with CDs that Jennifer Francis, senior associate dean, describes as "very, very souped-up Powerpoint presentations."
The Queen's programme grew out of video-conferencing facilities that the school began using in 1994. Groups of students would assemble simultaneously in boardrooms across the country.
Pearman can see his Queen's team on his laptop during their Sunday get-togethers. For lectures, students' screens are split between the professor and course material. Participants can raise virtual hands to ask a question, speak to the instructor through microphones and communicate with each other via instant messaging.
Shackelford says that UNC's "bedrock motto" in its online programme is to match the standards of its residential courses. "If anything has to be compromised, we're not going down that path," he says.
Still, many schools have yet to be convinced that online education can match face-to-face teaching. London Business School, Columbia in New York and the University of Hong Kong jointly offer a "global" EMBA, and put much of their learning material online. But teachers and students still shuttle between the cities for classes.
Amir Ziv, vice-dean at Columbia, stresses that "the school strongly values the classroom experience and in-classroom instruction, as it leads to peer interaction and exchange between faculty and students." It also promotes practical learning through working in small groups, and networking.
Queen's requires students to attend a two-week residential session at the start of the EMBA, as well as two one-week sessions during the 16-month programme. Each team also comes together for a project outside North America. "We don't just chuck people into a group and say 'hope you get along'," Murray says. A coach assesses how the teams work together. "We work very hard to establish trust," she adds.
Even so, virtual attendance undoubtedly presents challenges. Without the benefit of close-up body language, Queen's lecturers have had to change the way they communicate with students. "Even though you're seeing them on your screen, you have to be a bit more explicit about saying what you mean," Murray says.
Video-conferencing is also ill-suited to more than one person talking at a time. According to Pearman, "you have to be very organised and very specific."
Whatever the drawbacks, proponents of online teaching point to some tangible advantages over classroom tuition. Class sizes are generally smaller, allowing more individual attention and less disruption.
According to Murray, "it's been fascinating to see how the faculty has really changed their course material to leverage what's possible." She cites electronic tools that help teams conduct simulations and surveys.
Francis says that Fuqua's students have responded enthusiastically to the CDs provided by the school. "It's a very flexible and accommodating way to learn the material," she says, noting that students can repeatedly review modules. Some use them to study on plane trips. Polycom, which supplies the technology used by Queen's and Cornell, provides virtual meeting rooms not only for the entire class but also for small break-out groups.
Polycom says that its "immersive telepresence solution" provides real-life dimensions, allowing participants to read each other's body language on the screen. Another product, known as "eagle-eye director" uses two high-definition cameras that automatically zoom in on the person who is speaking, thus eliminating much of the "sea-sickness" common in manual camera systems.
Marci Powell, Polycom's global education director, says that such technological advances have made business schools less hesitant about using online tools. As a result, students are increasingly willing to pay full price for online tuition.
Both Queen's and UNC charge close to $90,000 for their online programmes. Schools that have embraced distance learning see it as a way of accelerating the globalisation of business education. For example, Queen's is assessing opportunities for team-based courses in India and Latin America.
According to Shackelford of Kenan-Flagler, "we're expending a lot of time, a lot of money and a lot of energy on what we believe is the vanguard of business education."
Pearman in Bermuda agrees, predicting that when his three-year-old daughter graduates from high school, "she'll have to decide whether to go to university or cyber-college."
This article originally appeared in the UK's Financial Times Business Education Magazine, Oct. 24, 2011.
In this issue
Features
Profiles
Inside Smith
Dean's Message
Parting Shot
Letters