Promoting Canada's brand in India a top priority for Canadian High Commissioner Stewart Beck, MBA'79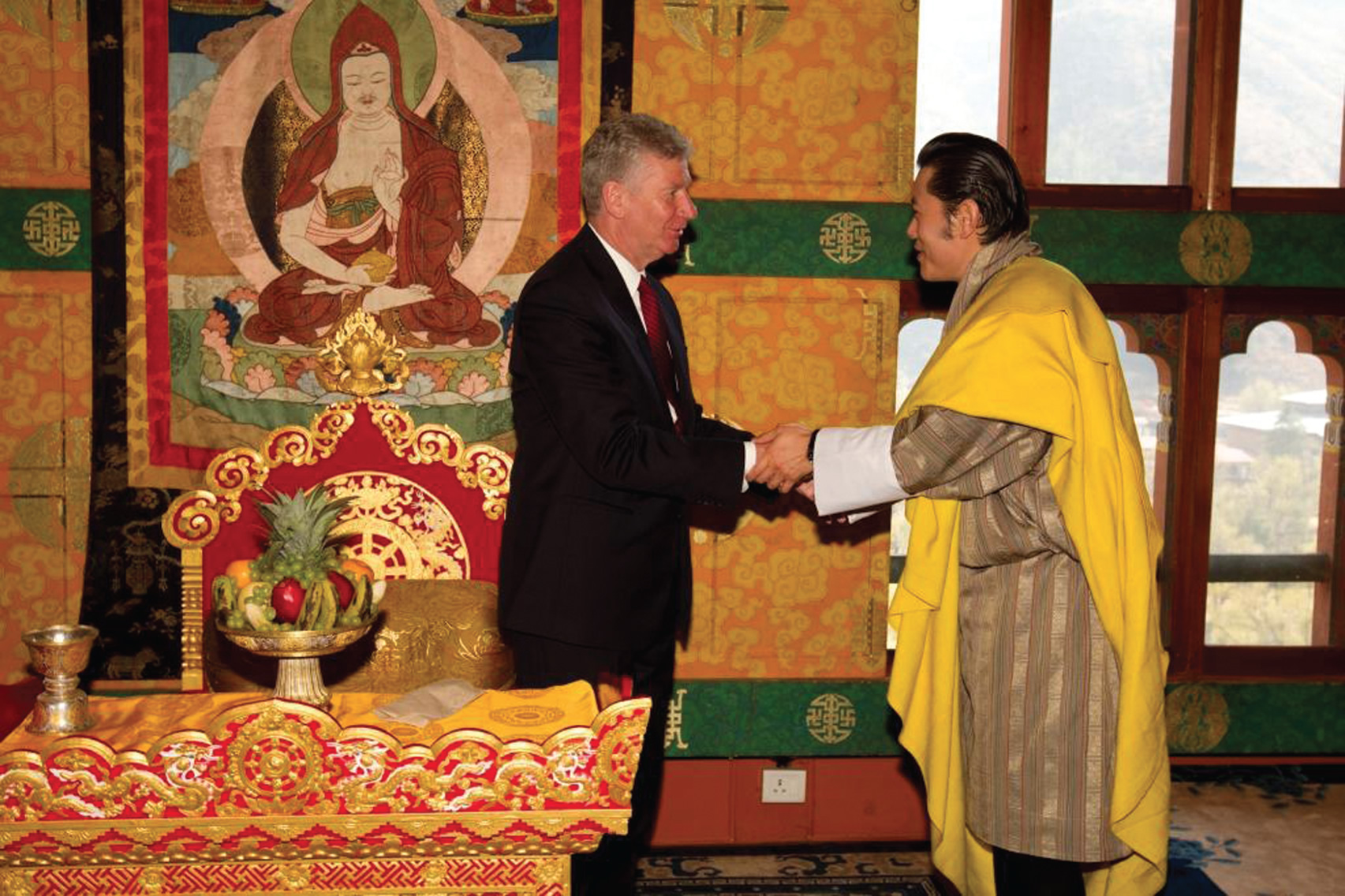 Cricket is to India what hockey is to Canada. So learned Stewart Beck, MBA'79 (BAPHE'75), soon after his arrival in New Delhi as Canada's High Commissioner in 2010. "You can't live in India and not learn about cricket," he explains, confessing that he enjoys watching T20, a shortened version of the game that features players in colourful uniforms and even cheerleaders. Even so, Stewart—a former Golden Gael during his undergrad years—remains true to his earlier basketball roots, lacing up his high-tops for regular games on Saturdays.
If his Saturday scrimmages serve as a stress reliever, he's too diplomatic to say. His responsibilities as Canada's top representative in India (population 1.15 billion) are complex and cover a wide spectrum: bilateral trade, cultural exchanges, educational initiatives, a nuclear cooperation agreement, and support for Canadians travelling and living in India, among many others. The High Commission of Canada to India is Canada's largest overseas mission, comprising 400 staff in New Delhi and seven regional offices in India. It also represents Canadian interests in Nepal and Bhutan.
"India is a remarkable country," Stewart says admiringly. "It's not just a large country; it's also diverse in terms of languages—there are 22 official languages and hundreds of dialects. India and Canada share many similar values. India has a parliamentary democracy, a central government, states and municipalities, so its organization is similar to Canada's. However, India's current political landscape is quite complicated with a coalition government comprised of ten political parties. When I'm at a dinner with ten people, it's hard to find even one of those ten who agrees with another on matters of politics."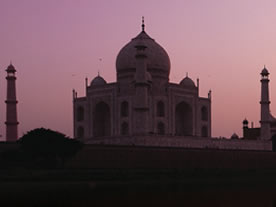 If it sounds like a daunting place to do business, Stewart concedes that it can be. He's quick to add it also has opportunities not seen elsewhere. "The reforms the Indian government introduced in the 1990s have paid dividends with resulting economic growth rates exceeding 8.5 per cent per year," he explains. "This has put India on a path to being one of the leading economies of the 21st century."
A career in Canada's foreign service wasn't on Stewart's radar during his undergrad days. Neither was an MBA until he crossed paths with QSB Professor and Gaels football coach Bill Miklas, MBA'65 (Arts'63), shortly after he completed his Phys Ed degree and was working in the Athletics Department. "The only reason I did my MBA was because of Bill Miklas. He was a great guy, very helpful, and he encouraged me to do it. It was one of the best decisions I've ever made."
He also fondly remembers professors Bill Cannon and the late Frank Collum and Norman Macintosh. "Norman had a great line: 'There's value to having grief in the system.' He explained that conflict in a system can lead to positive results when that conflict forces more inventive solutions." While Prof. Macintosh was referring to managerial accounting conflicts, the fact that Stewart remembers the quote more than 30 years later suggests some first-hand experience with the phenomenon.
As his MBA graduation neared, Stewart planned his next move. Aiming for a career in professional sports administration, he sent letters to every professional team in North America. He scored an interview with the Toronto Blue Jays and was delighted to receive an offer, then disappointed when the job failed to materialize.
"It all worked out though," he says philosophically. "I ended up staying at QSB to teach organizational structure and design, and human behaviour, and it was during those two years that I became increasingly aware of the importance of international trade for Canada."
While on vacation in Cuba in 1982, he looked up a former classmate, Stephen Brereton, BA'78, then an Assistant Trade Commissioner in Cuba (now Canada's Consul General in Atlanta). "Seeing what Steve was doing in the international trade field really intrigued me," Stewart recalls. After returning to Canada and writing the foreign service exam, he was offered a position in the Department of Foreign Affairs and International Trade (DFAIT). His first posting was to San Francisco as a trade commissioner—memorable also for having introduced him to his future wife, Brenda Branin, with whom he now has three sons: Alex, BSc(Eng)'11, Matthew, a third-year Queen's Economics student, and Graeme, in grade 7 at the American Embassy School in New Delhi.
It was while operating a one-man trade office in Silicon Valley in 1985 that he acquired what would become a career-long interest in innovation and technology. Successive, increasingly senior postings followed—to Miami, and Taipei, then as Consul General to Shanghai and later to San Francisco. In Ottawa, he served as DFAIT's Assistant Deputy Minister for international business development, investment and innovation.
Finding innovative ways to boost Canada and India's bilateral trade is one of the High Commission's, and therefore Stewart's, top priorities. While both countries have trillion-dollar economies, bilateral trade sits at just over $4-billion per year. The Canadian and Indian governments recently committed to raise bilateral trade to $15-billion by 2015—a tall order, but an achievable one, Stewart says.
"It's all about getting more Canadian businesses entering the Indian market," he explains. "Our strategy is to work with partners like Export Development Canada and the Business Development Bank, as well as the Canadian banks that operate in the Indian market. It's our job to let them know about business opportunities here and access their client networks to help spread the word."
He believes Canada is well positioned to take its trade activities to the next level in India. Canada has excelled in exporting commodity-driven products, including potash and agricultural products such as lentils, he explains. "Lentils are a dietary staple in India and Canada produces 24% of India's considerable requirements. We're also leaders in the energy field; Canada has a 60-year history in the hydro sector in India and we introduced India to CANDU nuclear technology," he says. Where Canada can make a difference is in enhancing the efficiencies and effectiveness of such sectors through the use of Canadian technology, he says.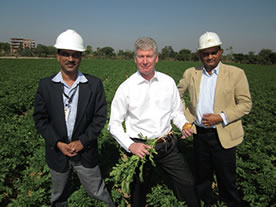 Stewart tours the McCain experimental farm in Gujarat, India with McCain's officials"There are great opportunities in agricultural logistics, for example. Approximately 25% to 35% of agricultural products are spoiled or wasted because there isn't adequate warehousing storage and distribution networks are lacking. Canada has considerable expertise in this area, and companies in this space—in silo manufacturing, cold storage and distribution networks —would find opportunities here.
While the $15-billion target is daunting, Stewart sees great potential in areas where India has a demand and Canada has the expertise and capability to collaborate. "Governments are responsible for putting in place the necessary framework for stimulating economic development," he says, "but it's up to companies to take advantage of a more open commercial environment."
Those with an entrepreneurial spirit take note: India is very much 'open for business.' And Stewart Beck and his colleagues are ready to lend a hand in helping Canadian businesses make their mark in one of the world's most dynamic, interesting and potentially profitable markets.
India at a glance
  Population
1.15 billion
Official languages
22
Dialects spoken
100s
Parties in the current national coalition government
10
Growth rate of the Indian economy
8.5% per year
Learn more about the High Commission of Canada to India.
In this issue
Features
Profiles
Inside Smith
Dean's Message
Parting Shot
Letters