In an exclusive interview, Smith Magazine chats with Wanda Costen about her life and career (which has spanned the military, private industry and academia), how she got to Smith and her priorities for the school.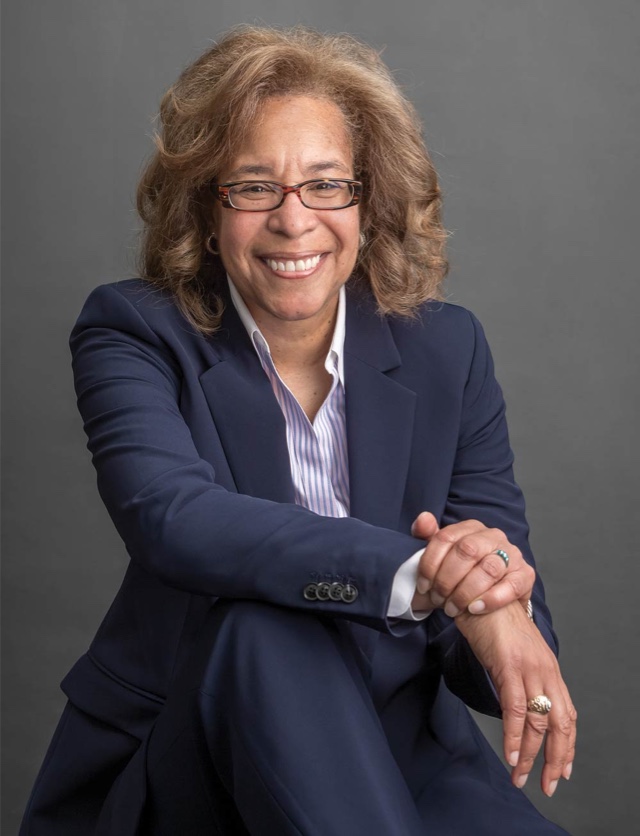 Just before she became dean on July 1, Wanda Costen jumped into her car for a cross-country trip. It started in Edmonton, where she spent the last three-and-a-half years as dean of the business school at MacEwan University. It ended 3,600 kilometres later in Kingston.
The seven-day adventure took her across the Prairies, over the Great Lakes and down to southern Ontario. It's a trek many Canadians have never made. But Costen, who grew up "all over the place" in a U.S. military family, wanted to see the country. Edmonton to Kingston is about the same distance as Newfoundland to England—but with better scenery. Two views that especially impressed her: the moment that the rolling enormity of the Canadian Shield suddenly appeared across her windshield after hundreds of miles of Prairie flatness ("It just comes out of nowhere, like, whoa!"); and the spectacular vistas around Lake Superior. ("They're just stunning. Now I know why they call it Superior.")
A few months later, Costen, 58, is settling in at Smith for a five-year term. Her office in Goodes Hall's west wing is decorated with mementoes from a career that has spanned the U.S. army, Fortune 500 companies and academia. And, after living in land-locked Alberta, she's taking advantage of Kingston's generous waterfronts by learning to kayak.
Of course, there's work to be done. Costen took over from Brenda Brouwer, who, as interim dean for a year-and-a-half, led the school through the COVID-19 pandemic, as well as the school's engagement and response to issues of discrimination raised, in part, because of the Stolen by Smith Instagram initiative. Under Brouwer, Smith launched an EDII Strategy and Action Plan to guide the school's progress on that front.
Costen wants to build on Smith's reputation as a top business school. "We have amazing faculty and talented staff who help us deliver a phenomenal experience," she notes, adding that business schools have an important role to play in shaping the future "and in transforming society." Diversity and inclusion, an area Costen specializes in as a researcher, will also be a priority. "It's about creating an environment where everyone feels welcome," she says.
Costen's bio covers a lot of ground. Her dad was a U.S. soldier; her mom worked for the Army and Air Force Exchange Service, the military's retail arm. After high school, Costen attended the United States Military Academy at West Point, in just the seventh class with women. After graduation, in 1986, she served as a platoon leader and military police officer. Next, she worked at companies like Xerox, Pepsi and Aramark. By her thirties, she was moving up the business ranks. But she found her calling in the mid-1990s teaching. She earned her doctoral degree and taught at Washington State University, then went to the University of Nevada-Las Vegas, University of Tennessee and Northern Arizona University, before coming to Canada in 2018.
Smith Magazine recently sat down with Costen for a wide-ranging interview in which she discussed her career, her priorities for Smith and why she decided to take the job. Here are edited excerpts from that interview.
Smith Magazine: Where are some of the places you grew up?
Wanda Costen: We lived in Texas at Fort Hood, which is the largest United States military installation. We also lived in Fort Riley, Kansas for a short time, Oklahoma and San Antonio, Texas. We typically moved every three to five years. When you're young, you don't realize how unique that is. It's just what your family does. You move a lot.
The first significant trip for us was to Germany. It was a very different experience for a 12-year-old with two younger brothers, but we weren't worried because my parents—working-class people from the Northeast—were excited about it. They fell in love with Germany. They embraced the language and told us to learn the culture. I think that told us not to be afraid of new cultures and new experiences.
Why did you decide on a military career? And why West Point?
Most people expect to hear that I grew up in a military family and followed those footsteps, but that is not what happened. In trying to figure out which electives to take when we came back from Germany to Oklahoma, a counsellor suggested JROTC [Junior Reserve Officers' Training Corps.]
I took it and was good at it. I got promoted very quickly. By the time I moved into my senior year, I was the highest-ranked cadet. I was the battalion commander for the entire school, and I realized that all the people ahead of me who had been in that role went to West Point. So I remember coming home and saying to my parents, 'Hey, I've figured out where I'm going to go to school. I'm going to West Point.' My dad knew how prestigious that school was, but I had no clue.
What was your experience at West Point like?
Certainly better looking back now at 58 than when I arrived at 18. When I became a faculty member at the University of Tennessee-Knoxville, my students would hear me tell stories and they would say, Dr. Costen, you're part of history. My response was: I'm not that old. I am not part of history. Well, now I know I was part of history. We were the seventh class of women at West Point. The first class entered in 1976. I graduated in '86, so we were the 10-year anniversary of women just being at the academy. There was a lot of backlash against us from male cadets, and we didn't understand why that was happening. There were also a lot of silly things. For example, women's washrooms weren't on every floor of the barracks. I had to go up or down a flight of stairs just to go to the washroom. That eventually changed, but the experience taught me a lot about the evolution of a historic, traditional institution, how people's experiences can differ, and what it means to be welcomed, invited in and treated equally. Regardless, my philosophy was: You can throw whatever you want at me; I'm not leaving, and I'm going to graduate.
You've had three quite separate careers. The army was one. Then came industry and academia. What was your first private-sector job?
After the army, I moved to Phoenix and started working for PacTel Paging, which today is Bell, selling pagers. I was successful at it, which led me to think, OK, I'm good at sales. I'm in Phoenix, which I like. Which companies are the best sales companies here? My research revealed two: Xerox and US West. I applied for, and got, a sales position at Xerox, which is one of the best sales training grounds in the world. That's when my career took off. After Xerox, I went to Pepsi, then Greyhound and Aramark. So I developed a background in sales, moved into operations and then human resources with Aramark. After that, I embarked on my PhD.
Was there a specific moment that you decided to get your PhD and become a professor? Clearly, you were moving up in business. So why the career switch?
You're quite right. I had earned my executive MBA from Pepperdine University and was interviewing for VP jobs at Aramark. In my EMBA class, they asked us: What are you going to do next now that you have this new-found knowledge? I read a book called The Path. I'll never forget it. It helps you write a mission statement for your life. At the end of the book, it asks: Are you living your mission statement? My answer was: kind of, but not really.
At the same time, I was the HR director for the West Coast of a business unit of Aramark. Part of my responsibilities was to recruit new talent. I would be invited into the classrooms at Washington State University. I would guest lecture and I'd meet the students. The director of the program kept saying to me, 'We need people like you in post-secondary.' Every time I came back, he'd introduce me to different people, like the dean and the provost. What I didn't know was that, behind the scenes, he was convincing them to entice me to come to Washington State and get my PhD. The next thing I knew, I had an offer to teach as an instructor and get my PhD. So I just took a leap.
You once said that working in industry was your profession. But teaching is your vocation.
Absolutely, absolutely. I fully believe this is what I'm put here to do. Make no mistake, I loved every job I had. But when I got in the classroom, it just fit. It's about impact. It's about passion. It's about love. It's about integrity. It's about helping people achieve their best. As someone who looks like me, those doors weren't always open. And they're still not, frankly. So how do we provide that opportunity? This is what you'll hear me say a lot. I believe one of the things we have to do at Smith, and more broadly at Queen's, is to remember that, at the end of the day, we're providers of talent. How do we assess that raw talent and identify who will benefit from the vast array of resources and experiences we're going to pour into them to develop them into the future leaders of society? We have to recognize that if we're going to continue to be the exceptional institution that we are, and continue to be a leader in business education, we have to recognize that today that raw talent looks differently, presents differently, has different experiences. Industry is well aware that they have to have talent that looks different because their clients and their customers are different, and it's critical they have diverse approaches to solving problems. At the end of the day, we're trying to provide the right talent, and I am counting on our alumni to let us know if we are getting it right.
What made you want to be the dean at Smith?
Well, it's Smith and Queen's! The growth and success of the school has been unbelievable. Even though I'm a U.S. citizen and I didn't know a lot about Canada before I moved here, I knew about Queen's. There are just certain institutions that you know.
Reason number two is Principal [Patrick] Deane's strategic vision for Queen's. As part of the decanal search process, I got to talk to him about what he's really trying to do here and the impact that an institution with the prestige of Queen's could have on the world. I wanted to be part of an organization that's ready to do things differently, that's ready to position itself for what I believe business education is for the 21st century. The principal is committed to this, he gets it. So that's why I'm here.
What are your major priorities at Smith?
For me, the most important area is this: I want to create a collaborative academic learning community where people are respected for bringing their authentic selves into Goodes Hall.
This is about the kind of environment we create in Goodes Hall, SmithToronto, and everywhere we engage with students that allows people who perhaps have never had a pathway into Queen's to bring all of who they are to class. It's about what happens in the classroom. It's about how we teach; what we teach; and who gets to teach. All of that has to work together to create this community in which people say, I belong here.
We have to prepare future leaders to operate in environments that will have people who are different from them—different backgrounds and different biases. So if we're not preparing students for that experience, then we are falling short.
The school did an amazing job creating, what I would call, an incredibly aggressive EDII strategic action plan that has a heavy focus on data and dashboards. We are committed to posting our results on our performance against those key performance indicators. But I want to ensure we move beyond data and focus on that collaborative, inclusive learning community. Please know that there are things in that plan that we will not yet be able to do—and we will be transparent about that. I think people recognize that changing organizational culture and climate is real deep work—and that it takes time.
Number two is values—something that is incredibly important to me. We need to solidify the values that are foundational for us, values that will carry us forward and tell the story of who we are.
I have made a commitment to the Smith community that we will have a complete action plan by the end of this academic year. It is not going to be easy on top of all the other things we're doing, but we will get it done.
How are you going to measure success?
I have to say that at my core, I'm an academic and I love students. Recently, I reconnected with undergraduates from my time in Tennessee and they said, 'When you taught us, you were challenging us to push the status quo as we moved into the world.' Then they told me that they are now leading positive change in their companies. We're planting seeds in a university that we start to water, but they really get all the rain and nutrients they need when they get out into the world. The hope is they grow deep roots from the foundations we're giving them. So that's what success looks like.
I also look at success in terms of the impact that we can have as an organization. The university's focus on the United Nations' Sustainable Development Goals really sends the message about how everything we're doing on this campus is going to be geared towards impact—globally, but also in our own local communities. Who are we partnering with? Are we teaching different world views? What impact does the research Smith faculty produce have? If we ask ourselves what the role of business education is in a global society, I'm hoping that we're developing the kinds of leaders that recognize business for good.
How do you move forward while maintaining traditions that many people still find important at a university?
I'm reading a book called Navigating the Future. It's co-written by the former dean of the Duke Divinity School. He proposes something called "traditioned innovation". What happens is you have these very old institutions that are built on solid foundations and have contributed immensely to their countries. They have produced amazing leaders and talent. But you have to peel those apart because we now recognize that some of those traditions are not necessarily the traditions we want moving forward.
For example, the West Point tradition starts with three core values and they're on everything we do: duty, honour, country. So what are those core values at Smith and what are those core values at Queen's? How do we ground ourselves in those values? Which traditions fully illustrate those values? This is who we are. This is how we contribute to the province and Canada and the world. Then we innovate with those values and traditions as our foundation. We don't throw all the traditions away but we use them as a jumping off point. So we're no longer "traditional", which is tied to the past. We innovate using those traditions as our foundation to leap forward.
Who has had a really big influence on your life and career?
I would say my maternal grandmother. She was a domestic labourer for wealthy white people in upstate New York. If you ever read the book or saw the movie The Help, that was my grandmother. She was a deeply religious woman and every time I achieve success I think of her because I'm standing on her shoulders. She had the courage to emigrate from South Carolina and go to New York at a time when the north was the place for African-Americans to make a living without the Jim Crow laws of the South. My mom was committed to education in our family. All three of her children have university degrees. Two of us have multiple degrees. We're all professionals. Two of us served our country. I realize I'm standing on all their shoulders to now be the dean of Smith.
In this issue
Inside Smith
Feature
Dean's Message
Profile
First Person