Tahmena Bokhari is helping advance the school's commitment to EDII.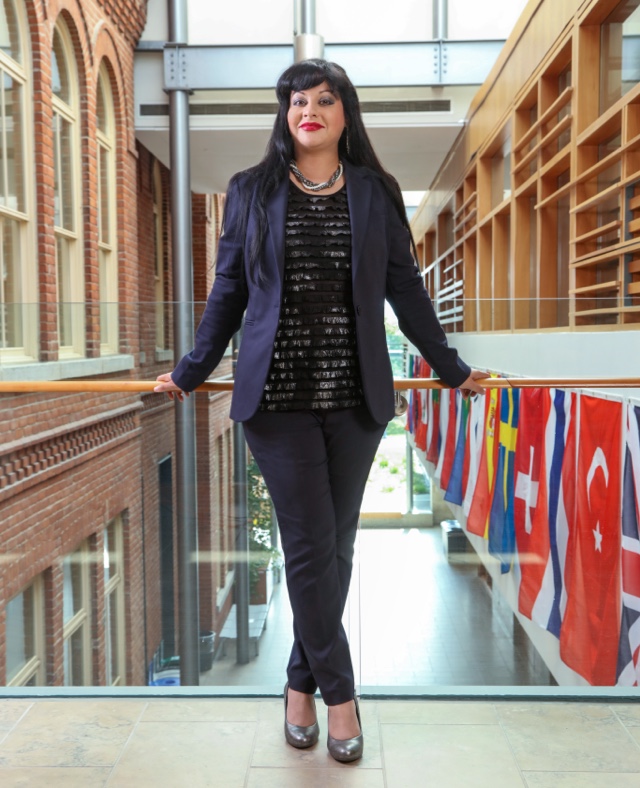 Even as a young child, born and raised in Toronto, Tahmena Bokhari wanted to make the world a better place. A huge influence was her grandmother, who founded a school for girls in Pakistan in the 1940s, when the country was gaining its independence, and fought for gender and religious equity.
"She was a feminist in her own time," Bokhari says. "She was a strong, timeless leader and used her voice. I got a lot of that from her."
Today, Bokhari is doing her part as the director of equity, diversity and inclusion (EDI) at Smith. It's a dream job for Bokhari, who has often found herself in inaugural EDI leadership roles. She's worked in EDI for 20 years as a consultant, professor, human rights investigator, trainer and coach.
In the newly-created position, which she started in May, Bokhari leads the implementation of Smith's Equity, Diversity, Inclusion and Indigenization (EDII) Strategy and Action Plan, working closely with the dean and others across the Smith community.
Here, we get to know Bokhari a little better—her career, the changes she's seen in EDI and her goals at Smith.
What made you want to work in EDI?
Working in EDI is not a traditional career path, and it certainly wasn't when my high school guidance counsellors in Toronto would discuss careers. We didn't even have the language back then. This can be a demanding, emotionally challenging and thankless job with rewards few and far between, so there are days that I have often wondered why I couldn't just get a regular job like everyone else. Most people and organizations are still trying to figure out the role of the EDI leader. It doesn't come pre-packaged like human resources, communications, finance or accounting. I have learned a lot on the job the hard way, which comes with being the first. It's both personal and professional for me. Continuous growth and ongoing efforts of inclusion and equity were part of my identity formation. It's what I would be doing even if I didn't have a title.
What evolution have you seen in EDI over the course of your career?
There are some things you can't convince people of until there is broader social pressure. Executives that 10 years ago didn't believe in the existence of anti-Black racism now have big, bold statements on their websites. No EDI professional, even with the most compelling research and presentations, could have convinced them the way that the horrific murder of George Floyd and the Black Lives Matter movement did. Statements matter. Language matters. But the real test is in the work ahead—on the ground and in the policies, practices and, ultimately, the culture.
What is the biggest challenge that businesses face on this issue?
The first is in the language. Often, organizations have not defined what the words equity, diversity and inclusion mean to them. It's easy to become overwhelmed and confused by internal and external sources and jump on the first trend you see. It's critical for every organization, no matter what sector you're in, to decide what EDI looks like for your business. Ultimately, it has to be part of how people feel and behave inside the organization, and not just well-crafted statements on your website. Change doesn't happen overnight, nor do you want it to. Take the time to determine what's right for your organization. Progress might feel slow at first, but in the end it's more sustainable.
What are you most looking forward to in your role at Smith?
Building the foundation and shaping the EDI journey for Smith. I'm looking forward to meeting all of the people who make up the Smith community and learning about what motivates them for change. My role is to facilitate that process. It's all of you who will create this change and shape what it means in real life and in our day-to-day experiences.