Joze Piranian, MIB'13, motivates people with his words. Not long ago, he could barely speak.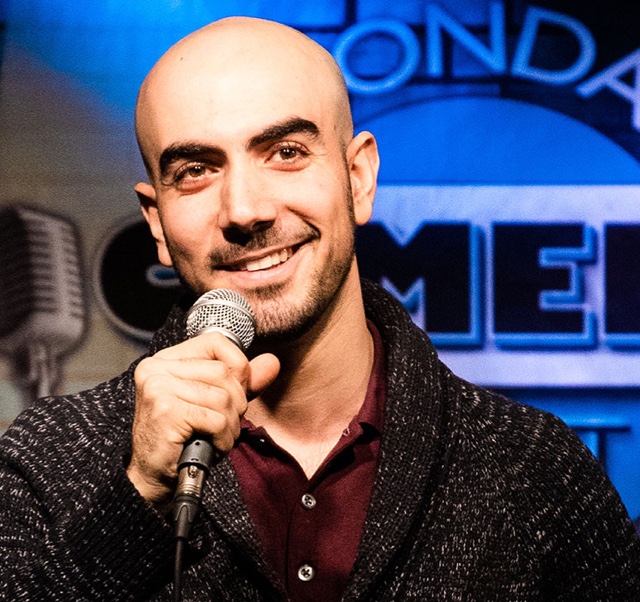 By the time Joze Piranian hit his twenties, he'd had enough. As a severe stutterer, he'd spent most of his life in near silence by avoiding nearly every speaking situation. One of the hardest words to say was his own name.
When he was a teen, he met a girl at a party. They held hands and she asked his name. But as he struggled just to say "Joze," she dropped his hand and walked away. "Was it something I didn't say?" Piranian deadpans.
The simple act of speaking one's thoughts and emotions was nearly impossible. Piranian eventually realized that "the only way I would ever overcome stuttering, and all the pain it came with, was by doing the one thing I feared the most: speaking."
Piranian decided to take action. First, he learned a breathing technique that helped to control his stutter for the first time in his life. He joined Toastmasters to overcome his fear of public speaking. Perhaps his biggest (and toughest) step was to spend hours wandering city streets and introducing himself to complete strangers. Piranian estimates that he's approached thousands of people over the years.
Today, at 32, Piranian is an international public speaker. He delivers inspiring keynotes to corporate groups and at conferences, university campuses and more. He's also a standup comedian who dispenses punchlines and life lessons in equal measure. In the most authentic, vulnerable, charming and humorous way, Piranian shares his personal story of self-acceptance and resilience to those who yearn to fulfil their true potential.
Highs and lows
A documentary about Piranian's life by Canadian filmmaker Josiane Blanc is currently in production. It's called Words Left Unspoken. Piranian was in Lebanon this summer, where he was born and raised by his Armenian parents, shooting scenes. Because of pandemic delays, the film is still a work in progress and a release date hasn't been announced.
In the film's trailer, released in 2019, Piranian explains how he was experiencing the highest highs and lowest lows of his life. The highs came as his career took off. In 2018, he'd spoken at TEDxQueensU, and he had shared the stage with entrepreneur and Dragons' Den star Arlene Dickinson, at the Archangel Summit, and with Julien Christian Lutz (a.k.a., Director X, Drake's music video producer), at the Top Ten Event. He was also performing standup comedy internationally. The lows came as Piranian struggled to manage the increased stress, including spending the extra time required to work on his stutter before going on stage. He rose to the challenge by using mindfulness, meditation and breathwork. "The emotionality is . . . the emotions are definitely intense," he says in a film clip. "Is emotionality even a word? The last thing I need is to add non-existing words to stutter on."
Piranian's journey to Canada began at 18 when he arrived in Montreal to attend McGill University. He graduated with a bachelor of commerce. He also studied psychology. "I was looking for answers. I had grown up feeling so insecure and self-conscious that I thought psychology would provide insights about human behaviour—my own and the behaviour of other people," he explains.
Next, in 2013, he earned his Master of International Business degree at Smith. Piranian comes from a long line of business owners, so his family was enthusiastic about where his career was headed. They'd always supported his choices. But there were initial questions about why he decided to veer from business into public speaking and standup comedy. His new path got their stamp of approval "once it became obvious that I was getting booked to speak by different organizations, conferences and educational institutions," he remembers.
"I always tell my audience that my performance will be full of s… s… s… suspense!"
Piranian likes to joke that he stutters in six languages: English, French, Spanish, Arabic, Armenian and Portuguese. From his home base in Toronto, he brings a message of inclusion and resilience to a broad audience—from schools like Queen's and Seneca College to companies like Google, Tesla, Dell and Key Media. He was recognized as Speaker Slam's 2017 Inspirational Speaker of the Year. And he's been featured by ABC, CBC and Forbes, as well as on the NowThis news website debunking misconceptions about people who stutter.
Piranian has also performed standup comedy in Toronto, Montreal and New York. "Don't worry," Piranian quips during one of his routines. "I always tell my audience that my performance will be full of s… s… s… suspense!" The crowd roars with laughter.
A seasoned stutterer
There are more than 70 million stutterers worldwide, according to the Stuttering Foundation of America. Famous stutterers include Joe Biden, Winston Churchill, King George VI, Emily Blunt, James Earl Jones and Marilyn Monroe.
Piranian takes our perception of adversity and turns it on its head. He calls himself a "seasoned stutterer" who believes that everyone has an "inner stutter" or personal obstacle that blocks them from reaching their true potential.
It's a message he brings to corporate audiences. Given the stresses of the pandemic, companies are asking him to deliver keynotes on building resilience and managing workplace mental health. A recent Statistics Canada survey on COVID-19 and mental health found that approximately one in five (21%) Canadian adults screened positive for symptoms of depression, anxiety or post-traumatic stress disorder.
When Piranian delivered his 2018 TEDxQueensU talk, students told him about their feelings of self-worth, lack of confidence and fear of speaking up in class. Fast-forward three years, and with their lives upended by the pandemic, students are now talking about mental wellness, he says. The lockdown wasn't so easy for Piranian, either. He tells young people how developing positive habits—such as daily meditation, exercise and establishing healthier relationships with his phone and with social media—helped him to view obstacles as pretexts for growth.
Piranian is also asked to speak about overcoming adversity through the lens of diversity and inclusion. "This topic has really grown in significance. Students want to talk about it and to be champions of inclusion on campus," says Piranian, who recently earned a certificate in diversity and inclusion from Cornell University.
Piranian likes to quote a line from Robert Frost's A Servant to Servants: "The best way out is always through."
Stuttering remains a daily challenge but he's determined to make a difference: "I have found that listening to a story like mine can provide both the inspiration and the framework for others to undergo a similar transformation. If even one person is positively influenced to change their lives . . . to me that's so rewarding, so motivating, and it drives me to persevere."