With Three Ships, Connie Lo, BCom'15, GDA'15, is building an all-natural (and affordable) beauty brand.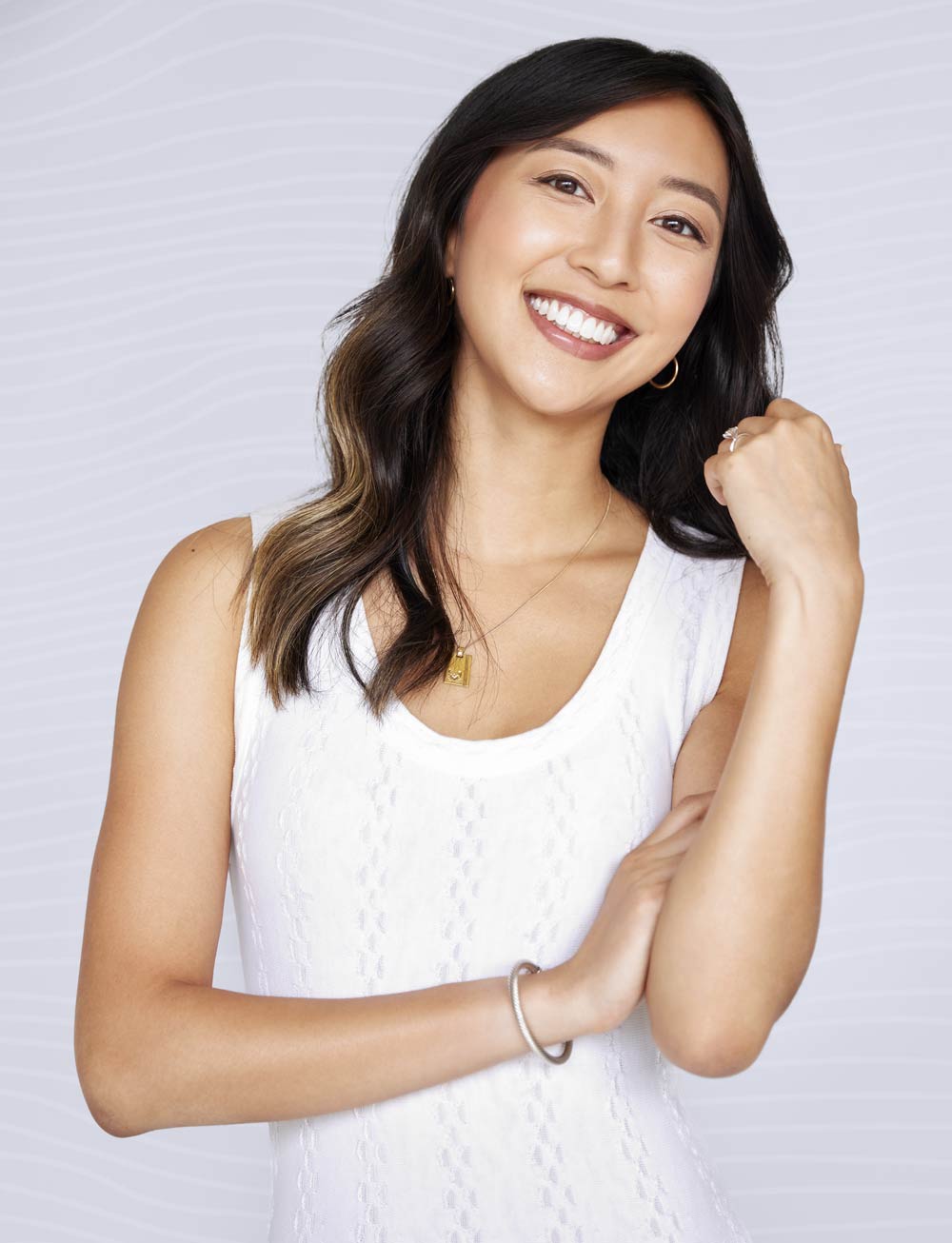 As a 12-year-old in Toronto, Connie Lo used to gather different ingredients from the kitchen, such as bananas, oatmeal and egg whites, mix them with green tea and lather the whole thing on her face to soothe her skin. Her parents didn't mind. Her mother believed in natural remedies and her dad was an open-minded entrepreneur who ran an international cookware business. "My parents would come home and see me there with the latest mixture on my face and say, 'What is our daughter up to now?' " says Lo, 28, with a laugh.
In late 2016, Lo met a like-minded skin-care enthusiast, Laura Burget, a chemical engineer who was looking to start a line of natural-ingredient beauty products after discovering a shortage of the kinds of products she preferred. Lo had long dreamed of being an entrepreneur. "I just never had an idea that resonated with me enough to feel like it was something I wanted to pursue full time until I met Laura . . . We just vibed off each other from the get-go," Lo recalls of their first meeting over dinner in Toronto.
Their vision for their lives and the natural-beauty industry were aligned. "We wanted to really hustle in our twenties and early thirties to start and grow a business and then help others with what we build," Lo says. "We also both saw the natural-beauty industry being really confusing and overpriced, and we felt like there was something that we could do about it."
The pair quickly realized that they had opposite personalities and some skill sets that could work in their favour when building a company. Burget is more of an introvert who enjoys the back end of the business, like analytics and cash flow. Lo is extroverted and enjoys branding, marketing, customer service and sales.
By the end of their initial two-hour dinner meeting, which then spilled into another hour at a local coffee shop, the duo was already brainstorming product ideas. "At the end of the night, Laura asked me, 'Do you want to be my co-founder?' " Lo recalls. "I immediately said yes . . .
Not only was this a great idea, but it was something I had been extremely interested in since I was a kid. It was like the stars aligned."
The next day, the pair started on what would become Three Ships Beauty, a skin-care company with a unique selling proposition: all-natural, science-backed, certified cruelty-free and vegan products priced under $45. Most skin-care products with comparable claims sell for twice that amount.
Connie Lo relives the early days of launching her business and offers advice to entrepreneurs.
Raising sails
Like many entrepreneurs, Lo and Burget started the business as a side hustle while working at their full-time jobs (Lo was an account manager at Kimberly-Clark). Each put in $2,000 of their savings to buy coconut oil, essential oils and other ingredients at Whole Foods. Soon they were testing different concoctions in Lo's kitchen on weeknights and weekends.
Their first product was a line of makeup removers for different skin types that sold for $15 each. Lo and Burget set up shop at farmers' markets in the Toronto area and managed to accomplish two things: First, they generated enough revenue to grow the business. Second, they garnered critical customer feedback that allowed them to improve their products and develop new ones. "We were able to talk directly to our customers and iterate the product based on their feedback," Lo recalls. "Because we only had $4,000 to build the business, we couldn't do marketing or market research. So that was our form of market research."
Lo also pounded the pavement in Toronto neighbourhoods to get listed in stores. She'd walk into shops that sold skin-care products and pitch her brand, which at the time was not known as Three Ships but instead went under the name Niu Body. One sale led to another, and then another, which eventually led to larger orders. Within one-and-a-half years, both she and Burget were able to quit their day jobs and focus on the business full time.
Changing course
While sales were starting to tick higher, Lo and Burget found themselves with a problem. Consumers were confusing Niu Body (Niu is Hawaiian for "coconut") with brands with similar names. People also had a hard time pronouncing Niu Body and some thought it was a body-care company. The natural facial skin-care angle just wasn't coming through strong enough. After 10 months of market research—in which they discovered that many of their customers weren't just their target Gen Z market but also millennials—they settled on a more direct brand name: Three Ships.
The new brand launched in July 2020. It's based on the mythical story of the fountain of youth, which adventurers would go to great lengths to find. Some legends suggest a small fleet of three ships discovered it. Lo says the name is linked to the idea that great discoveries can be made with limited resources—an idea that fits with certain Three Ships products. For instance, a bestselling serum has just four ingredients: vitamin E, almond oil, pumpkin oil and lavender essential oil.
The brand makeover worked: Within six to eight weeks, Three Ships landed a handful of huge customers that Lo and Burget had been pitching for months. They included Target, Whole Foods, Indigo, Holt Renfrew, Urban Outfitters and Well.ca, among others. "They all came after the name change, so clearly we made the right decision," Lo says.
Getting into Target stores was an especially big deal. "I had been trying to get in contact with the Target buyer for months, to no avail," Lo recalls. Then, she had a coffee chat with a former student at Queen's who was looking for career advice. As it turns out, the student had gone on exchange with someone who now worked at Target. Lo sent over some product and was able to connect with the right buyer.
At first, Target only wanted to test Three Ships products on its website. But Lo wanted more. She realized that she and the buyer would both be attending the same trade show in New York. "On the last day of the show, I saw him walking towards the men's bathroom and saw my chance. I stationed myself outside of the men's room, and when he came out I walked up to him and asked him to come by our booth. It was there that he agreed to a pitch meeting at Target headquarters." The deal Lo landed put Three Ships into more than 500 Target stores.
Lo and Burget also appeared on the hit CBC pitch program Dragons' Den. "It's probably been the number one driver of awareness for us across Canada," Lo says of the appearance that aired in October 2020. Shortly after, Three Ships raised a seed round of $1.4-million from angel investors. Last year, the company's sales spiked to $1.4 million, more than double the year before and despite a sales lull and some supply shortages when the pandemic first hit in the spring of that year. Three Ships is on track to generate about $5-million in sales this year.
Navigating stormy seas
It hasn't been all celebration for the founders of Three Ships. Early last year, at age 26, Burget was diagnosed with a brain tumour and underwent a 10-hour surgery in early March, just before the first pandemic lockdowns in Canada.
Burget understandably stepped away from the business to recover and is now back full time, helping Three Ships chart its next stage of growth. The company now donates a portion of its sales to Make-A-Wish Canada to support the wishes of children who have brain tumours and cancer. Their goal is to donate $1 million by the end of 2024, which is the equivalent of 100 wishes in three years.
Despite being hit with their share of hurdles, Lo and Burget are successfully conquering the complex, fragmented and highly competitive world of skin-care products. Veteran beauty industry executive Tim Coolican, BCom'01 is a Three Ships mentor. He believes Lo and Burget have succeeded because of their clear conviction and courage. "Having a great idea for a brand is one thing; being able to translate that idea into great products is another thing," says Coolican, a former L'Oreal executive who is now CEO of Milk Makeup in New York. "And then being able to take that brand and those products and bring them into the market in a way where you are really able to connect with the community and build a business out of it is a whole other endeavour. I think what Three Ships has done really well is connect those three things."
Looking ahead, Lo says the company plans to keep introducing new products and eventually expand into other natural beauty areas such as cosmetics, hair and body care. "Our mission is to be the most transparent natural beauty brand in the world and to be the go-to natural beauty brand for everyone."
Three Ships appears to be well on its way.
Shelf Stars
Three Ships co-founder Connie Lo gives us a tour of three of her skin-care brand's bestsellers.
---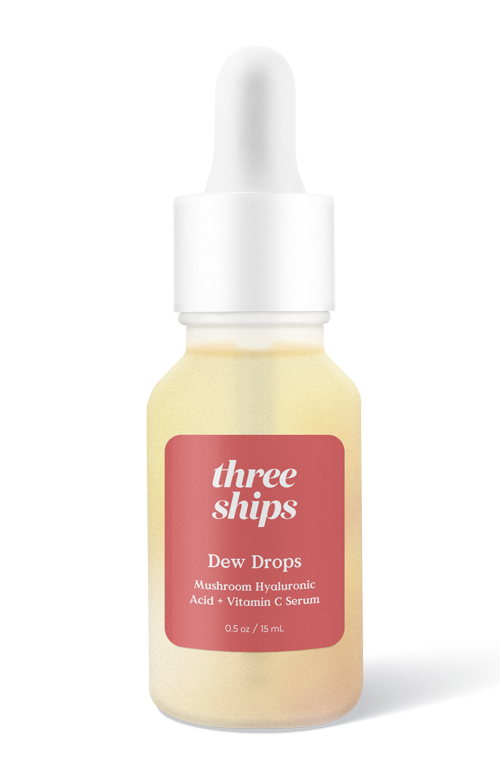 Dew Drops
Mushroom Hyaluronic Acid + Vitamin C Serum
Dew Drops was named the best hyaluronic acid serum this year by Self magazine. It combines hyaluronic acid from Tremella mushrooms and vitamin C from the Kakadu plum. "The natural hyaluronic acid has a small molecular weight to absorb quickly into the skin," Lo says.
---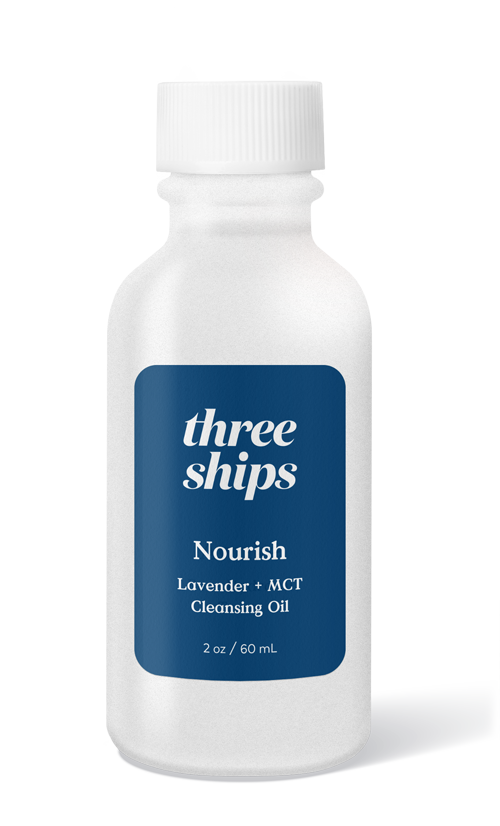 Nourish
Lavender + MCT Cleansing Oil
This is the first product that Lo and business partner Laura Burget came up with. "We purchased the ingredients for testing from Whole Foods," Lo recalls, "and three years later we launched at 45 Whole Foods locations in the U.S."
---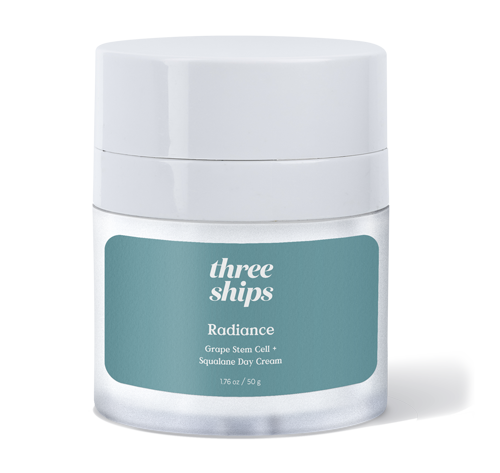 Radiance
Grape Stem Cell + Squalane Day Cream
Radiance is Three Ships' No. 1 selling product. "We sold out four times over the pandemic," Lo says. "Recently, we even sold out over the course of a weekend."