Mounir Nasri, MMIE'20, Artsci'19, is using technology to help refugees make a new home in Canada.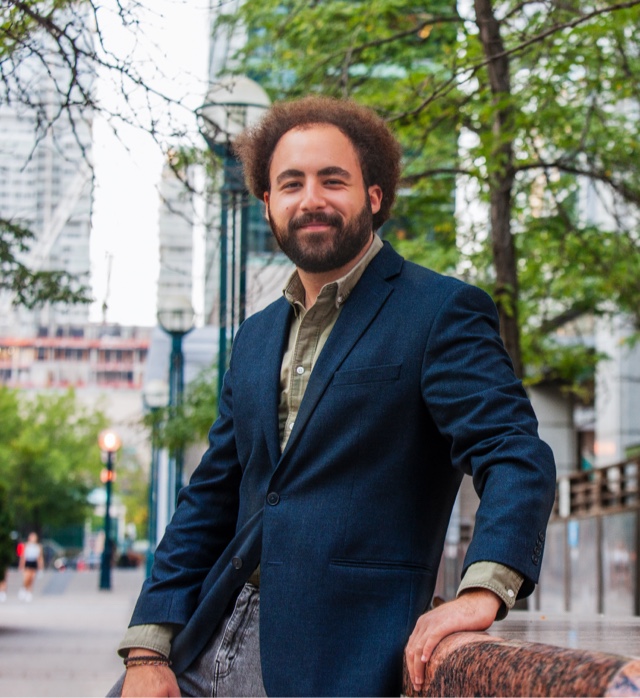 Six years ago, Mounir Nasri came to Canada as a refugee from Syria. He escaped that country's civil war and still recalls landing in Canada, his new home. "There was definitely a lot of uncertainty. But it was exciting. It was a new opportunity to move forward in life."
In between Syria and Canada, Nasri studied computer science in Lebanon. There, he heard of a fascinating organization called "Techfugees" that uses technology to help refugees. Founded in 2015 in response to the European refugee crisis, Techfugees now has chapters around the world.
Thanks to Nasri, one of those chapters is in Toronto. Techfugees Canada, which Nasri co-founded, develops solutions to benefit newcomer-refugees trying to find their way. "The way I see it," he says, "technology is not the main solution to this complex problem. Rather, it can be a way of making processes easier, specifically for refugees."
Techfugees Canada recently launched a housing network pilot project with Romero House, a Toronto settlement organization. Together they're creating a digital service to connect refugee claimants to housing. By identifying people willing to provide accommodations, Techfugees' volunteers will populate a vetted list for Romero House's clients to find places to live.
"We invited in people from the settlement sector who serve refugees, we invited in refugees, as well as people in the tech sector, to get a better sense of what is missing in the community," Nasri says of the project's beginnings.
There are more than 79 million refugees and displaced people worldwide today. With climate change, that figure will rise to 143 million by 2050, says the World Bank. Demand for Techfugees' services will only go up.
Among the group's recent activities: Techfugees Lebanon is connecting refugees with remote work opportunities. (In a post-COVID world, many jobs can be done from anywhere, after all.) In Nigeria, Techfugees is setting up an online market for displaced people to sell their handmade crafts. One of the biggest projects is called #TF4Women. Led by Techfugees in France, it helps refugee women land tech jobs in Italy, Greece and France. It's supported by companies such as L'Oreal and Cisco.
In Toronto, Nasri loves making strategic connections across organizations and sectors. "I've always liked being creative in solving my own problems, in navigating life's challenges," he says. He was drawn to Smith's Master of Management Innovation & Entrepreneurship (MMIE) program because of a desire to use his problem-solving skills on a bigger scale. Today, he works at one of Toronto's Local Immigration Partnerships, where he brings people together to deliver better services to newcomers—from employment support to health-care access.
He's also enjoying his adopted city. "In my neighbourhood, and all across Toronto, you're exposed to so many different people, different experiences, different ways of doing things," Nasri says. "I was in the library one day and talking with someone about our immigration experiences. One of us was here for just a few years and the other for more than 20 years. So, we got to see all that we have in common, as well as how things have changed over the years."
Interested in getting involved with Techfugees Canada?
Email toronto@techfugees.com