Sarah Davis, BCom'89, is putting big data and analytics into the grocery basket of Canada's biggest supermarket chain.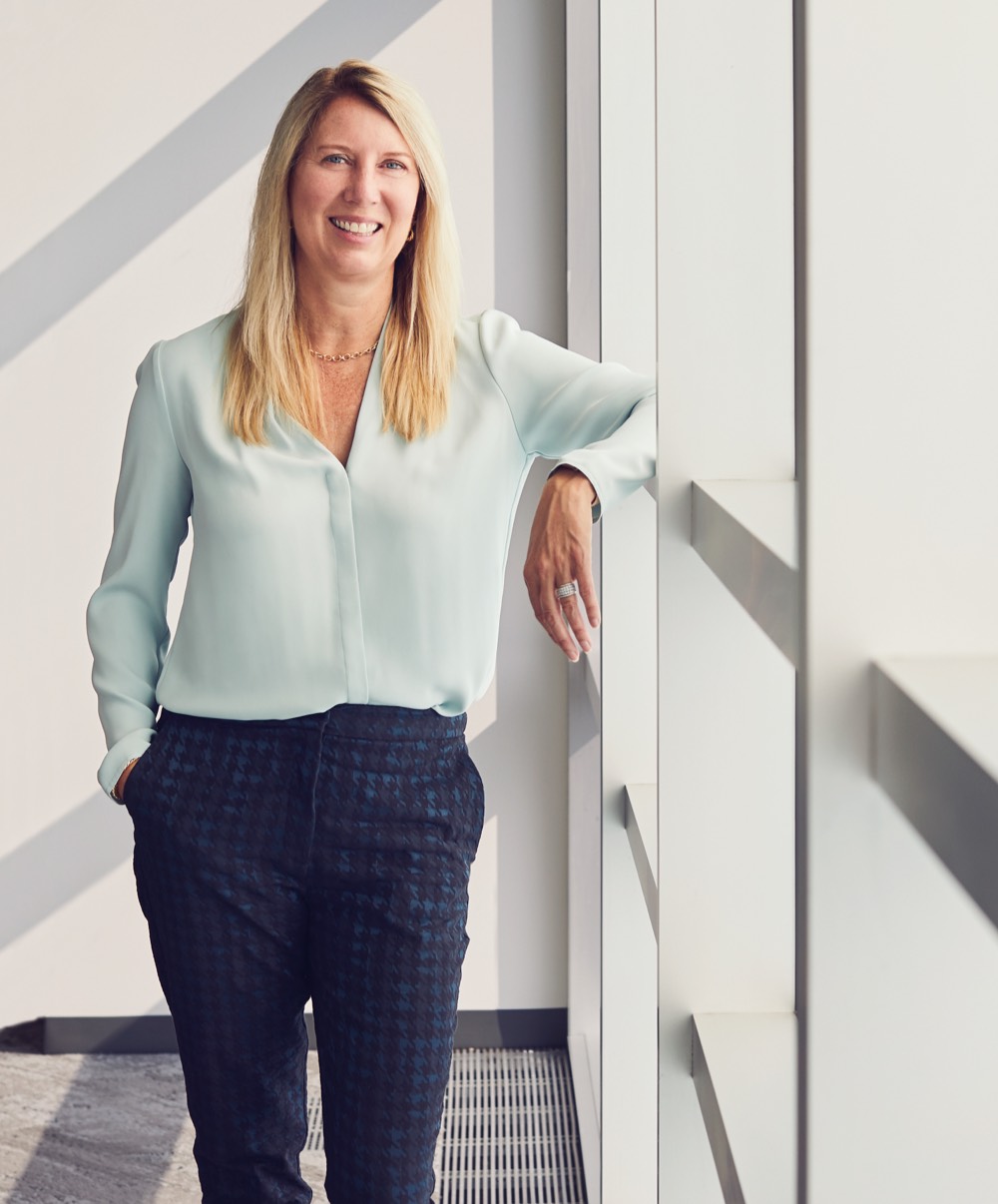 Sarah Davis is a numbers person in a business that has, historically, relied more on art than science. So, as president of Loblaw Companies Limited, her mission to take the guesswork out of grocery certainly adds up.
"I have a 'mathy' brain and our business was very much based on gut feel, whether it was choosing product assortment or making merchandising decisions," says Davis, who is leading Loblaw through a data and digital transformation. While she believes there is both art and science to retail, Davis says the company was based "all on art" for a long time. "I wanted to bring the science, and I knew it would be good for the business."
Davis's aptitude for math—she excelled at the subject at her high school in Port Credit, Ont.—was what led her to pursue a Commerce degree at Smith. She chose the school because she thought Queen's was one of the hardest universities to get into. For Davis, studying business was the logical choice. "I thought it was mathy and I would do well at it," she says. "I also thought if I got a business degree, I would easily get a job."
After graduating, Davis was hired at Ernst & Young in Mississauga, Ont., eventually receiving her chartered accountant designation. She then moved into telecom, working at Rogers for four years, then Bell for 10 years, then back to Rogers for three more. "I did every type of finance role you can do," says Davis, from planning and forecasting, to external reporting, to mergers and acquisitions.
In 2007, a headhunter for Loblaw came calling, and Davis's interest was piqued. A big attraction for Davis to join was the company name: She'd always been a Loblaws shopper. Another attraction was the location: Davis, who was raising three daughters at the time (they're now in their twenties), was sometimes spending hours a day commuting to work in downtown Toronto from the suburbs where she lived. Loblaw had recently opened a sprawling new head office on the outskirts of Toronto, in Brampton.
Changing roles
Loblaw, Canada's largest retailer, has more than 1,000 grocery stores and nearly 1,300 drugstores countrywide under banners such as Loblaws, No Frills, Real Canadian Superstore, Provigo, Maxi, Shoppers Drug Mart, Pharmaprix and Zehrs. It also operates a bank (PC Bank), and its private-label products, President's Choice and No Name, are among the best known and most popular in the country. Started in Toronto in 1919 with one small grocery shop, Loblaw now employs 194,000 full- and part-time staff, with revenues of $48 billion last year.
Davis made the leap into grocery and was soon steering the financials of major Loblaw initiatives, first as controller and then as chief financial officer (2010 to 2014). In both those roles, Davis played a key part in Loblaw's multi-year, billion-dollar development and implementation of an SAP enterprise system, which replaced the company's old and outdated IT and supply chain systems.
With an aim to improve operational efficiencies, the SAP technology is used to manage the company's ordering, perpetual inventory, pricing, financials and master data. For example, it allows Loblaw to trace a product from the time it's ordered to when it arrives in distribution centres, to when it arrives at stores, to when it's sold, with the end result being replenishment. "At the point of sale, as soon as the item is scanned, the system knows you just sold a bag of milk—let's put it on re-order," explains Davis. This gives Loblaw a better view into its stores, with benefits like better forecasting and reduced inventory loss.
Putting SAP technology in place proved a massive undertaking. As controller and CFO, Davis describes her role in the project as "making sure that all the numbers were in place, making sure that the flow of data was accurate and being part of the gigantic implementation that ultimately rolled out to every single store and distribution centre."
The upgraded systems proved to be a boon to the company when COVID-19 first hit. "It was pretty crazy that on a Friday we basically sent everyone [at head office] home and on Monday, everyone was working from home and we had few, if any, IT issues," says Davis. "Even in the stores, when we had that unbelievable demand, all our systems—all of the backbone of the company—kept working."
Davis was also a big part of the financial brain trust behind the spinoff of Choice Properties, Loblaw's real estate holdings, into a public real estate investment trust, or REIT. That allowed financial investors to see the underlying value of all Loblaw's real estate, which then increased the company's share price. That in turn helped Loblaw pull off one of the biggest takeovers in Canadian retail history: the $12.4-billion acquisition of Shoppers Drug Mart in 2013. "Part of that deal was done with equity, so having a higher share price was an important part of doing the Shoppers deal," explains Davis.
As the Shoppers Drug Mart acquisition was underway, Davis got the unwelcome news from her boss, Galen G. Weston, that he'd like her to take on the role of chief administrative officer, which meant she'd be responsible for supply chain, human resources, IT, real estate, strategy and more. "I was seriously devastated, to be honest," says Davis, who loved being CFO and wanted to see the Shoppers deal through. "I didn't imagine myself [as CAO]. I didn't know anything about supply chain or IT. I had been a finance person my whole life and that was what I knew. . . So, it really took me out of my element."
But Davis rolled up her sleeves and learned all different aspects of the business. She ended up loving the job, which she held from 2014 to 2017. Looking back, she says the role made her braver. "It really was this soul-searching moment of 'how can I run supply chain when I don't know anything about it? What am I going to bring to the table and how am I going to earn the respect of these leaders who now have me as their boss and I'm not the expert?' And so, it was very foundational for me to figure out what I could bring in order to be useful and how to earn their respect."
What's more, Davis says her time as CAO allowed Loblaw's leadership to see her in a different light, which set the stage for her to be considered for the role of president. "I don't think I could have done this role without [having been CAO]."
The pandemic arrives
Now in her fourth year in the president's seat, Davis continues to focus on digital and data. Loblaw is investing in three key areas: e-commerce for its grocery, pharmacy and beauty businesses, including investing in new technologies like robotic micro-fulfillment centres; digital health care such as virtual care and e-prescribing at Shoppers Drug Mart; and payments and rewards. In September, Loblaw launched a new payment product, PC Money Account. The bank account combines with the PC Optimum rewards program and allows users to earn points on everyday banking. That same month, Loblaw paid $75 million for a minority stake in Maple, a provider of virtual health care that had worked with Shoppers Drug Mart during the early days of the COVID lockdowns to offer virtual care.
In addition, the company continues to harness digital tools such as artificial intelligence and machine learning to gain customer insights from PC Optimum. Ultimately, the data lets Loblaw better understand customers. "It allows you to see trends and see what resonates, so we can create offers tailored to a certain cohort and we can see which [offers] work and which ones don't," says Davis.
The data also allows Loblaw to be more efficient and accurate with its promotions. Instead of promoting an item in a flyer, where perhaps only half of customers will be interested, Loblaw can send (via the PC Optimum app) a promotion directly to the customers most likely to like it, based on their previous shopping habits. "As we've put more data and analytics tools in place, I believe that allows us to understand our customers better than anyone else," says Davis. "And the company that knows their customers the best is the one that's going to win."
Of course, winning in 2020 has looked different than anticipated for a lot of companies, especially in grocery. Davis describes her experience with the pandemic, particularly at the outset, as definitely not easy. "It was very stressful, making decisions all the time without perfect information," she says. "But, as a management team, it allowed us to work together like we never have before."
As Davis explains, Loblaw's management team would make decisions every day, inform the stores, explain why they made those decisions, then ask for feedback on what was working and what was not. "At ten o'clock the next morning, [the stores] would provide feedback and by noon, the management team would work together and say, 'okay, what should we change?' So, it was very dynamic and very agile. And for a $50-billion company, it was amazing how fast we could make decisions and how fast we could get things done in our stores. So, yes, it was challenging, but also super inspirational."
The pandemic also became a rallying cry for the business, says Davis. "Grocery was deemed an essential service, so there was pride in our business, of saying, 'we're here to serve Canadians; we need to make sure they get their essential food and health items; and we need to make sure our stores, our customers and our colleagues are safe.' So it's been unbelievable in terms of [everyone] coming together for a common purpose."
As a leader, Davis places particular emphasis on listening and learning, two qualities that took root in her childhood. Davis was born in Saint John, N.B., to parents who had immigrated to Canada from England. The youngest of four siblings, Davis didn't have much of a voice in the household—her two older sisters and brother did all the talking. "My mother would joke that she didn't even know I could speak until my siblings all went off to university," says Davis. She spent a lot of time listening and reading the mood, which ended up being a good skill to have in the workplace. "I don't necessarily have to be the talker," she says. "I'm happy to be listening to what others have to say."
Davis's parents were teachers, and her dad went on to get his PhD and become a professor. The family eventually settled in the Toronto area when Davis was nine. "[My parents] believed a lot in education, so that was my grounding," she says. "It wasn't education for the sake of getting a good mark. Of course, that mattered, but they wanted to teach us how to want to learn. So, they instilled in me a love of learning and never feeling like you're done—there is always more to learn."
Davis would give the same advice to today's business school students. "Be curious, be interested, and continue to seek more learning." Another piece of advice is: be kind. "People don't think of business and kindness going together, but I think they really can and they should," she says. "You don't have to have an aggressive personality to be successful. Be authentic and be true to who you are, and bring that to work every day."