Who are the custodians who step up to protect institutions when it really matters? A water crisis in crumbling Detroit led researchers to an answer.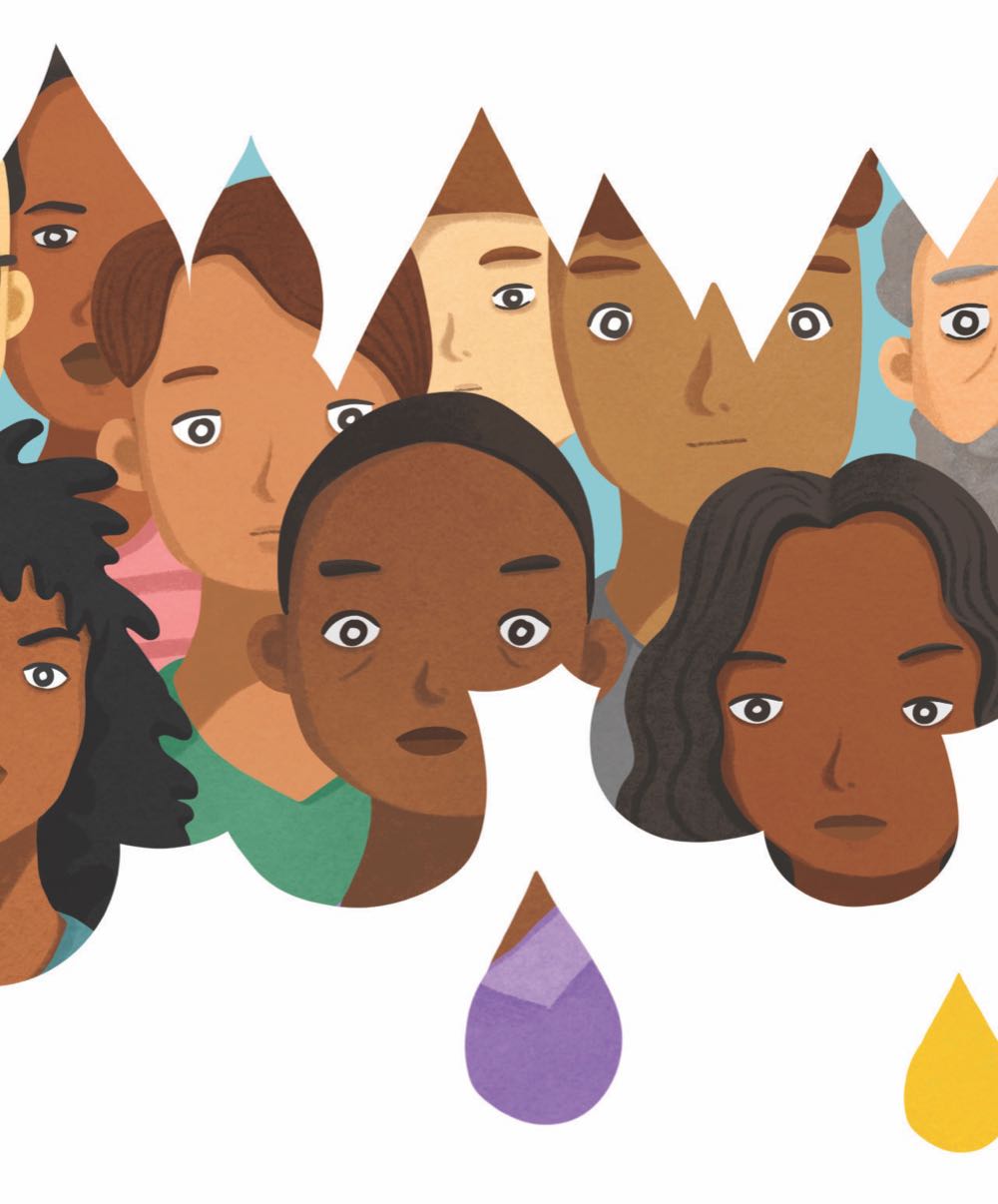 Our elected leaders are in the spotlight so often that they become household names, with many of us forming strong emotional ties to certain politicians. But what about those individuals who stand up and take on leadership roles in their communities—often to help distressed institutions, from government agencies to broader spaces such as the environment? These people may lack any official status and remain largely unrecognized, but nevertheless play critical leadership roles through their passionate commitment to a cause.
"When you look at how people care for their neighbourhoods, leadership often falls to custodians of the community," says Tina Dacin, a professor at Smith who specializes in strategy and organizational behaviour. "But who are these actors? We know they are disparate groups with their own agendas, but how do they come on board in the first place and then maintain their enthusiasm?
Dacin has researched a diverse set of so-called "community custodians", from fly-fishing guides to water activists in Detroit, to spotlight this hidden force in society and show that institutions of all types require continuous care if they are to operate effectively.
A unique vantage point
In 2014, still staggering from the Great Recession and just emerging from bankruptcy protection, the City of Detroit considered raising funds by privatizing its water services. The Detroit Water and Sewerage Department (DWSD) presided over decaying infrastructure in one of the poorest cities in the United States, where many residents were having trouble paying their inflated water bills. As the utility struggled to manage its finances, rates had surged to more than twice the national average. In a business decision that would eventually draw international condemnation, the utility began shutting off water to tens of thousands of households with overdue accounts.
By the time COVID-19 struck, thousands of Detroit residents were still living without running water—a situation that made a mockery of the government's public health strategy that called for citizens to wash their hands.
To most observers this lengthy struggle over water access has looked chaotic. Much more than a fight between residents and city hall, it has been a struggle to keep a neglected public institution alive. As the drama played out, Dacin and Wren Montgomery, PhD'15, an assistant professor at Ivey Business School, documented how players from across ideological, socioeconomic and racial divides found common ground and worked to save the public water system. And although Detroit has still not fixed the underlying causes of its water crisis, Montgomery and Dacin found the beginnings of a blueprint for how society might renew a broad range of institutions, from Canadian health care to democracy.
All institutions require renewal or they will atrophy, say both Dacin, who is the Stephen J.R. Smith Chair of Strategy and Organizational Behaviour at Smith, and Wren Montgomery, a Smith doctoral graduate who specializes in sustainability and general management at Ivey.
Many institutions go into decline because they're taken for granted. In Detroit, for instance, situated by the Great Lakes, "water is seen as infinite," they write in their paper, "Water Wars in Detroit: Custodianship and the work of institutional renewal." Furthermore, the crumbling infrastructure was hidden underground and the city's privatization consultations occurred behind closed doors. Montgomery collected data from 2014 to 2018, recording how information and power moved among disparate groups of individuals seeking to protect affordable access to publicly owned water services. She moved to Michigan for two years to do her research and was able to conduct lengthy, on-the-ground interviews with scores of key players.
More than 80 per cent of Detroit's population is Black, and the poverty rate is more than twice the U.S. average, at 39 per cent. "The level of poverty is shocking," Montgomery says. Once pleasant, middle-class neighbourhoods are today largely deserted, burnt out, overgrown and some even bulldozed to the ground. Many households still trying to build a life in the hollowed-out city incurred the added burden of shame when DWSD contractors came to sever their water access, spraying blue paint on the sidewalk to mark the valves they shut off. One resident who came out of her home in pyjamas to challenge the contractors was taken away by police, Montgomery recalls.
But there were many examples of communities pulling together. For instance, some people would leave their outdoor taps on at night for others to access unseen, and some teachers quietly opened local schools 30 minutes early to allow children without running water at home to wash, she adds.
It's everyone's problem
Montgomery and Dacin saw a wide range of people fighting back as custodians of public water services, with different understandings of the situation and a variety of skills, resources, objectives, motivations and interests. These people worked both independently and collectively, at times sharing resources, being energized by each other and ultimately amplifying each other's voices.
Montgomery and Dacin placed the custodians into four groups. The "operatives", comprised of insiders, such as DWSD employees, whose jobs were tied to the water works. They sought to maintain their employment in the time of budget cuts and a weakened union. Their tactics included assuming a role as defender of public water services and broadening the debate to include labour conflict rights.
The second group, the "warriors", included policy experts and environmentalists, who were able to energize other groups of custodians with their experience and by bringing in external contacts. The warriors helped Detroit residents understand the value of keeping water a public resource by presenting the stories of cities where privatization had failed, including Atlanta and Indianapolis. They also persuaded residents to look at water as more than a utility, playing up the personal and emotional connection we all have to water and arguing that water is a human right.
A third group, the "converts", consisted of community leaders already deeply involved in local causes, from social justice and poverty to environmental issues and civil rights. These custodians were more likely to be visible minorities, female and financially less secure than those from the other groups. But fundamental differences in backgrounds didn't prevent these groups from working together. Warrior and convert custodians, for instance, jointly submitted an appeal about the water shutoffs to the United Nations, and a few days later, on June 25, 2014, the UN responded by declaring the DWSD's actions to be a violation of the UN's declaration of human right to water and sanitation. The announcement drew international publicity to the cause and propelled custodians to organize more aggressive responses to the shutoffs, including blockades and mass demonstrations.
Montgomery and Dacin termed the fourth category of custodian the "agnostics", represented by analysts, bureaucrats and corporate executives. This group wanted safe, clean drinking water, but they weren't philosophically attached to the public-water model. While less passionate about the issue than other custodians, they brought a market view of the crisis and the ability to consider flexible solutions. As one executive told Montgomery, declaring water a human right is the easy part. "Once you solve that then you've got to work on the harder problems, which are, how do we make this infrastructure; actually build it for the 21st century?"
Montgomery and Dacin's research suggests that any assumption that longstanding institutions will survive if left to the oversight of a narrow group of insiders is a mistake. The people at the top running them cannot renew or save the organizations on their own, and if they don't attract "a distributed web of support" then the organizations may atrophy and fail, they write. "Our model . . . underscores both the complexity and enormity of sustaining institutions," they conclude. "No single action or actor can tackle the renewal of a large multi-dimensional institution on their own."
The Detroit water crisis is one example of where institutional custodians have intervened to preserve institutions, and there are many others. Dacin has also explored how hidden leaders actually enforce regulations when government officials are absent. For example, she and Brett Crawford, an assistant professor at Grand Valley State University in Allendale, Mich., looked at how fly-fishing guides enforce catch-and-release regulations in the vast wilderness where state officials fail to enforce the rules.
"These custodians really take the law into their own hands to protect an institution important to them, sometimes turning into vigilantes," Dacin said. Their research paper, "Policing Work: Emotions and Violence in Institutional Work", documents the guides' tactics, including bullying violators, chasing them and even breaking their fishing rods.
"No single action or actor can tackle the renewal of a large multi-dimensional institution on their own."
Building the web
It's not just utilities and the environment that suffer from neglect today. From education to health care, many institutions have been taken for granted. They will require many "micro actors" to help them rebuild, Montgomery said.
In Canada, the biggest institution at risk may be health care, both Dacin and Montgomery agree, where conditions seem right for their model of custodian renewal. Canadians are overconfident in a system that is being torn apart by stretched resources, unequal care and gradual loss of services—and people haven't realized that they need to get involved to protect and enhance it, Montgomery said.
Similar to the hidden state of Detroit's water infrastructure, Dacin suggests that the state of long-term care and public health in Canada has been largely out of sight to most citizens. COVID-19 caused the tragic and often inhumane deaths of thousands of nursing home residents, mostly in Quebec and Ontario. "A crisis can lay bare the faults of an institution," Dacin said.
The pace of destruction was stunning and left government officials claiming they were unaware of the level of atrophy within the long-term care system. In response, a range of hidden custodians have stepped forward to try to bolster the system. "It is frustrating for people like us who have been telling the government about these problems for years," said Melanie Benard, national director of policy and advocacy for the Canadian Health Coalition (CHC) in Ottawa. "We do often feel like our voices aren't being heard."
The public advocacy group works to protect and improve public health care and is a coalition of national organizations representing health-care workers, unions, community organizations, churches, seniors and academics. Although the CHC had hoped the business sector would support initiatives like national pharmacare, which could save money for employers who provide employee drug plans, it has struggled to bring the business community on board.
Other actors are working independently to bring change. In the area of long-term care, for instance, numerous lawsuits against providers on behalf of family members are seeking class action status, and several groups collected tens of thousands of signatures petitioning for improvements.
Penny MacCourt, a retired sociologist and long-term care consultant in Nanaimo, B.C., initiated a Parliamentary petition in June calling for national standards of care. More than 2,500 people signed it, and in July it was presented in the House of Commons. "We felt the petition would give [our efforts] more weight," said MacCourt, who became involved a few months ago through a family council meeting at the nursing home where her mother lives. Her group has grown through internal networks and is now called Action for Reform of Residential Care. While no one in the group has a political background, members offer a variety of expertise and experiences and share a passion to improve the quality of life for nursing home residents. The group has written a white paper and is trying to find the right channel through which to present it to the provincial government. "The process is all new to us," she said. "We are trying to move a bureaucracy."
The pandemic has made "institutional custodians" such as Benard and MacCourt more optimistic about the likelihood of change and has given some of them stronger voices in the public domain. But the months ahead require follow up and the political will to deliver change before people grow tired of the issues. "There is a moment here and we have to seize it. It will disappear if we don't act quickly," Benard says.
Detroit's tipping point?
In Detroit, even though active custodians took up the fight years ago, the water crisis remains unresolved. There have been Band-Aid solutions, such as one-time assistance subsidies that eventually dried up, but no systemic change.
The process has moved slowly, Montgomery admits, but the foundations have been laid for change. In 2018, Detroit's water crisis became an election issue. In March, newly elected Governor Gretchen Whitmer and the city's mayor, Mike Duggan, announced a water restart plan, paid for by the state government, to restore water service and prevent service interruptions for unpaid accounts during the COVID-19 crisis.
Following protests opposing racism organized by Black Lives Matter, events have accelerated. Members of Congress began championing federal legislation to protect residents from water shutoffs, and the American Civil Liberties Union of Michigan sued government officials, claiming that the water shutoffs had disproportionately hurt Black people. "There's a lot more awareness now. People realize the water problem is a systemic one that requires major change, not an individual one that carries shame," Montgomery says.
In this issue
Inside Smith
Features
Dean's Message
Profile
First Person
Parting Shot