A broken suitcase led Kristi Soomer, AMBA'09, to launch Encircled, a versatile clothing brand that's good for the planet, and society, too.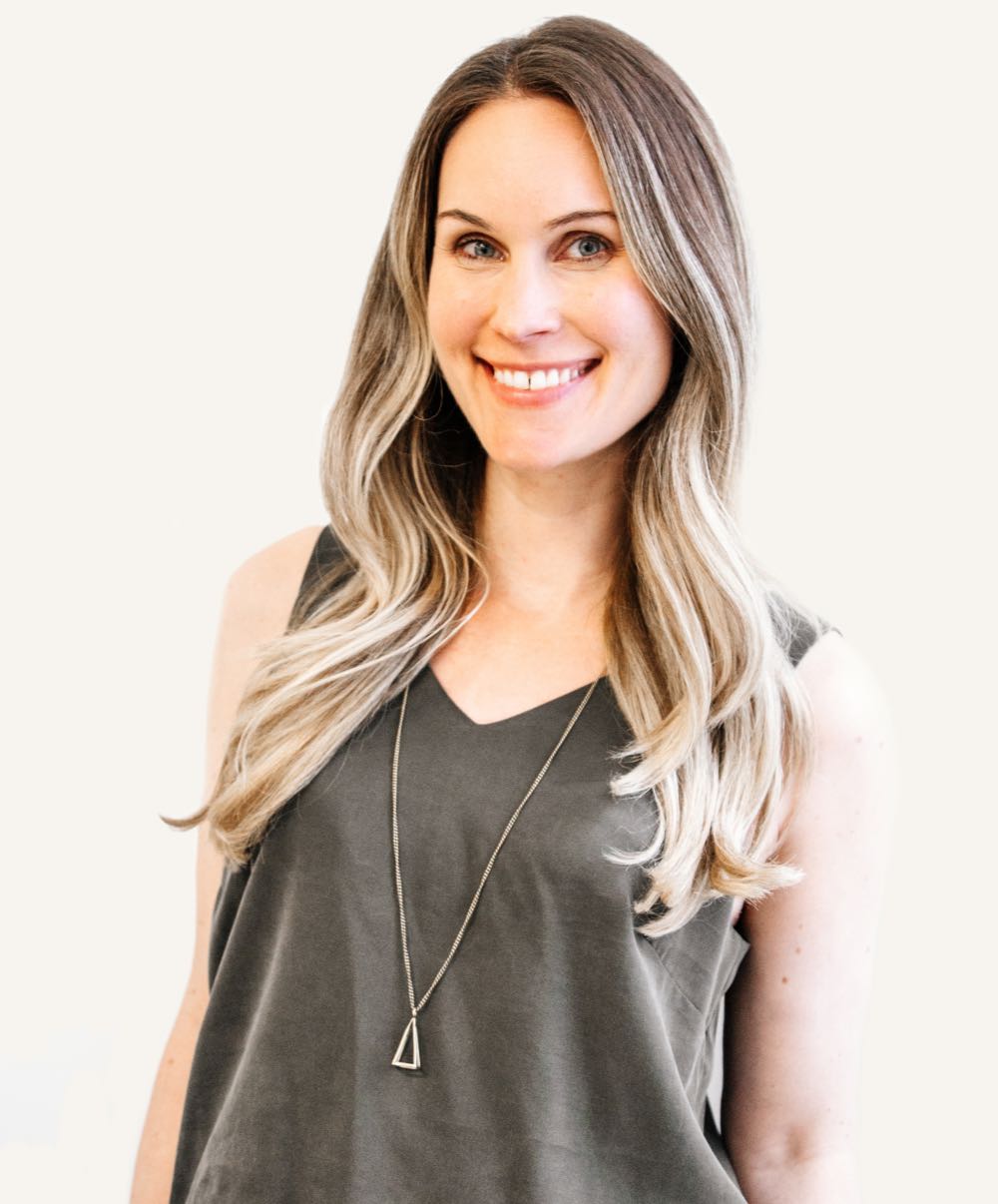 Growing up in Toronto, Kristi Soomer had a keen interest in the environment. At 11, to her parents' surprise, she became a vegetarian. In high school, she joined the recycling club. Business also caught her eye, thanks to a high school economics teacher, who, she says, "lit me up to the idea of how business works."
Yet it wasn't until Soomer was well into her career, working as a management consultant, that she combined sustainability with business (and a lifelong love of fashion) to create Encircled, a now-thriving ethically run, Toronto-based women's clothing brand.
The name Encircled comes from the company's original garment, a circle scarf. "Circles to me represent wholeness, connectedness and karma," Soomer says. "The idea that it's possible to have a business that does it—makes high-quality clothing, protects the environment, values human rights, and does it at an accessible price point for consumers. It's full-circle fashion."
Encircled is a certified B Corporation. That means it follows rigorous and verified social and environmental performance standards. Well-known B Corps include Patagonia, Ben & Jerry's, Seventh Generation and Method. Certification is overseen by B Labs, a non-profit near Philadelphia.
Encircled makes sweatshop-free clothing in Toronto using fairly paid labour and sustainable fabrics. The clothes are also versatile. They can be worn in different ways and for multiple occasions, inspiring a "less is more" approach to reduce clothing waste. For Soomer, Encircled weaves together all her passions to make herself and her immigrant parents—who helped shape her career choices—proud.
Fashion forward
Soomer's mom and dad came to Canada separately from Estonia and met while studying at the University of Toronto. Her father was a corporate lawyer, while her mother, a teacher, has a knack for sewing. "She's very creative and artistic," Soomer says of her mom. Together they'd often visit fabric shops, looking for the right prints and patterns. Influenced by her athletic older brother, she also played hockey, soccer, tennis and golf. "He didn't want to play Barbies, so I had to learn hockey," she says with a laugh.
After earning her business degree at Huron University, a college at Western University in London, Ont., she got a job as a business analyst at lingerie company La Senza. After a couple of years, Soomer went to work in business development at Voxcom Security Systems. Her goal, though, was to be a management consultant, which is why she came to Smith to earn her Accelerated MBA.
She graduated in 2009, smack-dab in the Great Recession. Management consulting opportunities were few, so Soomer went to Colgate-Palmolive Canada instead. There, as a brand manager, she led the relaunch of Colgate Total. Two-and-a-half years later, her former boss at La Senza was working at PwC and looking for someone to work in the firm's retail consulting business. Was Kristi interested? It was the management consulting career she'd long dreamed of. She jumped at the chance.
"I love consulting," Soomer says. "It plays into everything I love about business, which is the ability to work on different products and projects all the time, seeing inside different businesses and working with high-level executives. I'm such a business geek. I really love that kind of stuff."
On the road again
One day, Soomer decided to go on a last-minute yoga retreat with a friend to Costa Rica. While packing the night before, she broke her suitcase attempting to stuff in too many items. A light bulb went on. Women's fashions, she realized, aren't versatile enough for different occasions and purposes. As a consultant, Soomer was constantly travelling, bringing along multiple outfits for every occasion on her trips. What if there was a line of women's clothing that offered greater flexibility, with each item adaptable enough that it could be used in a number of outfits?
That was in 2012, and soon Soomer was spending her evenings and weekends developing what would become Encircled. "I knew nothing about the garment industry or how to make a product," she recalls. "I just fumbled my way through it by researching, asking questions and piecing things together bit by bit. It was a slow launch to the business."
Encircled's first product was the Chrysalis Cardi. An ingenious piece of apparel, it can be worn eight different ways, such as a cardigan, scarf or one-shoulder gown. In December 2013, about a year after launching it online, the Chrysalis Cardi was included in a Globe and Mail gift guide. Overnight, orders skyrocketed from around 100 a month to 100 a day.
Not the type to take huge risks, Soomer stuck with her full-time job for another year (first at PwC and then as a retail consultant at ThoughtWorks) before finally leaving to run Encircled full time in late 2014. The following April, she landed a spot on the CBC TV business pitch show Dragons' Den. She got two offers and one deal, which later fell through. The episode never aired.
Fortunately, a few weeks later, an investor (who she wants to keep anonymous) with an eye for social-purpose companies came to her wanting to invest in Encircled. The money (the sum she's also keeping to herself) helped Soomer hire more staff and expand her product line to include dresses, pants, tops and accessories. Sales doubled year-over-year for the first few years, enabling the company to expand while sticking to its sustainability purpose.
Today, Encircled is a multimillion-dollar business by sales, with about 40 products, around a dozen employees and a 2,500-square-foot space in the Junction Triangle neighbourhood in Toronto's west end. About 92 per cent of the business is e-commerce, with the rest in-person sales. Remaining a B Corporation, which often comes at a higher cost for supplies and labour, is a challenge, but it's important to Soomer.
The pandemic has been good for business, too, as more consumers seem interested now in locally made, sustainable goods. "When I started in 2012, nobody cared about sustainable products or where the product was made," she says. "It takes a lot of integrity, persistence and stubbornness to stay within your values . . . I am proud of the fact that I've been able to grow and scale to the size I have in one of the most difficult industries, with one of the highest failure rates."
Having steered her own company's growth, Soomer is now helping others do the same. She has launched Retail Bliss Consulting to advise startup e-commerce Shopify retailers. And three years ago, she began a podcast, Brave + Boss, for women e-commerce entrepreneurs.
But Soomer is far from done and remains keen to mix her love of sustainability and business. Next up: start an angel investment fund that supports minority- and women-led businesses. "I want to help other purpose-driven businesses make a difference."
In this issue
Inside Smith
Features
Dean's Message
Profile
First Person
Parting Shot
Getting started
Kristi Soomer's 3 helpful hints for startups
1. Market fit matters. Spend time up front perfecting your product, Soomer says. "Too often, entrepreneurs launch too quickly. Quality matters. Research what you are doing and why it matters to a customer."
2. Don't rush it. "I'm a proponent of starting slow, testing and learning," she says. "Start with one or two products, see if there's a fit, and if you can get traction then double down on what's working."
3. Stay close to your customers. Put customers at the centre of everything you do, she advises. "Talk to them. They're the most valuable source of information, not just from a product development standpoint but on how you can improve operations and be a better brand."