Two professors recognized for their work with students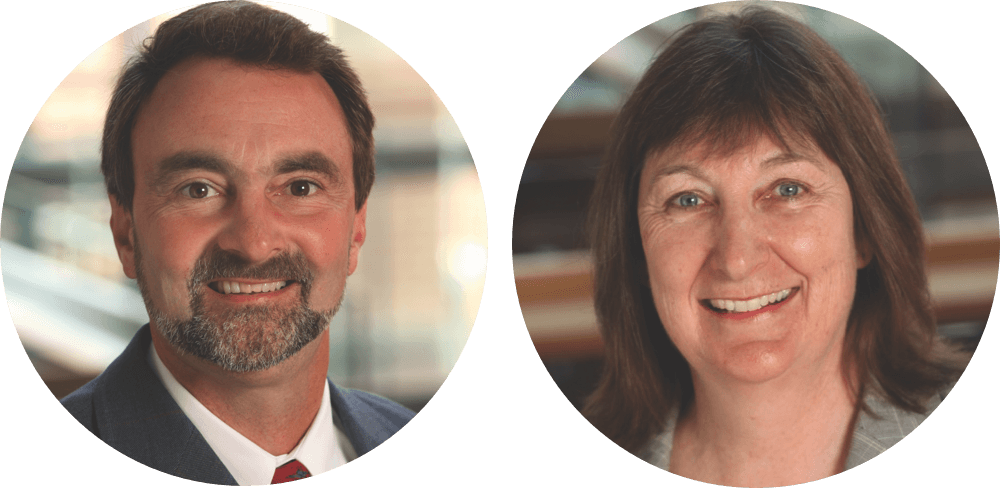 Professors Jane Webster and Mike Welker were recognized over the summer with Smith awards celebrating teaching excellence and research supervision.
Webster received the 2020 Research Supervision Award. Welker was given the 2020 Teaching Excellence Award. The awards recognize faculty who have demonstrated an outstanding commitment to the education of students in the PhD and MSc programs. Nominations were made by graduate students.
The Research Supervision Award is open to all faculty who have supervised Smith PhD or MSc students for three or more years during the past five years. Webster, emeritus professor and E. Marie Shantz Chair of Digital Technology, says she was "pleasantly shocked—and very gratified—to receive this award." Though she recently retired, Webster still supervises students. The best part of this work, she says, is watching students grow to become academics. "I have learned so much from them. They have propelled me into new research areas and methods."
Indrani Karmakar, MSc'18, PhD'23, describes Webster as "tirelessly committed to her students" with a keen interest in both their academic and personal growth. "She is consistently responsive and available both in the classroom and beyond. And she is instrumental in her students' job placements and broader academic success," Karmakar says.
The Teaching Excellence Award is presented to a professor who has demonstrated an outstanding commitment to the research-intensive education of students in the PhD and MSc programs. Welker, professor of financial accounting and Distinguished Professor of Accounting, says he was surprised and honoured to win. "I continue to think I get more out of the class than the students do," he says. "I seem to find new perspectives and ideas every time I teach the class."
Stephanie Donahue, PhD'23, says Welker is truly devoted to the success and well- being of his students. "When the pandemic hit, Mike asked each student if they were OK and how they were handling the new situation. He also kindly let us talk at the beginning of each virtual class about the pandemic, as he could see it was stressing us."