Justin Tessier, MMIE'20, had a big year. He earned his master's degree, of course. Then came that Juno Award nomination.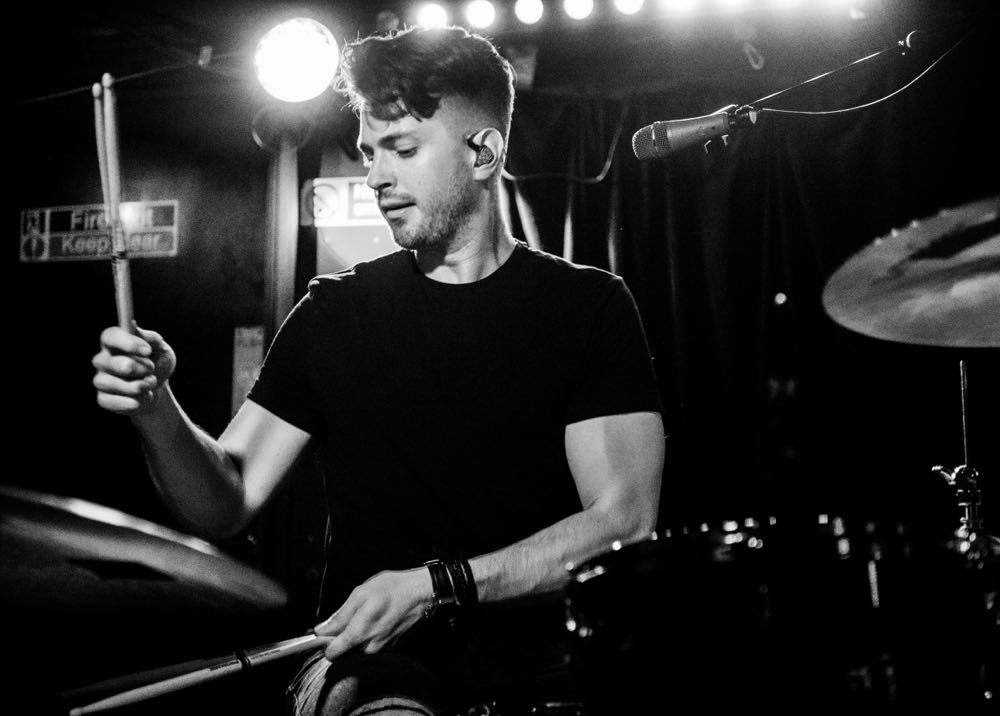 It might not be Phil Collins crossing the Atlantic in one day, performing in London and Philadelphia for Live Aid, but The Blue Stones' March 12 gig in Winnipeg might set an informal Canadian touring record for most travel for a single gig.
Following a two-day, 2,228-kilometre trek from Kingston, band members Tarek Jafar and Justin Tessier had just finished sound check at The Park Theatre in Winnipeg when they got a message from their manager. COVID-19 had officially arrived in North America, and just like that, a planned run of Western Canada dates was over.
"We had to tuck tail and drive two days back [to Ontario]," says Tessier, who recently completed his Master of Management Innovation & Entrepreneurship (MMIE) degree. "Four days driving for one show."
In truth, it was a rare bit of bad luck in what had been an otherwise charmed year for The Blue Stones. The 10-year-old Windsor, Ont. band had just completed a successful run of dates in Europe and the U.S., while also picking up a Juno Award nomination for Breakthrough Group of the Year. (The award ultimately went to Halifax alt-pop band Neon Dreams.)
The band had also finished the followup to their 2018 debut LP Black Holes in January, with Tessier describing the latest effort as "a lot more in your face and punchy" when compared with the "spacier vibe" of their earlier release.
Aided by a quirky video, their single "Shakin' Off the Rust" garnered significant airplay (No. 1 and No. 5 on the Canadian and American Active Rock radio charts, respectively, and nearly eight million streams on Spotify). Guitar-based alt-rock might have lost some of its cultural cachet in recent years, but the song's snarling central riff is a testament to the still-formidable power of amplified wood and wires aided by the steady thump of a bass drum.
The Blue Stones' guitar-and-drums configuration has drawn inevitable comparisons to other bass-less duos like The Black Keys and White Stripes. But Tessier (on drums, with Jafar on guitar) says it wasn't those bands' sound as much as their composition that inspired the Canadian duo. "Part of the big thing with [those bands] is that they proved that it was possible to just do it with two people," he says.
For Tessier, one of the positive results of the unplanned break from the road was that it gave him extra time to concentrate on his studies at Smith. While many people think that being a recording artist is an instant path to wealth and fame, Tessier knows all too well that the day-to-day life of a working band is not a road to riches. Artists only see a paltry amount of the billions of dollars generated each year by the music industry. Inspired by an MMIE program lesson—"to build ventures as solutions to deep problems"—Tessier has decided to develop a solution to low artist income. His venture, called Outpost, aims to provide fair funding for musicians. A launch is planned this fall.
"You always have one foot out the door, just waiting to go on to the next thing," he says of the life of a touring musician. "This is the longest number of consecutive nights I've slept in my own bed in five years."