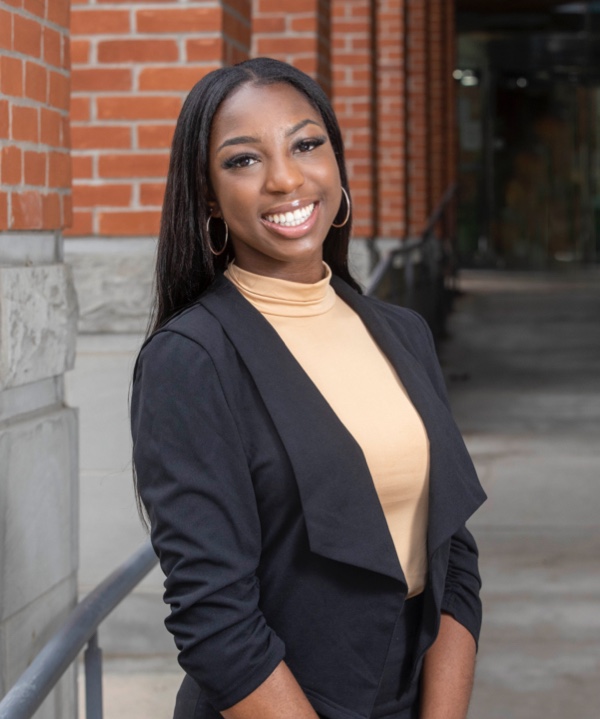 Victoria Chukwuma, Comm'23, was born in Nigeria. When she was 10, her parents moved the family to Canada, and they eventually settled in Brampton, Ont. To this day, Victoria is amazed at everything her mom and dad did for her and her brother and two sisters. I'm in awe of how hard they had to work to get us to where we are today.
It was her dad who spurred her interest in commerce. He studied business in Nigeria and was always analyzing situations using a business perspective, she says. Though Victoria considered attending schools closer to home in Toronto, she decided to accept Smith's offer and come to Kingston—a decision made financially easier by receiving donor and class-funded student awards. She aims to work in finance after graduation.
No matter where her career takes her, Victoria has already made a big impact at Smith. In 2020, she co-founded the Smith Black Business Association (SBBA). The organization aims to take down barriers that get in the way of Black people having prosperous business careers while also promoting professional development and being a safe space for Black students.
Getting the Smith Black Business Association off the ground was not easy, but Victoria (who is its co-chair) felt it had to be done. Even before the murder of George Floyd in May 2020, she wondered why there was no Black business organization at Smith. Her commitment only grew after Floyd's murder and the subsequent launch of the Stolen by Smith Instagram page. After that, she recalls, "I had a lot of people asking me questions. I felt like I was speaking for every single Black person. I thought, now we had to launch."
The SBBA held a number of virtual events in its first year and it received significant recognition. It was named the Commerce Society's "Committee of the Year" for 2020-2021, won "Event of the Year" for its taster event, "Exploring Allyship: The Power of Change", and received the Queen's Alma Mater Society's "New Club of the Year" award. Victoria is looking forward to building on that momentum. Among her aims: to get more alumni involved in the SBBA and to develop a mentorship program.
Once I leave Smith, I'm excited to see how it grows, she says, adding: Everyone has their way of protesting; this has been my way of fighting for Black lives.