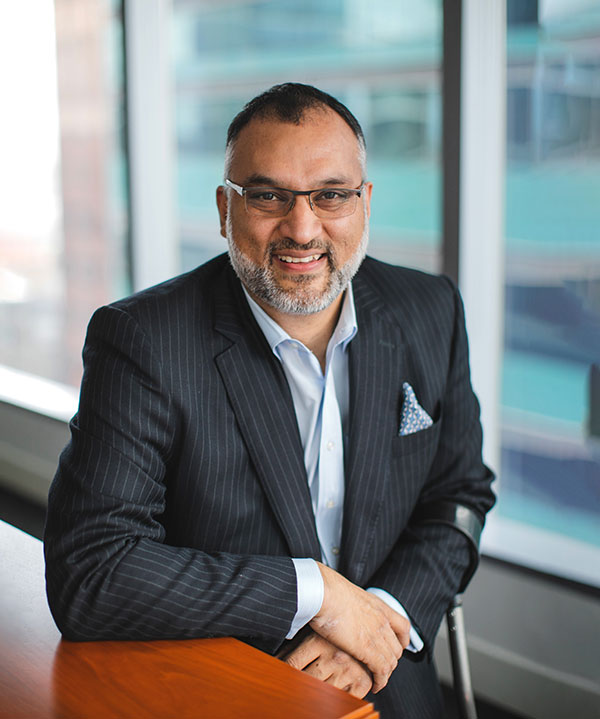 When Gaurav Upadhya, BCom'91, thinks about his parents, one word comes to mind: courage. Gaurav was born in India. At three, he fell ill with polio. At 12, his parents moved the family to Canada.
Both his mother, Neeta, and father, Krishna, were well educated. His dad was a mining engineer with international qualifications. But in Canada, he couldn't get a job as an engineer, so ended up running convenience stores in Winnipeg, where the family settled. His mom, meanwhile, was unable to get a job teaching in high school despite her having several degrees. "My mom and dad were very courageous to leave a life of comfort by emigrating so I would have better opportunities as a person with physical disabilities."
One thing Gaurav learned from his mom was the importance of helping others. After raising Gaurav and his brother, she became a foster mom to Indigenous children with high medical needs. "My mom was a strong-willed woman. If she felt something needed to be done, she went out and did it. We grew up with a strong sense of giving back."
Gaurav took that lesson to heart for his 25th class reunion in 2016. By then, his parents had both passed away, and Gaurav had built a successful business career. (He's now the global chief actuary and chief risk officer at Foresters Financial.) "My parents were big believers in education, as am I. So that's where I decided to put my attention."
So Gaurav established the Upadhya Family Indigenous Award at Smith. It's named in honour of his parents and goes to an Indigenous student entering first-year Commerce.
Recipient Ocean Fayant-Barz, Comm'23, says the award had a huge impact on her and her mom. "We were never really proud of our Métis heritage—we've had to deal with a significant amount of intergenerational trauma," she says. "This award proves we should be proud of our Indigenous status and all the hardships we've conquered together."
Gaurav says he has learned much about hardships for Indigenous Canadians in society and how we can all be part of reconciliation. He's made a point of meeting every award recipient to date.
"It has energized me to become more of an advocate for diversity and further inclusion of traditionally marginalized communities," he says. "It has also shown me how we all have power to take personal actions to be part of Canada's reconciliation with Indigenous people."