Dare to Dream: 2023 winners announced, plus a new award
Posted on

May 12, 2023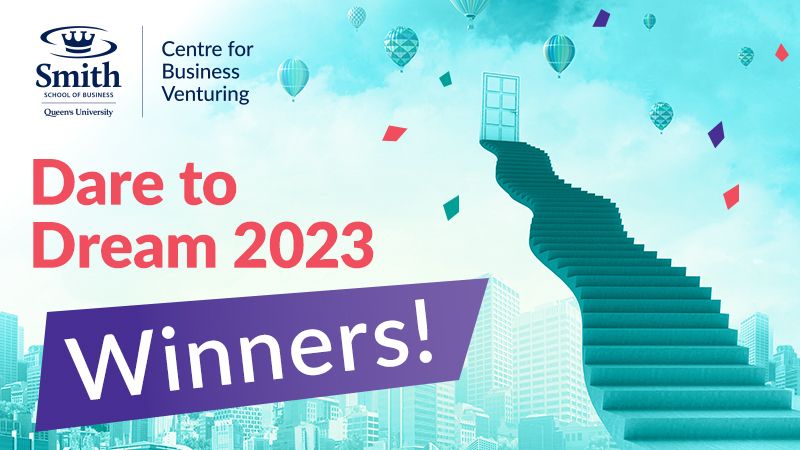 Kingston, Ont. – Five startups led by Smith School of Business students have received a boost in funding from the Dare to Dream program. Two Master of Management Innovation & Entrepreneurship students, as well as students from Smith's Master of Financial Innovation & Technology, Full-time MBA and Master of Management Analytics programs, were awarded a total of $70,000, along with access to critical resources for the development of their businesses.

This year's winners and their businesses are: 
Active Learning, $15,000 award
A tutoring centre creating a mobile and virtual educational escape room that prepares kids for the future through collaboration, ideation, leadership, empathy and innovation at school and at home.
Founder: Leila Seyidova, MMIE'23
Donor: Valerie Mann (BCom'86) 


Carbon Trace, $10,000 award
An AI-focused SaaS solution that helps businesses optimize carbon emissions using advanced machine learning techniques to bring efficiency to the supply chain.
Founder: Lisa Anchalia, MBA'23
Donors: Dany Battat (BCom'78) and the late Gia Steffensen (BCom'78)  


Good Weather, $15,000 award
A Black-owned sneaker boutique in Toronto that offers a diverse selection of streetwear and vintage clothing.
Founder: Malaika Thompson, MMA'24
Donor: RLS Foundation 


Pulse Financial, $15,000 award
An AI "CFO companion" that helps businesses make the best decisions while teaching corporate finance and cash management.
Founder: Nick Ponari, MFIT'23
Donor: CIBC 


SnapSmile, $15,000 award
An app that helps dentists stay engaged with their patients' oral care journey by delivering personalized content, the ability to schedule appointments and access to oral health records.
Founder: Kartik Balasundaram, MMIE'23
Donor: The Sinkinson Family Dare to Dream Award
The Sinkinson Family Dare to Dream Award is a new addition to the annual program that encourages and supports new graduates in their entrepreneurial pursuits. Prior Dare to Dream award recipients, David Sinkinson, MBA'13, Artsci'11, Chris Sinkinson, MBA'11, Comp'02, founders of AppArmor, wanted to pay it forward and help the next generation of student entrepreneurs.
Chris explains that despite being a small amount of money in the larger scheme of things, the $15,000 they received from Dare to Dream in 2013 and what it enabled them to do in growing their business was of significant importance.
"I didn't imagine that in 10 years we were going to have the success that we had," says Chris, looking back on the company's remarkable growth.
For SnapSmile founder Kartik Balasundaram, the news of the award came just when it was needed. "The Dare to Dream program's support is going to help us get out of a stagnated position we were in due to our limited funding. We can use this funding to make a short-term hire to build out the newest version of our product to scale to thousands of dental clinics."
In addition to funding, recipients have access to space, coaching and mentorship through the donor-funded program that is run annually through Smith's Centre for Business Venturing.  
"The Smith Centre for Business Venturing (CBV) plays a critical role in fostering a vibrant entrepreneurial ecosystem, providing aspiring founders with the knowledge, skills and networks necessary to transform their ideas into successful ventures," says JP Shearer, Associate Director of The Centre for Business Venturing at Smith. "By supporting entrepreneurship, CBV is not only helping individual entrepreneurs achieve their goals, but also contributing to the social and economic well-being of communities."